Mentoring the Workforce of the Future: The Emerging Technologies Summer Student Program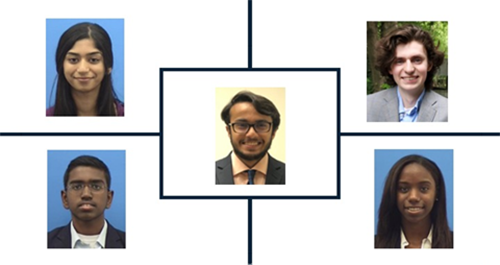 Author: Omkar Ratnaparkhi
This story, the third in a series about how MITRE tackles complex problems, discusses how MITRE's student research programs develop researchers who want to work in the public interest—and do! Previous stories showcased MITRE's role in preventing veteran suicide and using AI/ML to combat COVID-19.
The classic conception of an intern is a minion who brings people coffee, fixes printer jams, and does grunt work. The interns hired by MITRE's Emerging Technologies Department, however, are not minions. They are student investigators charged with helping to solve overwhelming societal problems.  Here, I profile four of them and their summer work in the public interest.
Making an Impact on the Real World: Anushka Motaparthy
In the United States, the maternal mortality rate has doubled in the past two decades, and the U.S. is the only developed nation that has seen a rise in deaths caused by pregnancy related complications. Among these shocking statistics is the fact that African American women die of pregnancy complications at three to four times the rate of other women.
How might a student investigator help prevent racial disparities in maternal mortality?
Anushka Motaparthy, a rising junior at Chantilly High School, was first told about MITRE's Emerging Technologies Student Program by a family friend and decided to apply. Then, she underwent a rigorous selection process during which only a dozen of the hundreds of talented applicants were selected for positions. Hired for the summer of 2019, she worked on a MITRE project to try to help limit the racial disparities in maternal mortality. The project involved computer-prototyping a data dashboard to explore how re-allocating healthcare funding might prevent the deaths of mothers when they are giving birth.
Interesting, worthy work to be sure, but, for Anushka, the outcomes were unclear—for which women would her work actually make a difference? The answer arrived unexpectedly. "I was listening to NPR," she told us, "and all of a sudden, I heard them talking about maternal mortality rates and how to help solve the racial disparity. I was elated because that was what I was working on all summer, and it was just so surreal to me that they were talking about that topic on the national radio when I was able to participate firsthand in what they were discussing."
MITRE student investigators don't just get to learn about MITRE's groundbreaking technical work. They get to shape the work that shapes the world.
Using Machine Learning to Ease the Burden of Healthcare Workers: Samuel Klemic
Microscopy, a field of study that both develops and uses microscopes to observe objects too small for the naked eye, is crucial to investigating and identifying harmful medical conditions. This past summer, Sam Klemic, a rising senior at George Mason High School, worked on developing a neural network to quickly diagnose diseases such as sickle cell anemia, based on the observations in a microscope's field of view.
Neural networks are computer algorithms modeled on the human brain. Among their many applications, they can be of enormous value to the healthcare field in making diagnostic equipment more available and more suited to areas of the world that presently have limited access to the equipment and the medical professionals required to diagnose diseases efficiently. Even when clinics do have appropriate resources, they often struggle to find time to quickly evaluate the volume of samples. For example, when diagnosing sickle cell anemia, medical professionals are forced to look sample by sample through a microscope to identify a sickle shaped red blood cell—a tedious and costly approach. Sam's neural network aims to identify sickle cells and other indicators of diseases and yield a rapid diagnosis.
When I asked him to summarize the impact of his work and the work of his fellow interns, Sam said, "The motto of 'producing a better, safer world,' may sound like just a tagline, but it genuinely is an accurate description of the work that is done at MITRE. It is strongly emphasized that the work done here is not just important but impactful. Every project that I have had the pleasure of hearing about from my fellow student technical aides has the potential to make a difference."
Ensuring the Safety of Military Servicemembers: Surya Balamurugadass
Military servicemembers protect American civilians from foreign and domestic threats. Are there ways for civilians, in return, to ensure the safety of our servicemembers? Can a high school student contribute to enhancing the safety of troops in combat zones?
Surya Balamurugadass, a rising senior at Thomas Jefferson High School, worked at MITRE in 2020 for his second summer as a student investigator. Surya is passionate about computer science, and his task was to analyze data outputs of an event-based camera. Conventional cameras record all the pixels in an image in each fraction of a second to form a video, but event-based cameras only capture individual pixels when they change from each fraction of a second to the next. Surya's project applied algorithms to the event-based camera data to magnify and interpret movement.
Having eyes on the battlefield is crucial to ensuring mission success and safety. Stand-off, event-based biometrics can allow the U.S. military to enhance the eyes of boots on the ground. As Surya reported, "The Department of Defense is interested in new biometric technologies that allow gaining insight from a distance. Some ways that this project could be useful include monitoring the gait of individuals for behavioral and emotional signs (hostility vs friendliness) and seeing if an individual is alive or deceased." Regular cameras are unable to do this as effectively as event-based cameras because the magnification of video in a regular camera causes blurriness. Surya's work will contribute to keeping our troops safe, while it also has fueled his passion to become a better computer scientist and researcher.
Enhancing Veteran Wellness: Deborah Thomas
America shouldn't just keep servicemembers safe when they are fighting abroad. We should also ensure their wellness here at home. Deborah Thomas is the daughter of two U.S. Army veterans, and her older brother is serving in the Army now. Deborah began her work at MITRE on veterans' issues in the summer of 2018, as a rising high school junior, when she researched reasons for the underutilization of Department of Veterans Affairs (VA) benefits by women veterans.
"My first summer at MITRE exposed me to so many opportunities to conduct research that would benefit veterans. I was excited to learn how I could combine my love for veterans with my love for science. I realized that I could pursue a career enhancing the well-being of veterans through neuroscience."
Though she spent the summer of 2019 in a program for high school students at Virginia Tech, after recognizing that her interest in neuroscience could contribute to preventing veteran suicide, Deborah returned to MITRE as a student investigator in 2020, before beginning her freshman year at Virginia Tech. She focused on a veteran wellness approach to suicide prevention by examining how social connectedness affects the transition of veterans to the civilian world. In this work, she built upon prior VA studies and observations from social media platforms to gain a more personal perspective on veteran transition. Deborah's analysis of the qualitative data she has collected will help the MITRE Design for Life Team's human-centered design efforts enhance veteran wellness.
Adapting to a World in Turmoil
World events have caused many employers to halt internship programs rather than move to a remote environment. Not MITRE, however. Thankfully, I was hired as a student investigator.
Understanding the upstream value of engaging interns in work of national importance, the company gives us a chance to be part of the solution to society's problems. When Anushka described what differentiates MITRE from other organizations, she said, "Although many other kids my age are involved in summer activities such as debate clubs or summer programs at colleges, what sets MITRE's program apart is the fact that instead of preparing me for the 'real world', which is what other programs claim to do, it allows me to actually be a part of it."
Omkar Ratnaparkhi worked as a Summer Student Investigator in the Emerging Technologies Department at MITRE. He engaged in public-interest reporting on leading-edge problem-solving approaches and technologies. A rising sophomore at Fordham University, he is majoring in International Political Economy, and plans to attend law school.
© 2020 The MITRE Corporation. All rights reserved. Approved for public release.  Distribution unlimited. Case number 20-2379
MITRE's mission-driven teams are dedicated to solving problems for a safer world. Through our public-private partnerships and federally funded R&D centers, we work across government and in partnership with industry to tackle challenges to the safety, stability, and well-being of our nation. Learn more about MITRE.
See also:
Artificial Intelligence Helps MITRE Save Lives During the Pandemic
Working Upstream to Enrich Veteran Wellness and Prevent Suicide
Improve Your Resiliency Without Wearing Camouflage
Going Virtual Can't Hold Back MITRE's 2020 Interns
Interview with Jay Crossler on Why Passion is the Key to Success
Creating an AI-Savvy Workforce for a Strong Future
Preparing for the Future by Knowing How to Take a Punch
The Emerging Technology Student Program's New Frontier
Many Heads Are Always Better Than One
Changing Organizations Using the Power of Localism
Mistakes and Transcendent Paradoxes: Dr. Peter Senge Talks on Cultivating Learning Organizations