Preparing for the Future by Knowing How to Take a Punch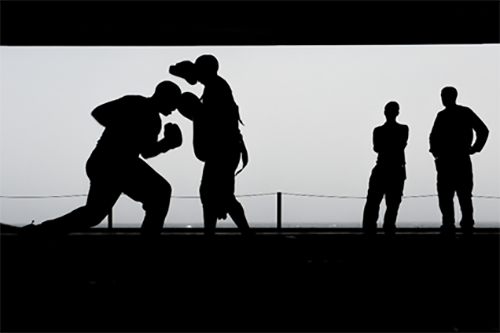 Author: Jillian Humphreys
For many organizations, preparing for the future is a bit like boxing without really knowing a lot about your opponent. Though I don't know much about boxing, I do know that great boxers:
Train smart
Possess agility
Can pivot quickly to avoid (or take) a punch
Most organizations typically plan for one type of opponent (one future) even though a better approach would be preparing for multiple opponents (multiple futures), building in the much-needed resiliency. One approach that helps build this resiliency into organization is Strategic Foresight, an approach developed by Herman Kahn in the 1950s to help the US contemplate and plan for various outcomes of the Cold War including Mutually Assured Destruction (MAD) using applications from game theory. Kahn, along with Pierre Wack, are cited as the founding fathers of scenario planning, from which Foresight evolved. Based on a rich history of game theory and scenario planning this decades-old approach  enables decision makers to anticipate the impact of future trends on their organization's strategies and policies.
Like boxing, foresight enables organizations to be agile and pivot as they progress towards a future state, increasing their adaptability and resiliency to external changes and influences (i.e., avoiding or rolling with the punches).
On October 24, MITRE hosted the Federal Foresight Community of Interest's (FFCOI) 25th quarterly meeting. These meetings are attended by individuals from the federal and private sectors and come together to learn how to better prepare their organizations for the future. In a way, they are sort of like Mickey from the famous boxing movie series, Rocky. Now, Mickey had some unorthodox ways of training Rocky. And while they looked unorthodox on the surface, they were a smart means for obtaining prize-winning results. As in strategic foresight, tools may look unorthodox on their face, but can yield new ways of thinking and doing.
Trend Analysis and Design Thinking
Trends are part of external drivers, which are part of deeper level forces that cause change in large systems. Trends indicate the current state, which emerges as part of scanning the operational environment. When merged with design thinking, which asks the organization to stand in the consumer's shoes, it becomes a powerful, immersive tool for understanding future needs and taking effective action.
Smart Training through Tools
Boxers use a variety of training techniques to prepare for a fight. They run, lift weights, jump rope, and perform a variety of plyometrics to improve their strength, speed, and agility. They also do pad work with their coaches. Pad work is where boxers and their coaches work out the technical detail. It's an opportunity for the coach to work with their athlete to improve technique, work on weaknesses, and strategize.
Sometimes, this work can feel a bit like Rocky chasing a chicken, especially when your organization is tracking weak signals in trend analysis. However, foresight tools are a lot like pad work for strategists, in that they help an organization plan and prepare for the future while improving their ability to respond to trends as they emerge. During the FFCOI meeting, participants discussed and explored trend and pattern analysis in foresight meshed with design thinking techniques to support better organizational agility.
MITRE principals Awais Sheikh, Jon Desenberg, and John Dunn kicked off the meeting with a presentation on merging strategic foresights methods with human centered design. Jon Desenberg observed that: "Foresight fills a huge gap [in planning and performance]. It addresses a major problem the government has of planning for the present, not the future. In strategy work, design thinking is helpful [in that] we are planning for the citizen of tomorrow, not today."
By merging strategic foresight with design thinking tools, like empathy mapping or story boards, foresight allows for the development of an immersive approach with two key attributes. First, it uses scenarios to create an immersive environment that allows participants to fully explore a series of potential futures. Second, it places humans or customers at the center of the problem-solving process to, as Awais stated "understand their unmet and unarticulated needs." Leveraging trend analysis and quick prototyping yields quick, tangible results on which participants can take action. The June 2019 Smart Cities User Experience (UX) workshop that MITRE led leveraged these techniques to quickly develop research concepts that local universities and non-profits in Virginia could explore to improve municipal and social service offerings as part of the next wave of smart city development.
Eric Popiel from the Office of Management and Budget's Futurist Group presented the outcomes from The Millennium Project's Workforce 2050 report. Mr. Popiel described lead researcher Jerry Glenn's use of the Delphi method and collaboration with 34 countries to identify and track five major scenarios in Technology and the Workforce emerging for 2050. Scenario Planning aims to tell an immersive story about a future state to understand the implications and impacts of trends. In this instance, Glenn's work describes what could happen when robotics, computational science, and big data all combine.
Such scenarios help governments and organizations make policy decisions and take action to accept (or avoid) certain outcomes. For example, governments may decide to emphasize AI/ML in education, to grow the workforce. They may also decide to plan for increasing the use of AI in smart ways that promote transparency and fairness. Conversely, if governments fail to plan well, more dystopian scenarios could emerge. Planning, like the pad work discussed above, helps organizations strategize a way forward. Combined with other innovation tools such as those for design thinking, these approaches can increase an organization's understanding of customer and pubic need. Something that might seem like a great idea could, when evaluated using these tools, turn out to be "bad for business."
FFCOI participants wrapped up the day by participating in some pad work themselves led by consulting firm LBL Strategies. In groups, participants identified and documented trends for the development of FFCOI's own deck of trend cards, forming a compilation of trends which may be used by any agency or organization for futures work. Trends covered broad ground, from bias in AI algorithms to new alternative protein sources. Participants discussed the trend as well as potential implications—either for their own organization or for the American public. For the remainder of the afternoon, the participants learned about tools to help make decisions and prioritize aspects of the futures to incorporate into their plans.  These discussions proved useful in furthering the cross-government knowledge of futures thinking and building resiliency into public sector planning. The next quarterly meeting of the FFCOI will be held in January 2020.  For more information on FFCOI and Strategic Foresight:
Link to FFCOI October quarterly meeting slides.
If you're interested in learning more about Strategic Foresight at MITRE, please reach out to John Dunn:  jpdunn@mitre.org.
Jillian Humphreys is a Senior Business Strategist with the MITRE Corporation. She is a graduate of American University's School of Public Affairs, where she received a Master's degree in Comparative Politics. She has over 10 years of experience in project management, with an emphasis on strategic planning, program performance assessment, and process improvement. She recently developed training materials for the MITRE Institute's foundational course on Strategic Foresight and is currently supporting foresight initiatives in the government's civil sector.
© 2019 The MITRE Corporation. All rights reserved. Approved for public release. Distribution unlimited. Case number 19-3518.
MITRE's mission-driven team is dedicated to solving problems for a safer world. Learn more about MITRE.
See also:
Interview with Awais Sheikh on Deciphering Business Process Innovation
MITRE Innovation Program team hosts design studio on veteran mental health with MITRE veterans
Interview with Dan Ward, Rachel Gregorio, and Jessica Yu on MITRE's Innovation Toolkit
Interview with Tammy Freeman on Redefining Innovation
A serious game enhances organizational agility
The Nibbler method: Problem-solving in the pursuit of mastery
Interview with Dan Ward, Debra Zides, and Lorna Tedder on streamlining acquisitions