The ROAR Awards: Two Years and Counting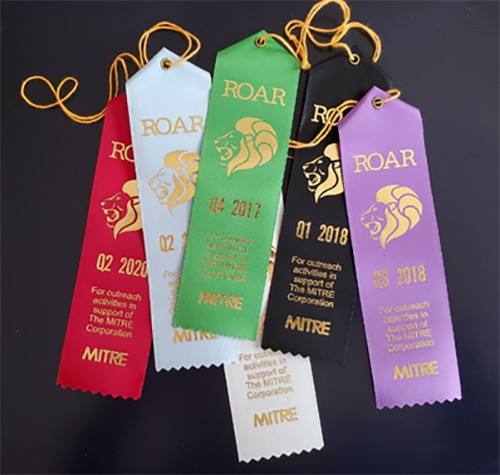 Author: Charles Schmidt
It can be fun to see how little questions can sometimes lead to something much bigger.
In late 2014, I had a question: How many publications, conference talks, and similar outreach activities to the world outside of MITRE had my division engaged in during the preceding year? It turned out that this was not an easy question to answer using available tools. Division leadership recognized the value of this sort of information as a way to measure its impact on industry practices and had previously made multiple attempts to gather it, but those prior attempts had not produced useful results. Employee Tech Stature pages on MITRE's intranet nominally held the needed information, but it wasn't in a format that easily supported the desired analysis, and staff were not always good about logging their activities there in the first place. The division technical director told me that she was interested in any ideas to better measure division outreach, and the challenge was on.
In solving this problem, I got help from all over MITRE. I worked with MITRE's Knowledge Information and Collaboration Solutions division to learn how Tech Stature data was stored, and their team built views for me to expose the needed information. I worked with my leadership in the Cyber Security Technical Center to figure out ways to incentivize better use of Tech Stature to record outreach activities. The Collaboration & Information Management department in Corporate Operations created the initial ROAR website to record awardees, and the Digital Content and Creative department designed the ROAR ribbons with their roaring lion icon. Thanks to these collective efforts, the Ribbons for Outreach Activity Recognition, or ROAR, was born.
The first ROAR awards went out in January 2016, recognizing 47 division members for their activities during Q4 2015. Over the next 2 years, our team refined the program to make the process more consistent and easier to maintain. The impact was impressive: Within a year, Tech Stature use within the technical center had increased four-fold, easily making the Cyber Security Technical Center the biggest user of Tech Stature. At the same time, numerous division members expressed appreciation that their outreach activities were getting recognized, and many made a point of keeping their Tech Stature information up to date so they would be able to get ribbons each quarter.
In late 2016, the success of the technical center's ROAR program was shared with the leadership of the Center for Programs and Technology (CPT), and they proposed expanding ROAR to a corporate program. Over the next several months, the ROAR team worked to evolve the program from one that supported a single division with a couple hundred people and about 50 awardees each quarter, to one that covered all 9000+ MITRE employees and hundreds of quarterly awardees. In January of 2018, the first corporate ROAR awards were announced, recognizing more than 500 employees for their outreach activities in Q4 of 2017.
Today, the ROAR program is going strong with more than 2000 awards each year. Since the program started, Tech Stature use across the company has more than doubled from pre-ROAR levels. More importantly, people have been proudly displaying their ROAR ribbons in their offices (or, these days, their homes) as a token of the ways in which they have showcased MITRE knowledge, values, and expertise in the wider world.
My favorite part of running the ROAR program is getting to see the amazing variety of activities going on across MITRE and the way in which employees are bringing their work to the world. I learned about colleagues co-hosting conferences on autism in the workforce, research on retention of early career technical talent, colleagues running capture-the-flag events at major cybersecurity conferences, efforts to reduce teen suicide, studies of robotic rovers on Mars, volunteers at middle school math competitions, organizers of summits to fight ticks and Lyme disease, and many other topics. This is on top of the numerous leadership roles in standards bodies and industry consortia, teaching positions in colleges and university, scores of patents and licenses, and a very long list of technical publications on subjects ranging from aeronautics to zoology.
With the start of FY21, ROAR is beginning its third full year of operation. As MITRE moves forward with an even stronger commitment to external engagement and visibility, the ROAR awards will continue, in a small way, to recognize the many efforts by MITRE representatives in bringing MITRE to the world.
Charles Schmidt is a Group Lead in the Cyber Assessments department in MITRE Labs. He has been at MITRE for over 20 years and worked on a wide range of projects including cybersecurity automation, cyber threat intelligence sharing, smart city security, and secure information management and sharing. He holds a Bachelor's degree in both Mathematics and Computer Science from Carleton College and a Masters degree in Computer Science from the University of Utah.
© 2020 The MITRE Corporation. All rights reserved. Approved for public release.  Distribution unlimited. Case number 20-3509
MITRE's mission-driven teams are dedicated to solving problems for a safer world. Through our public-private partnerships and federally funded R&D centers, we work across government and in partnership with industry to tackle challenges to the safety, stability, and well-being of our nation. Learn more about MITRE.
See also:
Jen Choi and Josh LeFevre and the power of "Yes, And"
Coming Back to Make a Difference, Find a Passion, and Change the World
How I Learned to Stop Worrying and Love (Certain) Public-Private Partnerships
Encouraging the Next Generation of Innovative Thinkers
Creativity: Where Art and Engineering Meet
Getting Students Excited About STEM (and MITRE), with Willie Hill
Working Upstream to Enrich Veteran Wellness and Prevent Suicide
Project Demodocus: Bringing Accessibility to the Masses
Building Your Resiliency Without Wearing Camouflage
A Serious Game Enhances Organizational Agility
Come Together: Knitting as Craft and Metaphor for Building Virtual Social Culture
Mistakes and Transcendent Paradoxes: Dr. Peter Senge Talks on Cultivating Learning Organizations
Interview with Dan Ward, Rachel Gregorio, and Jessica Yu on MITRE's Innovation Toolkit
Another Update on the Aviation Industry with Michael Wells and Bob Brents
Designing a Bridge Between Theory and Practice