Encouraging the Next Generation of Innovative Thinkers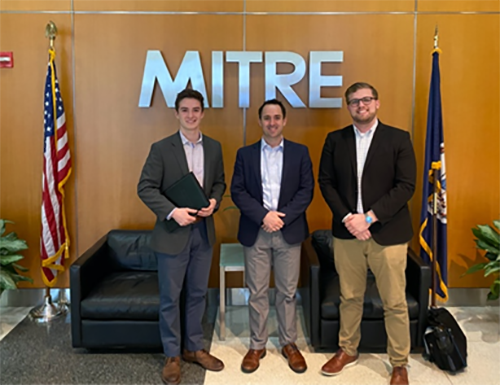 Author: Twig Mowatt
In designing solutions to some of the most pressing, complex, entrenched problems facing the nation, MITRE employees know they have to get creative.
And, as a company working in the public interest, we want to be sure the next generation of engineers and business leaders can address similarly formidable challenges. We want them to get creative, too.
That's why we recently deepened our partnership with James Madison University in Harrisonburg, VA, by bringing MITRE into the classroom. Awais Sheikh, Capability Steward for Business Innovation, and his team designed a capstone project—the MITRE Innovation Challenge—for students in David Peterson's class, "Management of Innovation and Technology." The class is a popular requirement for management students in the College of Business.
Peterson teaches students to think creatively through a series of exercises, interactive sessions, and case studies. The MITRE Challenge asked students to apply these techniques to develop an innovative solution to one of two real-life challenges on campus: reducing single-use plastic consumption and combatting disinformation across social media. (MITRE is exploring both issues at a national level on behalf of our government sponsors.) For each scenario, MITRE experts outlined the key considerations such as context and stakeholders. They also served as advisors and judges of the final products.
"What's really important about MITRE's involvement in the class is that we are priming the next generation to start thinking about these issues, before they enter the work world," said Sheikh. "It's part of the long game to give them the confidence to stare in the face of a big hairy problem and having the tools to try to make a dent in it."
Why a Class on Innovation?
Peterson says that what students learn in his class can make or break their careers as early as the first interview. That's how important creativity is in the workplace. Yet, most of his students don't arrive in class thinking they are creative. Many are surprised to find that they don't need to be born with a creativity gene to be creative.
"From Day 1, Dr. Peterson instills in us that innovation is a skill that can be learned with the right tools and the right mindset," says Ryan Wimble, a JMU graduate who is now a business systems engineer at MITRE. "Innovation isn't some kind of magical thing—it can be demystified—and that message really aligns with the way we work at MITRE."
One way to think innovatively is not to equate quantity with creativity—coming up with 100 new ideas isn't always the answer—and not to discount what's already known. "One of my least favorite terms is 'think outside the box,'" Peterson says. "In my research I find that some of the most creative ideas come when people take something that exists and modify it—sometimes you have to start in the box before you can think outside of it."
JMU/MITRE Partnership
The roots of MITRE's relationship with JMU date back a few years to when Marilyn Ross, MITRE Principal in Enterprise Architecture, became a member of the Executive Advisory Board for the Management Department in the JMU College of Business. The two organizations began cross visiting, with MITRE experts presenting their work in some classes and JMU professors sharing their research findings with people at MITRE's McLean office.
Those exchanges led to trusted relationships with faculty members and the hiring of several JMU students as summer interns and several JMU graduates for full-time positions.
The idea for the capstone project was hatched in late summer 2019 when Sheikh and Peterson met to discuss ways of expanding the partnership.
Exposing the Next Generation to National Challenges
Peterson loved the idea of establishing meaningful and relevant innovation projects for his students. In earlier years, he had offered them free rein to pick an issue of their choice ("They could tackle anything but on-campus parking," he said. "Because that's the one thing we know can't be fixed!"). But he found that having unlimited options was overwhelming for the students.
"The project evolution with MITRE provides the perfect level of scaffolding to allow the students to apply the course concepts in meaningful ways," he says.
Of the eight student teams, six chose the plastics project and two explored combatting disinformation. Many of the teams took advantage of check-ins with MITRE staffers. And while the COVID shutdown posed some challenges, it also created opportunities. For instance, Sheikh was able to convene top company experts, such as Emily Frye, for online briefings. Frye specializes in the ways that disinformation can influence elections.
"We weren't helping them find solutions, but we were coaching them on the innovation process," says Sheikh. "Many times our advice was to narrow their field of vision, to home in on something rather than keep brainstorming. "
The diversity of ideas, as well as the quality of the proposals impressed Sheikh and Marilyn Kupetz, who curates this blog and proposed the scenario for reducing single-use plastic. She attended the online final proposals.
"Any of the proposals could have gone on to the JMU Board of Directors," she says. "What impressed me about the ideas was how well thought out and creative they were. It was so inspiring. Those students are the future of the universe."
Among the proposal for the students looking into plastic reduction was introducing reusable utensils and putting chip sensors on water bottles so they could be tracked down. For fighting disinformation, one team proposed mandatory training for incoming freshmen, similar to the required training in information technology and sexual harassment.
"It was interesting to see something as simple—yet far reaching—as the proposed solution of a new course," says Sheikh. "It shows that solutions can go beyond high-tech solutions to embrace something simple and far-reaching."
This non-tech solution was proposed by Robert Prescott, a management major, and his teammate Tyler Caron. They surveyed nearly 70 JMU students and found that 67 percent would be interested in such a course. They also found that most freshmen didn't know the difference between misinformation and disinformation.
"My big takeaway from the course and the MITRE project is that innovation is a doorway between the known and the unknown," says Prescott. "With this project, we had a known element, which is the amazing training platform already established at JMU, and we had an unknown, which is how do you even teach this subject?"
Pixar and MITRE
Peterson assigned his students the book Creativity, Inc.: Overcoming the Unseen Forces That Stand in the Way of True Inspiration, by Pixar cofounder Ed Catmull. It's the story of how Pixar rose to dominate the field of animation by promoting creativity. By the end of the semester, his students are steeped in the mechanics of this Hollywood icon.
MITRE's involvement provides an important complement showing students that creativity can be just as effective when applied to national challenges as to entertainment. "MITRE offers students exposure to another institution that does a great job at innovation, but one that is more geographically and psychologically within reach to them," Peterson says. "MITRE offers a living, breathing example of something they can achieve."
As for next steps, both MITRE and JMU intend to continue the MITRE Innovation project as part of the class curriculum. The program is also being formalized in MITRE's capstone project database for other universities to access.
Twig Mowatt began her career in journalism covering the Colombian drug war for the New York Times. Before joining MITRE as a senior writer, she wrote stories about research and innovation for Arthur D. Little, Inc. and the Wyss Institute for Biologically Inspired Engineering at Harvard University.
© 2020 The MITRE Corporation. All rights reserved. Approved for public release.  Distribution unlimited. Case number 20-2038
MITRE's mission-driven teams are dedicated to solving problems for a safer world. Through our public-private partnerships and federally funded R&D centers, we work across government and in partnership with industry to tackle challenges to the safety, stability, and well-being of our nation. Learn more about MITRE.
See also:
Emotional Resilience in Professional Life
Project Demodocus: Bringing Accessibility to the Masses
Building Your Resiliency Without Wearing Camouflage
A Serious Game Enhances Organizational Agility
Let's Maintain Agility After the Coronavirus
Come Together: Knitting as Craft and Metaphor for Building Virtual Social Culture
Mistakes and Transcendent Paradoxes: Dr. Peter Senge Talks on Cultivating Learning Organizations
Interview with Dan Ward, Rachel Gregorio, and Jessica Yu on MITRE's Innovation Toolkit
Interview with Awais Sheikh on Deciphering Business Process Innovation