Military to MITRE: Perspectives of Recently Transitioned Veterans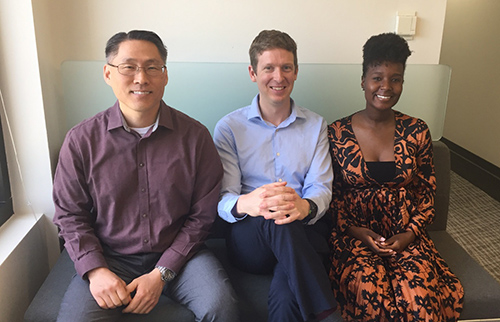 Author: Colin Raunig
This article identifies veterans navigating the process of transitioning to civilian employment in an attempt to highlight the struggles and benefits of being a veteran in the civilian workforce.
My last tour in the Navy was in Japan, and I accepted my admission to grad school thinking that moving to the blue skies of Colorado was just the re-initiation to American life that I needed, and that the transition would come naturally to me. Life, of course, is more complicated than that.
I was older than most of my classmates. And I was angrier. I had just spent two years on the island of Eta Jima at the Japanese Naval Academy as a liaison officer, the sole American among them. It was an isolating experience. Then, leaving Japan, the Navy, and entering grad school all at once was a lot to take in. It was a beneficial, but shocking, experience, like being kept in a dark closet for years and then being unleashed into a sunny field—Colorado was also sunny. I had been known as quiet and introverted in the military, but in grad school, my classmates thought I was brash. They had a point.
But maybe it was also their culture. Maybe I decided that if they had decided I was a jerk, that I might as well act the part. Maybe both. Just like in Japan, I didn't have any peers to act as my sounding board. So instead I became my own echo chamber, each opinion of mine amplifying in internal intensity until it exploded unrestrained in the real world—there was some evidence of that.
After completing graduate school, I began work at MITRE. I will soon reach my one-year anniversary of my work as a business strategist, my first full-time job since I left the Navy. I noticed that a lot of my co-workers are veterans and have had a lot of informal conversations with them about their transition experience. They relayed to me advice I wish I had known years ago. So I decided to write some of it down, in the hope that this advice might help another veteran.
Here are some of the veterans I spoke to:
Duncan Barry: Left active duty in 1997 after 9 years as an Army artillery officer. He has been working for MITRE since 2009.
John Dunn: Left active duty in 2007 after 6 years as a Surface Warfare Officer and worked for Booz Allen Hamilton before coming to MITRE in 2014.
Jon Fredritz: Left the Army after 12 years as a logistics officer. His final day in the Army, November 17, 2015, was also his first day at MITRE.
Jim Hirst: Worked as a helicopter pilot, and came to MITRE in 2011 after retiring as a Captain from the Navy after 28 years of active duty.
Jon Kim: Spent a career as a pilot before retiring as a Colonel. Kim spent a total of "26 years, 7 months, 3 days" in the Air Force, and has been working at MITRE since early 2019.
Kendra Marshall: ­Direct-commissioned into the Army Reserves after graduating from Howard University.
Troy Perry: After retiring from the Army as a Colonel and after nearly 30 years as an Armor officer, Perry has been at MITRE since 2017.
Vince Price: After 26 years in the Army, and retiring as a Colonel, came directly to work for MITRE in 2011.
And here's some of their advice.
Start the Transition Process Early
Jon Kim's smooth transition from the military to MITRE was due in no small part to the years knowing he would leave and preparing himself to do so.
"People who don't transition well had a late start," Kim says. "The worst thing you can do is not start early enough."
When Kim began his last tour at the Pentagon, he had already met the required 20 years of service to retire and considered doing so after one year at the Pentagon. But the officer he was replacing told him to stay for another year and used himself as an example, citing his difficulty identifying a meaningful civilian job while also working a full-time job in the fast-paced Pentagon environment. At the time, Kim had not yet begun to prepare for life outside the military.
Kim took his friend's advice, spending at extra year at the Pentagon to network, prepare his resume, build his social media presence, and earn his Project Management Professional (PMP) certification. The result? A professional connection to a MITRE employee and an eventual position with the company as a Principal Business and Technology Specialist. Kim has now been working at MITRE for almost 4 months.
"The transition could not have been better," he says. "It's almost been perfect."
He attributes that success to beginning his transition process early.
Troy Perry found the process to be "relatively smooth," as many skills he developed in the Army were transferrable to the civilian side. In the Army, he was breaking down and teaching the components of strategy, so the concept of business strategy wasn't a foreign one.
Remember That You're a Part of a Team
Perry also emphasized maintaining a collaborative, open approach to work, and that veterans can learn a lot by talking with different members of their departments and asking for their advice.
"People who come in need to understand that you're in a collaborative environment," Perry said. "It's all about the team, the group, serving the project, and accomplishing the objectives of the project regardless of rank."
Jon Fredritz recommends getting involved as much as possible, from being physically present in the office to joining different networking groups.
"Seek out veterans through MII, reach out to people that have had that experience, learn more about the culture," Jon said. "Stay involved. Try to get into the office as much as possible. It's important to be a part of different organizations."
Kendra Marshall mentioned the overlap between the team culture at both MITRE and the military.
"In the military, I'm with a team of people where we're all doing the same thing," Marshall said. "At MITRE, the reachback is a teamwork kind of concept, too."
Leverage the Skills You Learned in the Military
Almost everyone I interviewed highlighted how the skills they developed in the military prepared them for life outside of it. But it doesn't always come easy.
Vince Price was unsure how his strategist and policy analysis experiences during his career as an Army officer would translate to his work at MITRE. He had to learn how to lead behind the scenes as opposed to being out front as had been the case in his military career.
"I had to develop the confidence in how and where my military experiences applied to what I was doing here," Price said. "I had to learn to trust my experience."
Kendra Marshall works in a Reserves capacity as an OCT (Observer, Coach, Trainer), which she views as a military consultant, and which continues to help her today.
"You're the manager of your career," Marshall said of her time in the Reserves. "The same is true at MITRE. If you have a direction you want your career to go, you can control it. You're not going to be told exactly what to do, so if you want to excel, you have to take control."
"What I like about MTIRE and what I like about Reserves," Marshall added for emphasis, "is that I'm in control of my career."
Adaptability was an attribute of success identified by MITRE veteran employees who have been working in the civilian world for at least 2 years.
"Be open to learning different perspectives and different ways of doing things," John Dunn said, adding that the ability to handle stress in the Navy helped him with his civilian job.
"The biggest thing I noticed is that companies want leadership," Jim Hirst said. "They can teach you skills and can teach your technical things, so what they're searching for is leadership." These leadership skills that Hirst spoke to included the ability form a team, to gain respect from the team members, and the understanding of deadlines and dates.
But Don't Dwell on the Past
"Take a step back and leave the military behind," is the advice given by Duncan Barry. His advice isn't to reject one's military experience but is based on his own difficult transition, which included performing tasks at his first job that he thought he was over-qualified for after earning the rank of Captain.
Fredritz said that leaving the military was the best decision he ever made it his life. "I have not looked back," he said. "Nor do I want to. I wouldn't change anything."
"Don't spend all of your waking moments fighting the change," Hirst said, adding that veterans should "find (their) niche and survive."
Reach Out to Other Veterans
"Reach out to other military people who have separated," Barry said. "Learn how to negotiate a salary…whatever is reasonable for both sides."
"Be those translators for veterans as someone who has been out of the military for a while," Dunn added, advising veterans to help each other. "We get it."
Kendra Marshall said she wouldn't have a job at MITRE without her Reserves career, "My commander referred me to MITRE," she said. Marshall also mentioned that her Reserves career helps her find work at MITRE, as 50% of her projects are military ones.
Speaking with my co-workers made me realize that while the transition from the military is difficult, I don't have to do it alone. Before, I felt that I had no choice but to do so. Now, I know that speaking with other veterans, with other people who have "been there and done that" like I have, is incredibly beneficial. Who we were on active duty doesn't control who we will become, but it is an experience that continues to shape us. Understanding that experience can help us better understand who we want to be and why we want to be that way. This article was just the beginning of that conversation, and I look forward to speaking with them some more in the future.
Colin Raunig is a Senior Business Strategy Analyst at MITRE. He holds a MFA in Creative Writing from Colorado State University and a BS in Ocean Engineering from the United States Naval Academy. He served for eight years active duty and three years reserves as a Naval Flight Officer.
© 2019 The MITRE Corporation. All rights reserved. Approved for public release. Distribution unlimited. Case number 19-1813
MITRE's mission-driven team is dedicated to solving problems for a safer world. Learn more about MITRE.
See also:
Getting the Most out of Your Failures
The Lunch and Learn is not the Solution to Everything
Changing Organizations Using the Power of Localism
Communication—the Special Sauce of Major Change
Mistakes and Transcendent Paradoxes: Dr. Peter Senge Talks on Cultivating Learning Organizations