Recognition for Knowing What MITRE Knows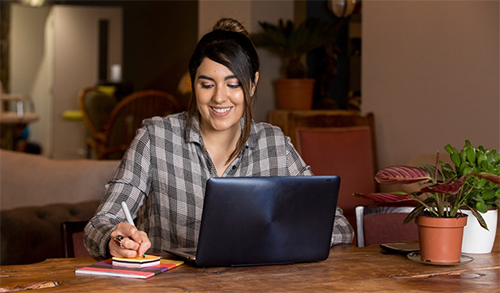 Author: Lauren Foote
The American Productivity & Quality Center (APQC) has honored MITRE with its 2020 Excellence in Knowledge Management (KM) award, recognizing us as one of the top organizations in the world for our mature KM capabilities. MITRE scored a level five—the highest possible score—in most of the areas the association assessed. Other Enterprise Winners this year included Deloitte, NATO Communications and Information Agency, and U.S. Central Command.
"All of the award winners generate impactful results through sustainable knowledge management programs," said Dr. Carla O'Dell, chairman of APQC. "We are excited to name this second class of awardees and recognize the practical, productive, and measurable uses of knowledge they have established within their organizations."
Donna Cuomo, co-director of MITRE's Knowledge Management infrastructure, notes that by capturing and sharing knowledge in consistent and impactful ways, it fuels our ability to share information across the enterprise. As a company, we can consistently search high-value knowledge repositories for information on our people, our organizations, our projects, and our products. We've also enabled automation that pushes actions and onboarding notifications via our intranet.
All this reduces the cognitive load on staff, making for a better employee experience, improving cooperation, and ultimately enabling more impactful outcomes for our government customers.
"To get to this point was a true company-wide effort, over many years," Cuomo says. "The MITRE leadership asked our workforce across the company, for example, to buy into new, common project processes utilizing our Mission Value Chain framework for delivering greater mission impact. It was a change in thinking, and it required new behaviors, training and guidance, as well as new tools to both capture the information and to manage by it. Its use was then reinforced by managers and directors. But we saw the vision, and kudos to everyone, we executed it."
The Vision: A Consistent Enterprise Process
Stemming from one of MITRE's Fiscal Year 2018 corporate initiatives, senior leadership worked as a team to move from local project processes to a consistent enterprise project process. They brought together key stakeholders from across the company, including from corporate operations functions such as for process and tool development, as well as training.
"This group helped define what the consistent process would be. For the first time, we had project process norms," Cuomo says. "We have norms on how project teams should work in areas such as applying Mission Value Chain as the standard for quality and execution and capturing MITRE products in our corporate product library. These enterprise-level decisions paved the way for true enterprise process definition and adoption."
"In the APQC KM maturity framework, enterprise-wide knowledge processes are higher in maturity than local business-unit processes and are more difficult to achieve," Cuomo adds. "Once you have enterprise processes, as a corporation, we can do a better job supporting the process through automated guidance."
Key Impacts: Better Onboarding, More Efficient Knowledge Sharing
New Employee and Project Leader reminders: In 2016, we created a capability to push a sequence of digital onboarding notifications through our intranet, to get staff quickly up to speed as a new employee or in a new role. This helps employees become more effective, faster.
Enabling Platforms: MITRE Enterprise Platforms, a new corporate initiative, is also enabling deep technical knowledge sharing. Multiple platforms are now operational, with re-usable technical knowledge, methods, tools, and experts in common functional areas such as digital engineering, artificial intelligence, cybersecurity, software development, autonomous and unmanned systems, health analytics, and more. This new, curated knowledge base is broadening MITRE's knowledge management breadth. Projects that adopt the platforms are expected to accelerate project outcomes by re-using and adapting quality, trusted work.
Increased Mission Value Chain Visibility for Projects: Our intranet now shows the Mission Value Chain elements for project activity, where employees can easily see a summary of which  projects a staff member charges to and what the project is planning to accomplish. Published data-driven technical products are also displayed, as well as new dashboards to help managers. Fred Zapp, technical director for MITRE's Knowledge Management infrastructure, notes that "by weaving the Mission Value Chain process into the fabric of our intranet, it reinforces the importance of the process and makes it visible."
No Time to Rest on Our Laurels                  
Despite the recognition from APQC, the work doesn't stop here.
MITRE's launch of our new intranet beta, with enhanced project management functionality, is much more enabling of the project process. It starts to move us toward a more intelligent enterprise, by recommending products, task openings, recommended staff, and technical content for re-use. It nudges teams through the project process with alerts, status notifications, and workflow updates.
"We have more ideas on how to continue to digitally assist users through the process, making it even easier," Zapp says. "A key take-away for us has been that when knowledge systems work in partnership with organizations that drive mission outcomes, we can move our capabilities up the KM maturity scale."
Beyond a more efficient workflow process for staff, it comes down to enabling more impactful outcomes for our customers—ultimately driving more impactful service in the public's interest.
Lauren Foote is a Workforce Communications Strategist at MITRE, in McLean, Virginia.
© 2020 The MITRE Corporation. All rights reserved. Approved for public release.  Distribution unlimited. Case number 20-1427
MITRE's mission-driven teams are dedicated to solving problems for a safer world. Through our public-private partnerships and federally funded R&D centers, we work across government and in partnership with industry to tackle challenges to the safety, stability, and well-being of our nation. Learn more about MITRE.
See also:
A Serious Game Enhances Organizational Agility
Come Together: Knitting as Craft and Metaphor for Building Virtual Social Culture
The Lunch and Learn is not the Solution to Everything
Changing Organizations Using the Power of Localism
Dan Frisk and Paula Randall on bringing innovation to government
Awais Sheikh on Deciphering Business Process Innovation
Jay Crossler on Why Passion Is the Key to Success
Interview with Dan Ward, Rachel Gregorio, and Jessica Yu on MITRE's Innovation Toolkit