Supporting sponsors to solve their own challenges: Moving from exulted expert to guide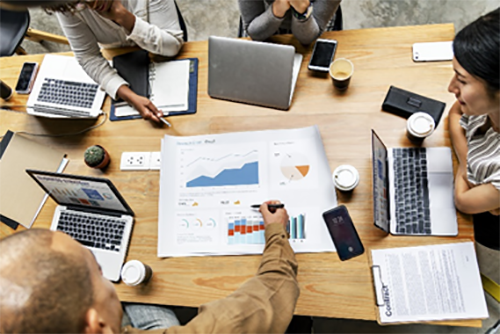 Author: Kris Maccubbin
Once upon a time I was on a project where MITRE was asked to conduct an organizational assessment for a leader hoping to get an honest take on the top challenges getting in the way of employees' ability to meet the mission. The sponsor had been through a similar exercise two years prior, when Company X had created a beautiful piece of work with many, many slides with many, many detailed recommendations that the sponsor then put on a shelf. The Director told me that Company X's recommendations were overwhelming, and they did not know how to implement them. I noticed the language used. These were not "our" recommendations—they were Company X's recommendations. The sponsor had no connection or ownership to that document. Our MITRE team took a more collaborative approach to help this sponsor understand and address their organizational challenges.
Sponsors turn to us for our expertise and expect us to have the answers and to make recommendations. I would urge us to ask:
When and how we can we foster collaboration with our sponsors so that by the end of a project, they feel they have full ownership of the findings, conclusions, and recommendations that address their most pressing challenges?
When would our sponsors be better served by shifting our role from exulted expert to guide?
This role of guide can be liberating. As guides, we no longer need to have all the answers. Instead we ask provocative questions to our sponsors to elicit their own answers. (Feel free to start playing the song "Let it go" in your head.) This change in role may push both us and our sponsors out of our proverbial comfort zones. Let me tell you how this has worked in real life.
A collaborative approach in practice
I borrowed an approach used by another MITRE colleague on a previous project. My aforementioned sponsor with the slick but useless slides from Company X had seen MITRE successfully use this approach with another leadership team and specifically requested that we use it again with theirs. Our team interviewed people, conducted focus groups, and distributed a survey—a pretty standard role that we play. Normally we would then run back to our MITRE offices and crunch the data and come up with our conclusions and recommendations. Instead, we used the data we had collected to facilitate a series of workshops.
We first had the sponsor tell us what their conclusions were from the data we had collected. Having put each observation on its own index card, we laid out a complete set of observations on three tables. The large leadership team of 15 people broke into three groups, and we asked them to use the observations to tell the story of today and the story of tomorrow. All three teams came up with the same story, bubbling up the same four core issues, and clear vision on how they wanted to see them addressed. I was tempted to yell, "I knew it! Those would have been my top areas too!", but I restrained myself.
We then facilitated additional sessions for that team where they created an action plan around those four areas. In our final deliverable, we documented their action plan and provided additional recommendations based on our expertise in organizational change. For example, one area was expanding organization-wide knowledge sharing efforts, so we provided leading practices and case studies. Over the next months, they made real progress on issues that had been plaguing them for years.
Scholar and culture consulting guru Ed Schein's most recent book Humble Consulting (2016) makes this plea for collaborative consulting based on his decades-long career. He calls for outside advisors to be humble, because, of course, the members of an organization are the ones who fully understand the problem at hand and will best know how feasible potential solutions will be.
Conclusion
Do we always need to work collaboratively? Perhaps not. Simple, technical solutions can be well served through the traditional approach of providing observations, conclusions, and recommendations. But that is not the type of problems that make for "good MITRE work." We like complicated, messy big problems to make a safer world. And for those juicy problems, we should consider where we can let go and move beyond simply making recommendations. The more collaboration we can be build into the project plan from the start, the more fully invested the sponsor will be in the findings we uncover and the solutions that they implement to successfully solve their challenges.
Reference
Schein, E. (2016). Humble consulting. Oakland, CA: Berrett-Koehler.
Kris Maccubin is a Human and Organization Systems Principal at MITRE, where she is leading an effort to support Food and Drug Administration in creating an alternative pay system. For more than two decades, Kris has led successful initiatives that focus on eliciting the best from people through change management, communications, organizational development, human capital strategy, and talent management. Prior to MITRE she worked as talent management strategist at Fannie Mae and as a change management and strategy consultant for Federal and public-sector clients at IBM.
© 2019 The MITRE Corporation. All rights reserved. Approved for public release.  Distribution unlimited. Case number 19-3211.
MITRE's mission-driven team is dedicated to solving problems for a safer world. Learn more about MITRE.
See also:
A serious game enhances organizational agility
The Lunch and Learn is not the Solution to Everything
Thinking Outside the Boxes and LInes: Factors to Consider Before Restructuring
Changing Organizations Using the Power of Localism
Communication — the Special Sauce of Major Change
Mistakes and Transcendent Paradoxes: Dr. Peter Senge Talks on Cultivating Learning Organizations