Thinking Outside the Boxes and Lines: Factors to Consider Before Restructuring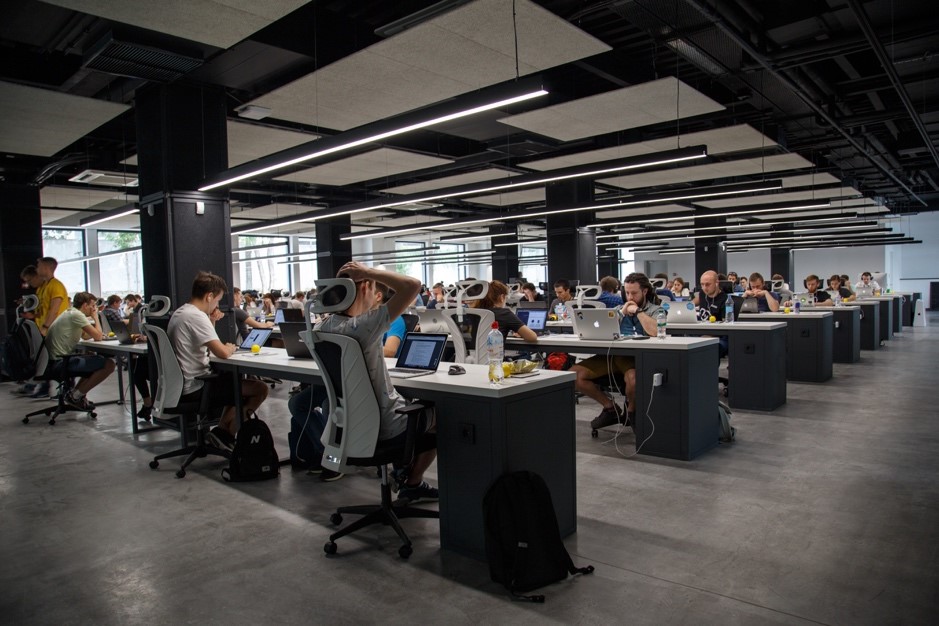 How might we redesign an organization to improve mission outcomes without assuming that reorganization is the right first choice? The authors suggest that leaders think carefully about the human systems they oversee and then review their options systematically. Yes, this approach takes commitment, time, and communication—a cocktail for success before, during, and after change.—Editor
Photo by Alex Kotliarskyi on Unsplash
Authors: Nancy Letsinger and Kathy Stellato
During times of transition, leaders commonly look for ways to better deliver on mission. Often, a new leader's first instinct is to look critically at the organization's structure, believing that moving organizational "boxes and lines" will improve results. However, adjusting structure will not necessarily resolve organizational performance issues, particularly given the high rate of reorganization failure. [1] In fact, research demonstrates that less than 25% of organization restructuring efforts succeed, with nearly one third failing to meet objectives or enhance performance after implementation. [2]
By rushing the decision to restructure or restructuring without clear evidence that the structure is the problem, an organization risks lowering employee engagement, losing mission-critical skills, and interrupting essential service delivery. Moreover, an organization that restructures before assessing the myriad interrelated factors affecting performance can obscure genuine, root cause problems and quickly generate new ones.
For these reasons, MITRE generally counsels our sponsors to acquire a clear understanding of their current organizational environment, both internal and external before they undertake an organizational restructuring effort. By conducting a baseline organizational assessment, leaders can better diagnose areas that do need improvement and perhaps completely avoid a redesign.
Before Moving Boxes, Understand the Current State of the Organization
The Burke-Litwin Model (Figure 1) offers a respected framework to help organizations understand the organizational and environmental variables that affect performance and how these variables link to each other. [3] The model allows leaders to take a systematic approach to evaluating the organization and managing the complex nature of change. The boxes represent variables affecting organizational performance. Arrows show linkages between the variables. A change in any variable will ultimately affect every other variable. Ideally, an organization should strive to align them to enhance organizational performance.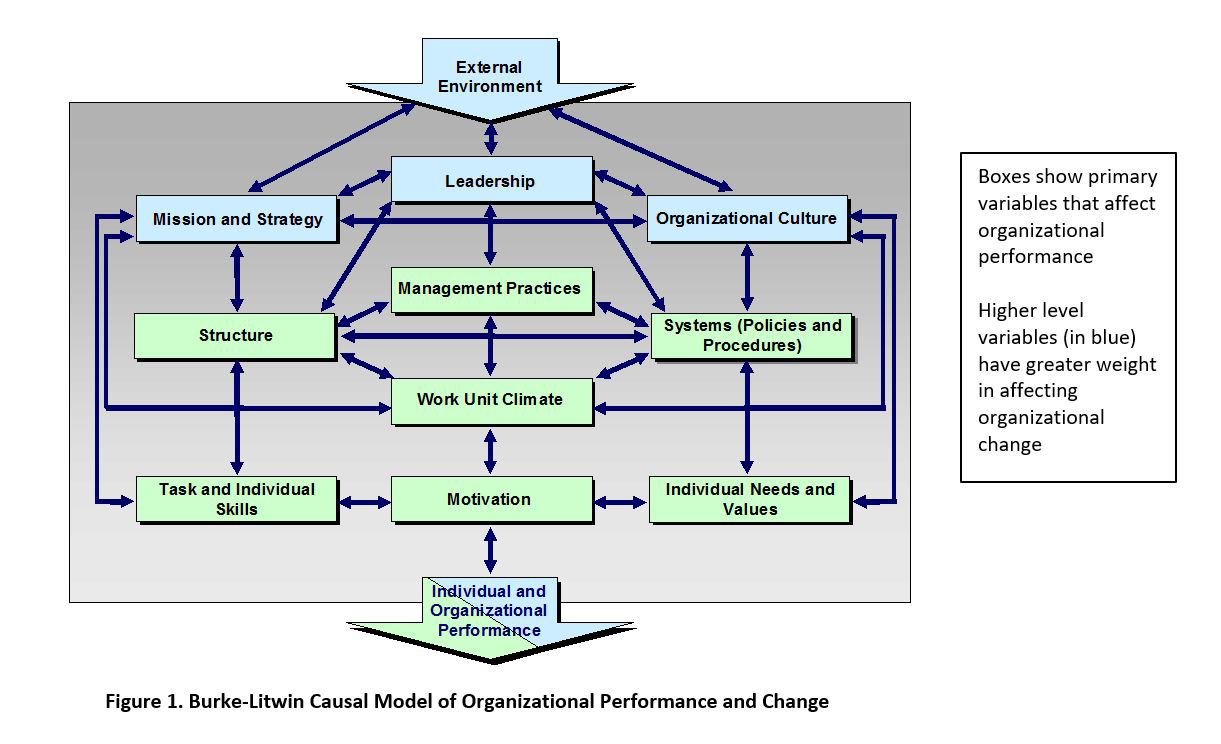 Higher level variables—mission and strategy, leadership, and organizational culture—are considered transformational. External environmental forces most directly affect these variables, and improving them usually requires new behavior from organizational members. The lower, more operational and transactional variables can be impacted by relatively short-term adjustments in the workforce.  Together, these transformational and transactional factors affect motivation, which, in turn, affects performance. Higher level variables have greater weight in affecting organizational change.
Were leaders to conduct an organizational assessment using this model—through a series of targeted interviews and focus groups with internal and external stakeholders—they would acquire qualitative data regarding each of these causal factors. By taking a more holistic view of the organization across all these variables, leaders could then identify the appropriate organizational factors to address to enhance performance.
After the Assessment: Alternatives to Organizational Restructuring
Assessment data often reveal that an organization's structure is sound, and other factors are the cause of poor performance. For example, if an assessment reveals that a new or pressing organizational demand is causing internal stress, a leader might construct temporary structures or teams to address the issue while keeping the formal structure constant. Likewise, by looking across a set of primary transactional variables of the model (structure, management practices, and systems), a leader might determine that while the structure is sound, the true issue resides in integrating mechanisms used by the organization. Integrating mechanisms are the informal linkages that support coordination and communication across the structural boundaries of an organization—the so-called wiring between the boxes on the organization chart and the networks at the heart of the organization.  
A comprehensive organizational assessment offers you, as leaders, insight into the myriad factors impacting your organization's performance. With this data, you can better target the true cause of your organization's performance deficiencies and develop corrective actions to address those areas as you move forward.
Nancy Letsinger leads MITRE's Human and Organizational Systems Department. She brings more than 20 years of leadership and organizational development experience to transforming organizations. She has significant experience working collaboratively within organizations and with external stakeholders to assess organizational effectiveness, develop transformative initiatives, and implement critical changes.
Kathy Stellato joined MITRE in 2006 and has more than 20 years' experience in organizational transformation, with specific focus on organizational strategy, organizational assessment, stakeholder analysis and engagement and qualitative analysis. 
References
[1] Toma, A., Roghe, F., Noakes, B., Strack, R., Kilmann, J., & Dicke, R. (2012). Flipping the odds for successful reorganization. The Boston Consulting Group. 
[2] Aronowitz, S., De Smet, A., & McGinty, D. (1995). Getting organizational redesign right. McKinsey Quarterly, (3), pp. 98-109. 
[3] Burke, W. W., & Litwin, G. (1992). A causal model of organizational performance and change. Journal of Management, 18 (3).
 See also
© 2018 The MITRE Corporation. All rights reserved. Approved for public release. Distribution unlimited. Case number 18-0461.
The MITRE Corporation is a not-for-profit organization that operates research and development centers sponsored by the federal government. Learn more about MITRE.