MITRE's pearls of expertise at FIU ShellHacks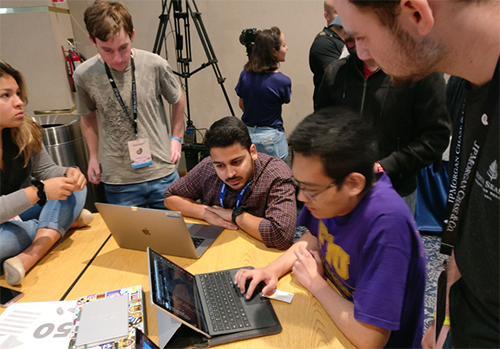 Author: Lisa Pacitto
Instead of hitting the beach over the third weekend in September, more than 1,000 students from several Florida and southeast universities loaded up on caffeine, went without sleep, and were driven by a "will to do good."
That was the scene at the 2019 ShellHacks, a 36-hour student hackathon held annually at Florida International University (FIU), a public research university in Miami. Touted as Florida's biggest hackathon, ShellHacks is organized by FIU's chapter of Upsilon Pi Epsilon (UPE), the largest student organization for technology at FIU.
This year, FIU's UPE chapter invited The MITRE Corporation to participate in ShellHacks for the first time. MITRE established a partnership with FIU through its Generation AI Nexus initiative, an educational undertaking to expose all students to the power and pitfalls of artificial intelligence during their academic career independent of their fields of study.
"Generation AI is the initiative, and Nexus is the technology or portal that makes it happen," says Dr. Michael Balazs, MITRE's Generation AI Initiative Lead. "Events like ShellHacks provide us with a great opportunity to introduce students from all disciplines to AI and data science and the all-encompassing role both will play in our future economy and in solving future national challenges."
MITRE also co-sponsored the event with JP Morgan Chase & Co.  MITRE's strong presence at ShellHacks, alongside tech giants Google, Microsoft, and Facebook, helped build awareness of MITRE's cutting-edge work to solve problems for a safer world.
"Developing strategic relationships with universities and consortiums, such as Florida International University, is a crucial part of our mission," says Dr. Liv Blackmon, who leads strategic engagement and academic alliances for MITRE. "These relationships help build our talent ecosystem, promote opportunities for joint research collaborations, and drive mission impact to support our sponsor needs."
MITRE Engineers Mentor Students, Share Expertise
During the hackathon, participants were encouraged to build projects in one of six learning tracks—gaming, front-end, back-end, hardware, data science, and IT/cybersecurity. The team from MITRE, which included the collective expertise of cyber security, software, and computer science engineers, posted a challenge within the data science learning track.
Led by data scientist Ali Zaidi, the MITRE team presented students with a phishing hackathon challenge designed to test participants' data analytics skills. The challenge tasked students with creating a model for predicting whether URL links should be classified as safe or unsafe, as in a phishing scam.
"Since we were at ShellHacks to fulfill the goal of Generation AI and to scout top talent, we presented a challenge that was representative of the data science work we do at MITRE," Zaidi says. "We were interested to see how each student team would approach the challenge and how they would determine the number and type of data sets they'd need to build a working model."
Throughout the hackathon, Zaidi and fellow MITRE team members acted as mentors, offering the students insight and expertise on how to best develop and execute their projects. MITRE's Nathan Vuong, computer science project lead, and Fernando Machin, cybersecurity engineer, worked closely with students and found it to be a defining moment for MITRE. 
"The majority of students we mentored and spoke with were not familiar with MITRE," Vuong says. "The fact that MITRE had more mentors helping students than any other corporate sponsor at the event worked in our favor."
Machin held the attention of over 30 students at a midnight interactive workshop on MITRE ATT&CK™—a globally-accessible knowledge base of adversary tactics and techniques that attackers use to compromise an enterprise. He adds that MITRE's show of participation at ShellHacks "provided students with a great introduction to MITRE and reflected well on our team and our work."
MITRE software engineers Luis Padro Rodriguez and Robert Clark Jr. mentored a student team whose project focused on streamlining Florida's voter registration process, especially for young, digitally-savvy unregistered voters. The students' original plan was to attend on- and off-campus events and collect information from attendees in person, after which the potential voter would receive a single use QR code to scan that would verify their identity as well as fill out most of the voter registration information electronically.
Rodriguez and Clark advised the students that collecting large amounts of information in person would be both time-consuming and would scare people off due to the sensitivity of the information they were requesting. They suggested that the students collect no information or minimal information in person.
"In mentoring this student team, we were able to provide insight for how to best execute a solution as well as work with the team to shape their hackathon pitch," Clark says. "The next day the team presented their pitch to the judges, and they ended up coming in second place in the overall hackathon."
When the hackathon was over, Clark says the students he and Rodriquez mentored expressed their thanks, telling their MITRE mentors, "We definitely took your suggestions into account."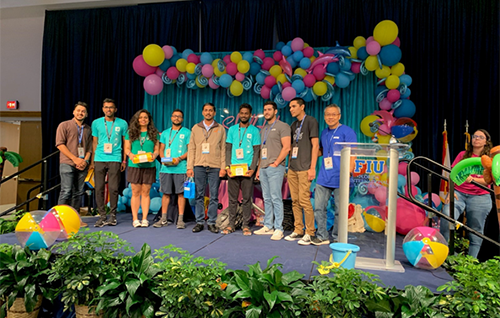 Infusing MITRE with New Talent
ShellHacks, and events like it, are great opportunities for MITRE to build awareness of the organization and the importance of our work on behalf of the public interest, our government sponsors and business partnerships.
"ShellHacks ended up becoming one long information session for MITRE," Machin says. "Students would approach us to ask questions about MITRE. Once they heard about the nature of our work, the work areas we impact, and our distinct culture focused on public service, they were immediately interested to learn more."
Angela Morris, Manager for MITRE's Student Development and Opportunity Management, was pleased with the recruitment effort and early career interest generated by MITRE's presence at ShellHacks.
"We made three intern offers and have two students being considered for full-time positions," Morris says. "We also heard from many other students who are being routed to hiring teams."
In offering pearls of expertise and mentoring students at ShellHacks, MITRE found its own pearls in potential new hires and growing enthusiasm for MITRE and the work we do.
See @MITREcorp for posts on ShellHacks:
https://twitter.com/MITREcorp/status/1175472397178331137
https://twitter.com/MITREcorp/status/1175812055468773376
https://twitter.com/MITREcorp/status/1175818613430870017
Strategic Communications Contract Writer Lisa Pacitto covers innovation and technology for MITRE. She handles external communications for the Innovation Seminar Series and MITRE's Pepper robot, @MITREpepper. She has written for The Boston Globe and MIT's Technology Review magazine.
© 2019 The MITRE Corporation. All rights reserved. Approved for public release. Distribution unlimited. Case number 19-3467.
MITRE's mission-driven team is dedicated to solving problems for a safer world. Learn more about MITRE.
See also:
Interview with Dr. Michael Balazs on Generation AI Nexus
Interview with Dr. Philip Barry on blending AI and education
Interview with Ali Zaidi on designing lessons in artificial intelligence
The World as It Will Be: Workforce Development Within and Beyond MITRE
Catch You Later: Recap of the Generation AI Cyber Challenge
MITRE Explores Emerging Tech of Interest at SXSW Conference and Hackathon
AI & Technology: Lending a Hand to People with Disabilities
A Spin Around the Blockchain—Exploring Future Government Applications
Applying Design Thinking to Boost Federal Agency Problem Solving