MITRE Explores Emerging Tech of Interest at SXSW Conference and Hackathon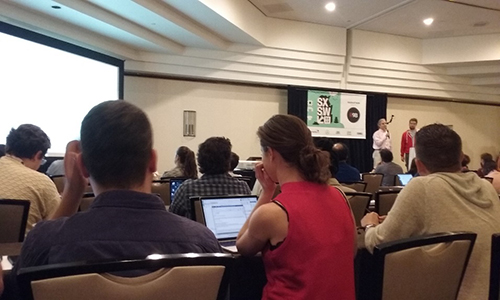 Author: Lisa Pacitto (Marissa McCoy and Michael Phelan, Contributors)
When one imagines the next source of emerging technologies that could serve MITRE and our government partners, the music and film industries are hardly the first ones that come to mind. However, with the surge of innovation happening outside of government walls, new ideas and emerging technologies can come from anywhere.
In fact, Frans Johansson, innovation expert and author of The Medici Effect, advocates actively seeking diverse perspectives and drawing inspiration from different fields to drive game-changing innovation. The annual South by Southwest® Conference & Festivals (SXSW) in Austin, Texas certainly offers diverse perspectives.
Best known as a music and film industry festival, SXSW has grown to include a substantial interactive track that includes a 24-hour, invitation-only Hackathon, and new to SXSW this year, a "Defense Innovation Lounge." SXSW 2019 covered topics around emerging technologies, such as virtual and augmented reality and blockchain, startup innovation pitches and awards, and an exhibit hall full of demos, from 3D printed sushi to virtual reality gloves.
MITRE engineers, Michael Phelan, AI Developer, and Marissa McCoy, Innovation Strategist, attended SXSW 2019 during the week of March 11. Phelan was invited to participate in the sixth annual SXSW Hackathon, and McCoy attended the SXSW conference to identify emerging technologies of interest.
24 Hours of High-Tech Creativity
During the all-night SXSW Hackathon, music, film, and virtual and augmented reality hackers/creators had an opportunity to showcase their programming skills, develop industry-changing prototypes, and compete for cash prizes.
This year's SXSW Hackathon, sponsored by R9B, a cybersecurity training, products, and services company, drew invited participants from around the world—some from as far away as Japan and Venezuela. The application process for scoring an invite included an analysis of public coding repositories, a history of previous hackathon wins, and a listing of the web application programming interfaces (APIs) intended for use during the Hackathon.
Participants focused on solutions to address the disruptive changes that have emerged in the media industry, such as media rights fragmentation and the variety of streaming services like Spotify. Hackathon participants produced a variety of highly creative and innovative solutions that incorporated virtual reality, augmented reality, deep learning, artificial intelligence, and blockchain technology.
The application of learning models to streaming data for real-time decision making is in demand across numerous industries and organizations. As MITRE's government partners seek to improve upon these capabilities in their work programs, new viewpoints on problem domains and their related technologies can trigger unexpected connections and innovations. When it comes to innovation, Phelan says inspiration can be drawn from all kinds of experiences, from basic social interactions to networking events and hackathons.
"It was amazing to see how Hackathon teams used state-of- the-art technical capabilities to deliver intensely innovative and fully functional applications within a 24-hour period. The application of deep learning to large data sets and the use of blockchain for a variety of transactions resonated with emerging capabilities being explored by MITRE's government partners," Phelan says.
The Future of Defense Innovation
SXSW's newfound emphasis on defense technology coincides with Austin's rising profile as a defense hub, facilitated by the arrival of Army Futures Command in August 2018. McCoy attended the SXSW interactive track on behalf of her sponsor, the Rapid Reaction Technology Office (RRTO) under the Office of the Secretary of Defense. RRTO actively engages with innovative nontraditional businesses to develop and demonstrate less mature, high-reward technologies that produce game-changing capabilities.  SXSW provides a forum for multiple industries and diverse topics to converge at one conference.
"I focused on scouting emerging technologies of interest, attending talks around topics like wearable devices and AR/VR, and panel discussions exploring the impact of technologies, such as AI and connected devices." McCoy said. "The Defense Innovation Lounge also provided opportunities for information exchange with Austin innovators."  McCoy named AFWERX Austin, MassChallenge Austin, and Capital Factory as organizations accelerating technology development.
She also noted that the overarching theme throughout the defense-focused programming was the rapid pace at which technology is moving. In an environment of new challenges and new opportunities, the DoD and commercial industry will need to work collaboratively to achieve maximum impact and maintain a competitive edge.  Government organizations such as DIU, AFWERX, and Army Futures Command are working diligently toward this goal.
"Conferences like SXSW help the DoD recognize the need to adapt their processes, take risks, and lower the barrier of entry for start-ups to do business with the government," McCoy said. "Especially considering that current commercial R&D far outpaces military investments."
The Austin Center for Defense Innovation is a good example of government integrating into a commercial hub of innovation. By integrating into the ecosystem, the government creates more opportunities for commercial industry to learn about DoD opportunities and challenges, and for government to more quickly deliver capabilities to the warfighter in support of national security. MITRE is exploring opportunities to contribute to SXSW 2020.
Strategic Communications Contract Writer Lisa Pacitto covers innovation and technology for MITRE. She handles external communications for the Innovation Seminar Series and MITRE's Pepper robot, @mitrepepper. She has written for The Boston Globe and MIT's Technology Review magazine.
© 2019 The MITRE Corporation. All rights reserved. Approved for public release.  Distribution unlimited. (Case Number 19-1476)
MITRE's mission-driven team is dedicated to solving problems for a safer world. Learn more about MITRE.
Selection of Defense Talks from Interactive Track of SXSW
Lt. General Eric Wesley, Deputy Commanding General of Army Futures Command and Director of the Army's Futures and Concepts Center, discusses the Army's modernization strategy and how Army Futures command will create the best solutions for our soldiers.
Answering the Call: Tech for Public Purpose (listen here)
Today's technologists and entrepreneurs desire a way to contribute to public purpose. Former Secretary of Defense, Ash Carter, and Booz Allen Hamilton CEO, Horacio Rozanski, discuss how technologists can create a future that serves humanity as a whole.
Safeguarding the Crown Jewels of U.S. Innovation (watch here)
Investment in commercial R&D outpaces investment in defense R&D by a factor of 3x-5x. Learn how the government is building a National Security Innovation Base to tap into technology and safeguard the crown jewels of U.S. innovation.
Ethics and AI: How to Plan for the Unpredictable (listen here)
A panel discussion on how the intersection of AI and ethics can help plan for the unknown. Panelists bring unique perspectives from industry to academia that empower participants to proactively build more transparent, explainable, and accountable AI systems.
The Future of AI: Accelerating Innovation (listen here)
The Innovation Ecosystem within the government has gotten a makeover due to new partnerships within the startup and academic community. A conversation with ecosystem stakeholders discusses the impact of, and use cases for, artificial intelligence.
Cybersecurity in the Age of Automation (listen here)
Transportation systems are increasingly complex, and more reliant than ever on multiple paths of connectivity to communicate and exchange data. Learn about some of the emerging efforts to improve the cybersecurity of our nation's transportation system and opportunities to create solutions to address this challenge.
Who Will Lead in the Race for AI in Defense? (listen here)
Nations around the world are racing to be the leader in artificial intelligence research and technology for civilian and military applications. The edge AI provides in war and peace has the potential to shape of the international stage. Who will lead the race for artificial intelligence in Defense and National Security and why is it of utmost importance?
The Promise and Perils of New Space (listen here)
Dr. Tom Markusic, CEO of Firefly Aerospace, an Austin-based rocket company, presents a wide-ranging discussion of NewSpace, including an overview of how rockets work, how "stuff" gets to space, the perils of being a space entrepreneur, and the incredible promise that awaits humanity in our exploration of the stars.
Using Data Analytics to Combat the Opioid Crisis (listen here)
More than 2 million Americans have become dependent on, or abuse, prescription pain pills and street drugs. In 2016 alone, there were more than 40,000 opioid induced overdose deaths. Learn how innovative healthcare systems and government organizations are leveraging advanced data analytics to identify trends that could reduce the intake of opioids.