Energy Masters: Improving the Water and Energy Efficiency of Under-Invested Communities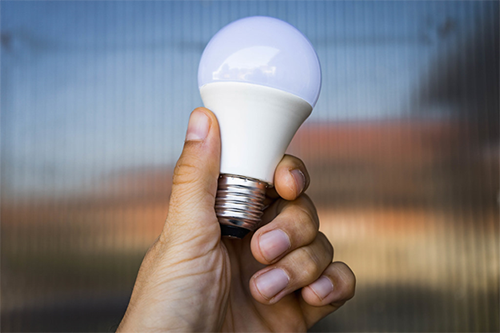 Author: Kathy Huynh
"Weatherizing my home? What does that mean?"
"I'm only renting. Why should I care?"
"That sounds complicated and expensive."
These are common responses I would hear from renters living in the lower-income apartment complexes where I spent time volunteering as an Energy Master.
The Beginnings
I applied to the Energy Masters program in 2017 after volunteering at a stream clean-up hosted by Arlingtonians for a Cleaner Environment (ACE) (now EcoAction Arlington). During the event, a handful of community and ACE volunteers collected plastic trash, aluminum cans, and discarded clothing found in and around Bluemont Park in Arlington, Virginia.  As we cleaned up the area, they told me about a volunteer program called Energy Masters, a program focused on providing information and services for under-invested communities in Arlington and Alexandria. The objective was to help residents decrease their energy and water usage and utility bills, while, ideally, increasing comfort levels in units.
It's no surprise that I became an Energy Master. During my time as an undergraduate at The College of William & Mary, I was a member of the Student Environmental Action Coalition and most active in the Recycling group. We helped organize campus-wide activities for Earth Day and America Recycles Day, promoted reduction of single-use plastics, and organized large "yard" sales for incoming freshmen through which we offered donated and discarded furniture, textbooks, and other items collected from the campus. It was from this group that I learned that the common phrase "Reduce, Reuse, Recycle," specifically signaling that we should do those steps in that order. The idea is to recycle items only after they have been reused to their fullest, or better yet, begin by reducing the amount of waste produced by our actions and purchases in the first place.
I have also been known to offer my unsolicited advice on single-use plastics, mass consumerism and the waste it creates, and adjusting the thermostat to conserve energy. In summary, I have long been conscious of how the actions that individuals make contribute to their overall carbon footprint. Participating in the Energy Masters program seemed like a logical choice.
Becoming an Energy Master
The Arlington Energy Masters program objectives are:
Making hands-on improvements in affordable housing units that increase energy and water efficiency
Educating residents and their families to encourage behavior change for sustained impact
Delivering educational programs to community groups and students at local schools
Providing educational information and energy and water conservation toolkits to residents who are struggling to manage utility costs
Similar to other states' Master Gardener and Master Naturalist programs, Energy Masters volunteers attend weeks of specialized training before being qualified to perform the retrofits on properties. Specifically, the modifications that the program focused on included:
Installing lower-flow aerators and showerheads in bathrooms and kitchen
Sealing windows using weatherproofing and caulking
Insulating outlet and light switch boxes using foam insulation
Adding weatherstripping to exterior door frames to limit air movement
Providing LED light bulbs and smart power strips to passively conserve energy consumption
During the winter months, when utility bills were typically at their highest, volunteers would go door-to-door, equipped with the energy efficiency toolkit, educating tenants about the changes we were making. Our toolkits would include LED light bulbs, foam gaskets for outlets and light switch covers, low-flow aerators, and pamphlets to include with the tenants. Over the past decade, Energy Masters volunteers have installed over 4,800 LED light bulbs, 13,000 foam gaskets, etc. In more than 1,000 apartment units.
A secondary facet of the Energy Masters program involved participating in community events or local legislative meetings, spreading information about the ways everyone could reduce their carbon footprint, specifically through energy and water decisions made at the home. Overall, participating in this program was a great opportunity for me to take my passion for sustainability and outreach and apply it to communities where I lived.
Striving Toward Parity in the Green Movement
One of the aspects of this program that really struck a chord with me was the ability to educate and bring sustainability to communities that may not consider energy efficiency at the top of their list of priorities. For the majority of Americans, sustainable lifestyle changes are often choices they "cannot afford" to make, like purchasing an electric vehicle, installing solar panels, or choosing energy-efficient appliances. The idea that Energy Masters strives to teach to as broad an audience as possible is that reducing your carbon footprint results from a multitude of decisions. Setting thermostats to DOE-recommended temperatures. Changing out compact fluorescent light bulbs (CFLs) with energy-saving LED bulbs. Shortening shower times by a minute or two. While these decisions may seem insignificant, the small actions of many compound into a greater overall reduction of energy and water usage.
This program, and programs like it, highlights the spirit of MITRE—solving problems for a safer world and bringing solutions to all communities. MITRE encourages employees to take advantage of community service opportunities such as this through our employee volunteer benefit (40 hours of paid time per year for volunteering), which has benefitted my role in the Energy Masters programs. This allows me to spend a few afternoons organizing and preparing for the next week's schedule or participate in local legislative events on behalf of the Energy Masters program.
For more information on the Energy Masters program in Arlington, feel free to email me (khuynh@mitre.org) or visit the Arlington Energy Masters' website.
Kathy Huynh is a senior chemist in the Material Science and Advanced Manufacturing group at MITRE. She earned her bachelor's and master's degrees in chemistry from The College of William & Mary. During her time at MITRE, she has worked on the chemical sensors for public health and defense applications in addition to identifying emerging technology threats and appropriate outreach and mitigation approaches. In her free time, she loves to talk about everything sustainability and low-waste living. The thoughts and opinions in this blog are Kathy's.
© 2021 The MITRE Corporation. All rights reserved. Approved for public release.  Distribution unlimited. Case number 21-1114.
MITRE's mission-driven teams are dedicated to solving problems for a safer world. Through our public-private partnerships and federally funded R&D centers, we work across government and in partnership with industry to tackle challenges to the safety, stability, and well-being of our nation. Learn more about MITRE.
See also:
The Road to Resilient, Sustainable Infrastructure is a Smart One
Dr. David E. Willmes on Solving Global Food Insecurity
The Power of Geospatial Data In Developing Countries
Jen Choi and Josh LeFevre and the power of "Yes, And"
Getting Students Excited About STEM (and MITRE), with Willie Hill
Project Demodocus: Bringing Accessibility to the Masses
Turkeys vs Swans, with Imanuel Portalatin
Justin Brunelle: Lessons from MITRE's Innovation Program
Rachel Mayer on the Fight Against Maternal Mortality
Marcie Zaharee and MITRE's Open Innovation Challenge
Interview with Dan Ward, Rachel Gregorio, and Jessica Yu on MITRE's Innovation Toolkit
Interview with Tammy Freeman on Redefining Innovation
Interview with Dr. Sanith Wijesinghe on Agile Connected Government