Bot Power at Discover Engineering Family Day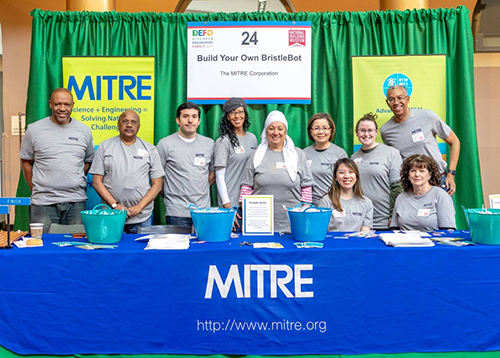 Author: Russell Woolard
What child can resist the challenge of building a tiny robot (or "bot") using the head of a toothbrush, a button battery, and a pager motor?
Judging from MITRE volunteers at the company's Discover Engineering Family Day booth, plenty of people were eager to try their luck.
At the start of the 27th annual event—held on Feb. 16 at the National Building Museum in Washington, D.C.—MITRE volunteers brought 750 bots. By early that afternoon, they were all gone. A steady stream of children, parents, and teachers lined up at the MITRE table to collect the parts, then decamped to wherever they could find space to assemble the bots, with MITRE volunteers ready to assist.
For more photos of MITRE at Discover Engineering Family Day, see the gallery on MITRE's Facebook page.
Russell Woolard writes for MITRE's Strategic Communications department.
© 2019 The MITRE Corporation. All rights reserved. Approved for public release.  Distribution unlimited. (Case number 19-0813)
MITRE's mission-driven team is dedicated to solving problems for a safer world. Learn more about MITRE.
See also: