MITRE Sponsors Women's Wikipedia Edit-a-Thon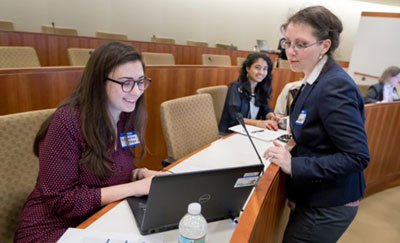 So many of us take Wikipedia for granted, It's just, well, there, right? Ever focused on service, MITRE staff set out to do more than consume its bounty. We became volunteer editors, focusing on the contributions of women in STEM. Learning, doing, contributing—good stuff.—Editor.
Author: Cheryl Scaparrotta
In early March, approximately three dozen staff at MITRE's Bedford and McLean headquarters enthusiastically gathered to voluntarily contribute to Wikipedia, a website that's among the top ten most visited sites on the internet globally. The event took place in honor of Women's History Month, and was sponsored by MITRE's Information Services and Office of Inclusion and Diversity.
The edit-a-thon was a natural fit for Information Services, a research-intensive department that includes InfoDesk Services, a corporate information desk. InfoDesk librarians helped edit-a-thon participants find information and cite credible sources on topics.
"Decision makers use Wikipedia as a resource; studies have shown that only 13-15 percent of Wikipedia entries are edited by women and only 16 percent of biographies are about women," said Deanna West, department head, Information Services, in her opening remarks. "We would like to make it a site representative of everyone."
The half-day gathering was the first-ever MITRE Women's Wikipedia Edit-a-Thon, designed to encourage more women in STEM to become Wikipedia editors, and to increase the number and quality of Wikipedia entries about women scientists. The event was open to all MITRE staff.
"We wanted to create a support network for MITRE employees learning to edit in Wikipedia," said Audrey Hopkins, an information analyst at the InfoDesk who designed the event. "Those who attended learned how to edit in Wikipedia, why it's important, and how they can contribute in their fields of expertise. Many of the participants pledged to continue in their new role as Wikipedia editors after the event." Hopkins cited statistics on the low participation of women editors in Wikipedia that results in lower number of articles on women working in their fields.
"It was fun and satisfying," said Bernadette Clemente, a chief scientist in the Center for National Security. "Experts from Wikimedia D.C., MIT, and MITRE's InfoDesk guided us skillfully into the culture of Wikipedia encyclopedic editing. It was a fresh view for me of Wikipedia because I spend most of my time on the technology side of wikis. I'd like to find personal time to continue making contributions to Wikipedia." Clemente also helped familiarize new editors with MITREpedia, one of MITRE's internal wiki platforms.
Ironically, Bonnie O'Neill, a principal computer scientist, says she was an early advocate of wiki technology, but it was her first opportunity to contribute in this hands-on manner. "I gave several speeches in the data and knowledge management communities early on about the 'wisdom of crowds' and value of using wikis as a knowledge capture tool, but I'd never been an actual editor on Wikipedia," she says.