Slack—Fast becoming MITRE's virtual coffee shop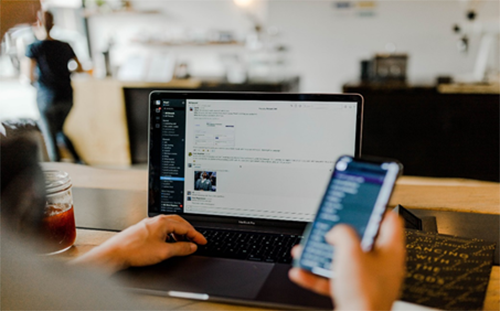 Author: Lisa Pacitto
MITRE staff, teleworkers, and business partners are attending more and more meetings virtually from different locations. Among the options at MITRE for communicating and sharing non-sensitive information, Slack, a cloud-based team collaboration tool, has become a meeting place where people can work productively and feel comfortable—much like a virtual coffee shop.
Over the past three years, MITRE's use of Slack has grown through a "grassroots" community within the organization. Currently, the main MITRE Slack workspace, mitrecorp, has 1,800 weekly active members (4,607 total members) and 1,014 public channels.
In addition to the mitrecorp workspace, there are much smaller (mostly private) Slack workspaces that have been set up for a specific project or purpose. Within a Slack workspace, there can be various "channels"—similar to separate chat rooms—that can be used for various purposes. For example, a channel to post specific types of information, to discuss different tasks within a project, or to communicate with specific groups within a project.
As a communication tool, Slack is preferred by users over email and Skype for non-sensitive information because Slack is both persistent (you can leave a workspace and come back without missing any communications) and granular (you can focus your communications with specific people or groups of people).
If a project team needs to share information of moderate and high sensitivity, they can post a link in Slack to the information hosted on other MITRE collaboration tools that support that level of data sensitivity.
Use Cases of Slack Collaboration

Improved Communication
Artificial intelligence engineer, Susan Lubar, leads the TaskMatch project—a corporate wide tool that helps project leaders connect with staff who have availability and expertise for a particular project.
"Members of my team are in California and Germany. Slack is a great way for us to connect across time zones," says Lubar. "We can ask questions and our team members in different time zones can respond when they're able, and the responses are captured in one place for the whole team to see."
According to Lubar and her team, having all communications about TaskMatch in one Slack channel is much more effective than sending emails that might get lost in the stream of messages about other subjects.
Improved Workflow
Principal software engineer, Kevin Davis, is currently working with a MITRE sponsor to build a DevSecOps (development, security, and operations) pipeline. As technical lead on the project, Davis recently set up a dedicated co-development (CoDev) Slack workspace that allows MITRE and sponsor team members in various locations to communicate easily. Shortly after setting up the Slack workspace, the team discovered a problem with the pipeline implementation.
Prior to using Slack, if a problem arose it might take Davis and his team a week of sending emails, gathering code traces and sending them via email or Kiteworks (a secure mobile file-sharing platform), and possibly exchanging several phone calls. Using Slack, the entire team was able to communicate instantaneously, identify the problem, and present possible solutions within an eight-hour timeframe.
"This was a 'big win' for our team," Davis says. "Using Slack, we've experienced improvements in our workflow and have been able to short circuit lengthy traditional communication patterns and improve outcomes."
Improved Mobility
Steve Purdy, lead software systems engineer in MITRE's Software Solutions and Technologies Technical Center, uses Slack to collaborate and track two projects that require the writing, testing, and customer delivery of source code.
Purdy has a designated Slack workspace for CyGraph, a cyber-dependency mapping tool that uses graph analytics to conduct mission analysis for the Army, and one for IRS Labs, a MITRE-developed web-based platform that provides tools to develop, deploy, test, and analyze the effectiveness of early concept prototypes for IRS websites.
"We have a lot of moving parts with these projects and Slack helps us keep track of everything in one place," says Purdy. "Every time someone on the team pushes code to our GitLab repository, everyone on the teams gets a Slack notification letting us know who pushed the code and a link to the changes. We also get Slack notifications whether the pushed code passed or failed in the continuous integration/continuous delivery pipeline. If it failed, we can determine why it failed and address the problem quickly."
Purdy notes that even when he travels, he can stay in touch with his team via the Slack mobile app. In addition to using Slack for project work, Purdy finds it helpful to be aware of other discussions on Slack. "That's how I found out about an Enterprise Computing Environment cloud update and outage and when I could expect the issue to be resolved," he says.
Improved Accessibility
Accessibility and Usability Engineer, Jared Batterman, works on the Federal Communications Commission, Telecommunications Relay Service, Collaboration of Expertise (FCC TRS COE)–an effort to ensure that people with communication difficulties can fully use the benefits of the nation's communications systems.
Batterman's team members include MITRE staff in Bedford, McLean, and remote locations, university partners, and people who are deaf or have hearing loss, as well as members of the Deaf community (e.g., Deaf individuals, and their spouses, siblings, children).
"While Skype works for team members in various locations, it doesn't work for our team members who are Deaf or have hearing loss," says Batterman. "Using Slack, we can conduct meetings by typing comments and replies. We can also see in a sidebar who's attending the meeting and ask questions directly to a particular team member."
Batterman notes that even though he's not the fastest typist in the group, meetings in Slack run pretty smoothly and it helps to have a written record of what was said and by whom to refer back to after a meeting. He also likes that he can have a separate channel to communicate with each of his university partners.
A Platform for Common Interests
Within the mitrecorp workspace, there are channels that connect people interested in a particular domain area, for example software development, coding, and artificial intelligence, as well as personal interests such chess, bicycling, and pets. There is also a #random channel for posts and questions unrelated to other channels, and a channel called #drawingtheouternet that challenges members to visually interpret the weekly 4-word wireless network key for MITRE's Outernet. While not directly work-related, channels like #random and #drawingtheouternet provide a platform for MITRE Slack users to exchange ideas freely and be creative—a practice that can lead to new ideas and perceptions that ultimately enhance MITRE project work.
MITRE Slack administrators recently upgraded the mitrecorp Slack workspace from Standard to Enterprise Grid. The upgrade provides full access to Slack's enterprise features, such as a single sign-on to access multiple workspaces and shared channels among workspaces for better cross-collaboration.
Whether Slack users at MITRE are using a single workspace or multiple workspaces for different purposes, they find Slack provides an easy way to quickly reach a diverse population, especially helpful when posing a question or trying to find expertise on a subject; it reduces the need for face-to-face meetings and emails; it helps remote and traveling teams collaborate more effectively; and it enables communication off of the MITRE network.
Strategic Communications Contract Writer Lisa Pacitto covers innovation and technology for MITRE. She handles external communications for the Innovation Seminar Series and MITRE's Pepper robot, @mitrepepper. She has written for The Boston Globe and MIT's Technology Review magazine.
© 2019 The MITRE Corporation. All rights reserved. Approved for public release.  Distribution unlimited. Case number 19-3260.
MITRE's mission-driven team is dedicated to solving problems for a safer world. Learn more about MITRE.
See also:
MITRE Explores Emerging Tech of Interest at SXSW Conference and Hackathon
AI & Technology: Lending a Hand to People with Disabilities
A Spin Around the Blockchain—Exploring Future Government Applications
Applying Design Thinking to Boost Federal Agency Problem Solving