Applications in Data Science: A Serious Game for Individuals with Cerebral Palsy
MITRE believes that data is the next medical innovation in health. How might connecting people and data reinvent the health experience? To find out, a team of researchers developed Home Assessments for Prompt Intervention (HAPI), a serious game that uses Microsoft Kinect-based joint tracking to detect critical changes in patients with cerebral palsy. The development team brought together specialists in emerging technologies and data analysis to improve quality of life for these patients without asking their families to make costly trips to a medical facility.—Editor
Photo courtesy of Home Assessments for Prompt Intervention (HAPI) team: An individual raises her arms, and the HAPI avatar mimics her motion.
Author: Amanda Andrei
The use of gaming technologies in healthcare has the potential to provide engaging, low cost, quantitative, remote assessments of an individual's health status, which can be used to inform clinical decisions.
The Mayo Clinic defines cerebral palsy as, "a disorder of movement, muscle tone or posture that is caused by damage that occurs to the immature, developing brain, most often before birth." This condition affects more than 500,000 individuals under the age of 18 in the United States. Due to both the nature of the chronic condition and the effects of childhood development (e.g., physical growth), the child's impairments frequently change over time, requiring new treatments. If the changes in impairment are not caught quickly, it can result in falls or reduced function that can be difficult and expensive to treat. 
Early referral to therapy can reduce the risk of falls and the need for surgical intervention—but evaluation of impairments usually only occurs in a doctor's office or other clinical setting, which means that assessments are frequently costly, time consuming, and transportation limited.   
Drs. Elizabeth Brokaw and Michael Fine of MITRE's Emerging Technologies Department developed the idea for Home Assessments for Prompt Intervention (HAPI), a Kinect-enabled serious game for children with cerebral palsy that analyzes body movements for signs of worsening impairments or loss of function. The idea is that, instead of having to visit the doctor's office, children can play a game at home or school, and the system will send their clinician data about their health status.  
Tony Donadio from MITRE's Department of Data Analytics led the development team that designed and prototyped HAPI using the Unity gaming engine. "HAPI uses an interactive story to coach children through a series of movements designed to evaluate impairments," Donadio explains. "Our team used the Microsoft Kinect to track body positions and compared them to expected measurements of balance and range of motion. If significant changes in impairments are detected, these individuals can be scheduled for appropriate therapy or intervention." When the user is asked to stand still for an evaluation of posture and balance in the real world, for example, he or she "becomes invisible" in the game world. To test functional reach in the real world the individual reaches forward to "enchant butterflies" in the game.
Tony's team developed the features that enable users to customize their avatars as well as an interactive story that motivates the user to complete the tasks. These features encourage frequent use and maximal effort during the tasks. "The purpose was to work out a way to mitigate the costs and negative consequences of not finding these problems early," notes Donadio. This can result in improved quality of life for individuals with impairments due to cerebral palsy.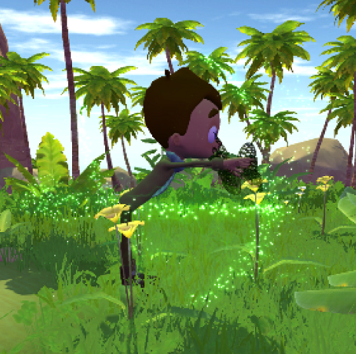 This screenshot demonstrates functional reach, during which the individual reaches forward as far as they can without taking a step.
Did you enjoy this series on data science practitioners and applications in data science? Want to hear more stories? Let us know!
 Amanda Andrei is a computational social scientist in the Department of Cognitive Sciences and Artificial Intelligence. She specializes in social media analysis, designing innovative spaces, and writing articles on cool subjects.
See also: 
Applications: Anti-Fragility in Action
Technical Challenges in Data Science
Defining, Applying, and Coordinating Data Science at MITRE
Rising to the Challenge: Countering Unauthorized Unmanned Aircraft Systems
Mistakes and Transcendent Paradoxes: Dr. Peter Senge Talks on Cultivating Learning Organizations
MITRE Hackathon Examines Impact of Emerging Mobile Technologies
Digital Notebooks for Emergency First Responders
Managing Knowledge Through Systems Visioneering
© 2018 The MITRE Corporation. All rights reserved.
The MITRE Corporation is a not-for-profit organization that operates research and development centers sponsored by the federal government. Learn more about MITRE.