Evolving the Electronic Flight Bag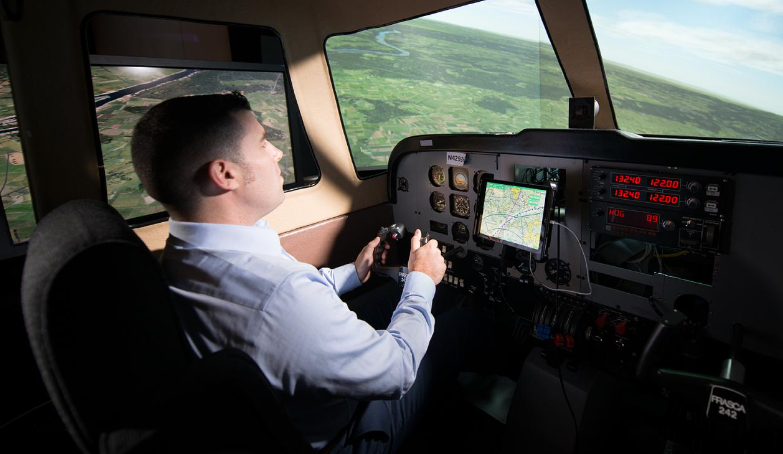 An electronic flight bag (EFB) may typically be used to replace pilots' paper charts, but with some new developments it could start to be more of a cognitive assistant. MITRE researchers are not only developing and licensing technology that moves the EFB concept in that direction, they are sharing what they learn as they learn it.—Editor
Photo by Andy Cleavenger (MITRE)
Author: Marlis McCollum
At a recent Avionics for NextGen Conference, MITRE and Federal Aviation Administration (FAA) representatives staffed a panel that explored the operational use of Electronic Flight Bags (EFBs). An EFB is an electronic information management device that helps flight crews perform flight management tasks more easily and efficiently, with less reliance on traditional paper references, such as navigational charts, operational manuals, and aircraft checklists.
In their simplest form, EFBs can display these documents digitally and perform basic flight planning calculations. More advanced EFBs can perform more sophisticated functions, such as displaying the aircraft's position on navigational charts, depicting real-time weather, and other complex flight planning tasks.
At the Avionics for NextGen conference, the FAA/MITRE panel discussed the ongoing evolution of the technology and the standards regulating its use, including a recent shift in FAA thinking on those standards.
"The FAA has re-thought how EFBs are categorized and the types of operations they can be used for," explained panelist Matthew Pollack, MITRE's Aviation Human-Centered Experimentation associate department head. "EFBs are being widely adopted across industry, but the rules have always been stricter for commercial users. Recently, the FAA released an advisory that allows EFBs to be used in more flight operations."
When designing more advanced EFB applications, Pollack noted, "We must be cognizant of how the human will interact with the automation and how to present the information to the pilot in a way that's helpful and not overwhelming from a workload standpoint. We don't want to add to pilot's already high workload and stress levels."
"For instance," Pollack explained, "with respect to touch inputs, the interface needs to be simple and intuitive. For voice inputs, the accepted language must be common and not require intense or recurrent training. Similarly, outputs from the system must be clear and concise and easy for the user to recognize and act upon."
During his presentation, Pollack spoke about Digital Copilot™, a MITRE-developed technology that uses readily available devices—like smartphones and tablets—to provide an automated cognitive assistant to General Aviation (GA) pilots flying solo, as a way to improve aviation safety.
A set of sophisticated software algorithms enables Digital Copilot to respond to spoken commands, look up information and provide it in a variety of formats, and infer the pilot's intent based on the flight context. It can also determine when information is required and automatically provide it to the pilot at the appropriate times through a simple, intuitive speech-based interface.
"The electronic flight bag acts as the host for cognitive assistance capabilities like Digital Copilot," Pollack said, "so it serves as a stepping stone for getting these capabilities into not only light General Aviation, but also business aviation and possibly even commercial aviation domains as well."
Prior to initially releasing the Digital Copilot technology for licensing in 2016, a team of MITRE researchers tested and refined it in laboratory evaluations with pilot subjects to determine the formats for data input and output that would provide the greatest value to users. The team continues to enhance the Digital Copilot concept with additional algorithms and capabilities, releasing and sharing newly acquired knowledge on a regular basis.
Marlis McCollum is a writer and editor specializing in corporate storytelling. By translating complex technical concepts, she helps the world understand what MITRE does to make the world a safer place.
See also
MITRE's Commercial Aviation Dashboard Improves Air Traffic Management, Flight Safety
© 2018 The MITRE Corporation. All rights reserved. Approved for public release; distribution unlimited. Case number 18-0288.
The MITRE Corporation is a not-for-profit organization that operates research and development centers sponsored by the federal government. Learn more about MITRE.