Exploring the Challenges and Opportunities of NextGen Equipage in Real Time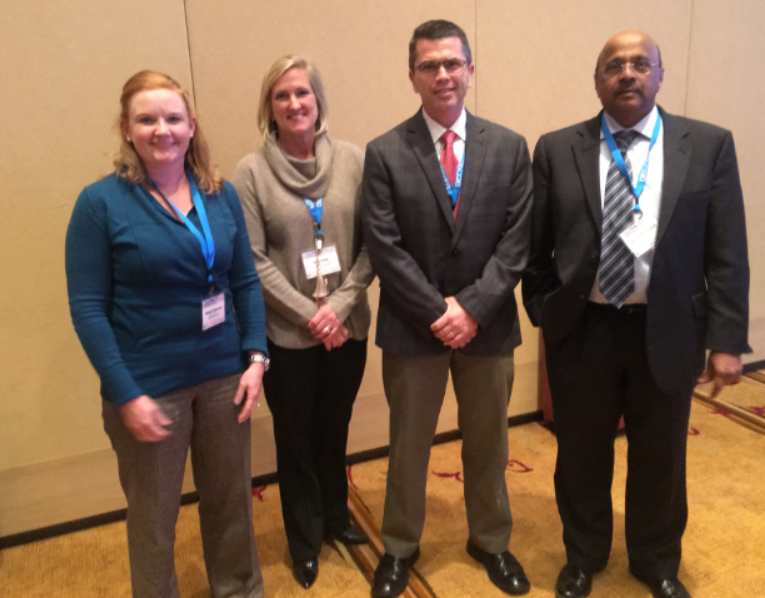 Even in the most high-tech domains, knowledge needs to flow across many platforms—explicitly during face-to-face discussions at conferences and in working groups, implicitly as teams perform together, and deliberately as new technology rolls out and directives roll with them. MITRE serves as an interface for all types of ongoing collaboration.—Editor
Roberta Zimmerman, Cindy Freud, Sean McCourt, and Shiva Anand at the Avionics for NextGen Conference in Reston, VA.
Author: Marlis McCollum
MITRE's avionics specialists recently shared their expertise at the Avionics for NextGen conference, where MITRE staff moderated or spoke on four of the event's 11 panels. The conference was well-attended by MITRE staff who support both Federal Aviation Administration (FAA) and Department of Defense (DoD) sponsors, many of whom were also in attendance.
"The fact that it incorporated both civil aviation and military perspectives was what made this such a good conference," said MITRE's Sean McCourt, who spoke on one of the event's panels. "NextGen—the FAA program to modernize the National Airspace System (NAS)—affects both arenas, and some great questions and discussions shed a lot of light on the avionics issues that both the civil world and the military are facing," noted McCourt, who is responsible for understanding the status of the avionics on aircraft, trends for adoption of new avionics, and how avionics enable desired operations in the NAS.
Automatic Dependent Surveillance-Broadcast (ADS-B)—a technology aboard aircraft that will eventually replace radar as the preferred surveillance method for air traffic monitoring and maintaining safe separation of aircraft—was one of the avionics topics discussed at the conference. ADS-B enhances safety and efficiency by using satellite signals for precision tracking and navigation. This broadcast information enables pilots and controllers to move air travelers more efficiently and accurately.
Preparing for ADS-B Out
McCourt moderated a session on ADS-B Out, the technology that allows aircraft to broadcast their positions and other information to similarly equipped aircraft and controllers. Under a Congressional mandate, commercial and military aircraft must be equipped with ADS-B Out by 2020. The panel—which featured representatives from the FAA, Becker Avionics, and Allegiant Air—discussed the progress that has been made toward getting all types of aircraft into compliance with the 2020 ADS-B Out mandate.
"This is a good example of where it was helpful to hear both civil and military experiences and perspectives," McCourt said. "The FAA has a mandate to get aircraft equipped with ADS-B by a certain date. But for the DoD, cost, budget, and maintenance schedule constraints make it prohibitive to fully equip by the compliance date. In some cases, the DoD will seek to align equipage of ADS-B with its schedule for other program upgrades to reduce overall cost impact. That will also impact the DoD's ability to get equipped by the deadline."
The ADS-B-Out panel also identified other barriers to complying with the 2020 deadline, some of which are technical, but not all.
"One of the FAA's key messages was: 'We want your systems to work, so here are some things to watch out for when you're doing the installation of the technology,'" McCourt said. Many of the installation issues the FAA identified are caused by human error and can be avoided through increased attention. "By getting the word out about typical errors, the agency is trying to help everybody get to the goal of being equipped on time and correctly."
In addition to working directly with states, airports, and industry representation groups to support ADS-B Out adoption by the deadline, the FAA established the Equip 2020 working group. That group, which MITRE supports, is an FAA/industry panel that works with commercial and General Aviation (GA) operators to identify the key barriers they face in their efforts to comply with the 2020 ADS-B Out equipage mandate. MITRE is providing industry stakeholders and the FAA with common views of equipage trends, forecasts, and available technical solutions. MITRE also serves as the objective broker through which industry can anonymously inform the FAA of their concerns, without disclosing sensitive plans or issues.
Considering ADS-B In Requirements
MITRE's Surveillance Applications and Avionics leader William Penhallegon participated in a panel discussion of the FAA's progress with developing requirements for the use of ADS-B In capabilities. Aircraft equipped with ADS-B In can receive the ADS-B broadcasts of aircraft equipped. As more aircraft become equipped with ADS-B In, safety will increase since pilots will have enhanced awareness of other aircraft in their vicinity. In addition, ADS-B In flight deck equipment with new algorithms and other capabilities will help increase spacing precision and improve capacity in congested airspace.
Participants in the session—which also featured panelists from the FAA and avionics manufacturer Aviation Communication & Surveillance Systems, LLC—were interested in the expected benefits of ADS-B In.
Penhallegon explained how applications such as Interval Management and Paired Approach were being designed to increase arrival capacity and allow equipped aircraft to depart when they otherwise might be delayed. With Interval Management, controllers can assign pilots of ADS-B-equipped aircraft the task of maintaining a certain spacing between their own and another aircraft. The Paired Approach concept uses ADS-B to help pilots maintain spacing between aircraft when landing on closely spaced runways, even under low-visibility conditions.
One major question on the audience members' minds was: When will the FAA field the ground systems that will enable ADS-B In users to take full advantage of this technology?
"The current budget environment makes it difficult to know for certain," Penhallegon noted. "But the FAA believes in the benefits ADS-B In can provide, and they've committed to completing the avionics standards in RTCA by 2020."
As the MITRE leader for Interval Management—the primary ADS-B In application under active development—Penhallegon and his MITRE team are involved in defining avionics standards within RTCA and ground system requirements in the FAA. Given his understanding of both aircraft and ground system perspectives, he said, "I was able to bring to the discussion the day-to-day perspective of how air and ground equipment requirements are jointly evolving." He also noted MITRE's roles in human-in-the-loop and fast-time simulations and flight testing of ADS-B In applications. Depending on the specific event, these roles range from designing simulations and evaluation scenarios, conducting evaluations, and collecting and analyzing the data from those evaluations.
The integration challenges faced by avionics manufacturers was another topic of discussion at the session. "That was a really helpful exchange," Penhallegon noted. "The development process is always improved with more industry engagement. By better understanding the business case the vendors need to make and the technical challenges they face, the better we can support the design of systems and standards that take those issues into account."
Conferences are just part of the way MITRE staff collaborate across the community. MITRE also works directly with the FAA—and through the FAA, with other aviation stakeholders—to balance the benefits of new capabilities such as ADS-B In with implementation costs and other concerns. One of MITRE's key strengths is how its human-in-the-loop and fast-time research and analysis capabilities are applied to help inform FAA/industry discussions and decision-making processes.
Marlis McCollum is a writer and editor specializing in corporate storytelling. By translating complex technical concepts, she helps the world understand what MITRE does to make the world a better place.
See also
MITRE's Commercial Aviation Dashboard Improves Air Traffic Management, Flight Safety
© 2018 The MITRE Corporation. All rights reserved.
The MITRE Corporation is a not-for-profit organization that operates research and development centers sponsored by the federal government. Learn more about MITRE.