MITRE's National Airspace System Operations Dashboard Directs Attention to all the Right Places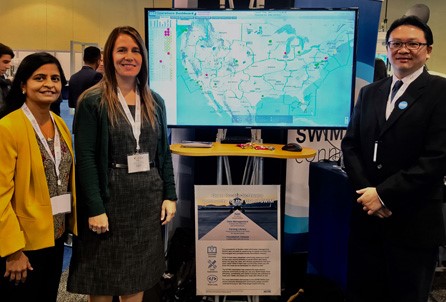 Air traffic managers have dozens of tools and capabilities they must monitor to keep up with what's going on in the nation's airspace at any given time. These tools and capabilities monitor airport and airspace demand, assess the impact of reroutes, and track emerging weather patterns. Until MITRE's innovative NAS Operations Dashboard (NOD) came online, no single, comprehensive system had combined these critical flight information elements in one easily accessible place. The NOD addresses the need expressed by FAA traffic managers for real-time monitoring and alerting of data and operational metrics. MITRE has supported the FAA mission for more than 50 years and has operated its federally funded research and development center—the Center for Advanced Aviation System Development (CAASD)—since 1990. CAASD provides the FAA with advanced technical capabilities in systems engineering, mathematics, and computer science.—Editor
Anuja Verma, Emily Stelzer, and Alex Tien flank the NOD display at the FAA's System Wide Information Management booth, at the 2017 Air Traffic Control Association's annual conference. Photo: Andy Cleavenger
Author: Marlis McCollum
Federal Aviation Administration managers and air traffic controllers are learning more about the MITRE-developed National Airspace System (NAS) Operations Dashboard, better known as NOD.
"The dashboard shows graphically, and with background maps, eight metrics that are of importance to moving airplanes," said Bob Flynn, MITRE's NAS Operations and Procedures portfolio manager and a former FAA traffic manager.
In today's environment of multiple data feeds and displays, NOD streamlines and simplifies information presentation as well as having business logic for a continuous monitoring and alerting capability that lets traffic managers know sooner what requires their attention. "For example," Flynn said, "traffic managers can get insight into operations at different airports, such as diversions or taxi times in Chicago or airport throughput in Boston. This gives them more time to assess impact and take more optimal measures to address issues." It's this kind of decision support capability that brings the most critical information forward at the right time.
Much of the data NOD displays comes from the FAA's System Wide Information Management (SWIM) program. SWIM is a relatively new service and provides a wealth of airspace information for FAA traffic managers' and airlines' use. SWIM implements an enterprise messaging capability for the broad exchange of NAS data, creating an environment where data is readily available to NAS systems or external stakeholders. "People intuitively know the value of SWIM data, but don't yet know quite what to do with it," Flynn explained. "So MITRE found a way to harness some of that data and visualize it in a useful way in this dashboard."
This fall, MITRE demonstrated NOD at both the Air Traffic Control Association's (ATCA) annual conference in October and at the FAA Managers Association (FAAMA) conference in November.
"We demonstrated NOD at these events because it's important that a broad set of FAA personnel see how it's being used to make a difference in the way the FAA moves airplanes," Flynn said.
The FAA's Air Traffic Control System Command Center in Warrenton, Virginia, uses NOD every day, and local facilities in the Northeast Corridor are using it on a test basis. Airlines are also evaluating the prototype capability for their own use.
"We had it up and running in our booth at the FAAMA conference, and people were very enthusiastic about it," said Flynn. "Stakeholders already using it in the Northeast Corridor love it, and interested users from farther west were very enthusiastic about its potential." 
Marlis McCollum is a writer and editor specializing in corporate storytelling. By translating complex technical concepts, she helps the world understand what MITRE does to make the world a safer place.
See also
MITRE's Commercial Aviation Dashboard Improves Air Traffic Management, Flight Safety
© 2018 The MITRE Corporation. All rights reserved. Approved for public release; Distribution unlimited. Case Number 18-0007
The MITRE Corporation is a not-for-profit organization that operates research and development centers sponsored by the federal government. Learn more about MITRE.