MITRE Innovators Share Research at ATM2017 Seminar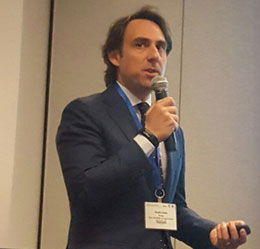 Offering rich technical papers that resonate with international researchers and the chance to collaborate with the world's aviation innovators, the June ATM R&D Seminar in Seattle, Washington, once again featured MITRE presenters who work on behalf of the Federal Aviation Administration (FAA). MITRE has supported the FAA mission for more than 50 years and has operated its federally funded research and development center—the Center for Advanced Aviation System Development (CAASD)—since 1990. CAASD provides the FAA with advanced technical capabilities in systems engineering, mathematics, and computer science.—Editor
MITRE's Gabriele Enea presents at ATM2017. Photo by Jesper Bronsvoort, Airservices Australia. Used with permission.
Author: Marlis McCollum
"Participating in the USA/Europe ATM R&D Seminar is an amazing experience," said senior principal aviation systems engineer Craig Wanke, who served on the organizing committee for this year's seminar—best known as ATM2017. "These seminars are where the real innovators in the field come to present their work."
It's no surprise, then, that multiple MITRE staff were presenters at this year's conference.
Jointly organized every other year by the Federal Aviation Administration and Eurocontrol, the ATM R&D Seminar attracts top researchers from around the world. "We only accept 40 to 50 percent of the submitted papers, so the quality of the conference content is very high," Wanke said.
One MITRE paper accepted for presentation—"Generating Diverse Reroutes for Tactical Constraint Avoidance" by Christine Taylor (presenter), Sheng Liu, Craig Wanke, and Timothy Stewart—received a best in track award in the "Network and Strategic Flow" category.
Other conference papers featuring MITRE authors included:
"Measuring Performance of Initial Ground-based Interval Management–Spacing (GIM-S) Operations"
"Analysis of the Use of Estimated Time of Arrival Broadcast for Interval Management"
"Read Back Error Detection using Automatic Speech Recognition"
"Fuel Burn Estimation Modeling for ATM Benchmark Applications: Perspectives from an International Collaboration"
"Assessment of Air Traffic Controller Acceptability of Aircrew Route Change Requests"
Materials related to these presentations can be found on the ATM Seminar website (see Past Seminars, 12th Seminar – 2017).
"The papers are limited to 10 pages, but they have to represent a compelling problem space," Wanke noted. "The authors have to be able to provide background that will work with an international audience, describe what they did, and have real data and real results. That's a challenging paper to write. So we're very proud of our presenters and their work."
Marlis McCollum is a writer and editor specializing in corporate storytelling. By translating complex technical concepts, she helps the world understand what MITRE does to make the world a better place.
See also:
© 2017 The MITRE Corporation. All Rights Reserved. Approved for public release; Distribution unlimited. Case number 17-2882
The MITRE Corporation is a not-for-profit organization that operates research and development centers sponsored by the federal government. Learn more about MITRE.