The 2017 Aviation Forum: Sharing and Advancing Research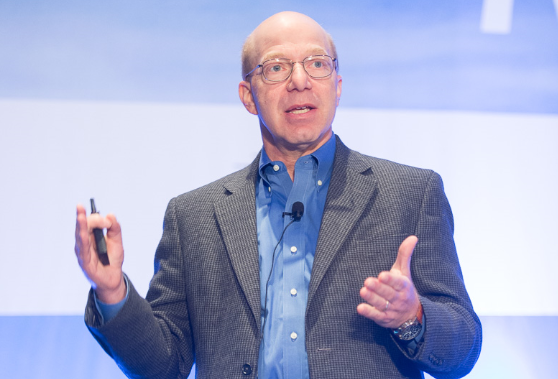 MITRE has supported the Federal Aviation Administration (FAA) mission for more than 50 years and has operated its federally funded research and development center—the Center for Advanced Aviation System Development (CAASD)—since 1990. CAASD provides the FAA with advanced technical capabilities in systems engineering, mathematics, and computer science. Staff regularly present their work and lead sessions at conferences. This summer found them in Denver, Colorado, sharing information and connections on unmanned aircraft systems, definitely a topic of recurring interest. —Editor
Photo of Andy Lacher: courtesy of Aeronautics and Astronautics (AIAA)
Author: Marlis McCollum
When the American Institute of Aeronautics and Astronautics (AIAA) held its 2017 Aviation Forum this summer, MITRE staff were among the 2,700 participants from across the world who met to explore the wide array of challenges facing the aviation community and the innovations being developed to address them.
MITRE staff participated in the forum's technical program in a variety of ways—presenting papers, serving as session chairs, and participating on panels.
Focusing on Unmanned Systems
Systems engineer Dave Maroney chaired two sessions on topics related to unmanned aircraft systems (UAS). In that session, presenters shared technologies they have developed—and are currently testing—to provide UAS with the ability to detect and avoid other nearby aircraft. Another presentation described modeling and simulation techniques NASA is using to test detect-and-avoid concepts in a simulated environment.
Maroney also chaired a session on UAS missions and technologies. Two of the presentations in that session explored how UAS might be used for such purposes as package delivery or forest health monitoring, along with the issues that must be dealt with to achieve these goals. A third session explored new ideas for UAS propulsion systems.
Glenn Roberts, chief engineer for the Center for Advanced Aviation System Development—the federally funded research and development center MITRE operates for the Federal Aviation Administration (FAA)—served on the Executive Steering Committee for Aviation 2017. At the event, he moderated a plenary panel titled "The Evolving Culture of Aviation." The panelists discussed the implications of the dramatic increase in so-called new entrants to global airspace systems, notably UAS and commercial space operations. The panelists discussed how these new users are adapting their solutions to meet safety and certification criteria, and how today's systems and processes must adapt to more easily accommodate these rapid changes while maintaining safety and efficiency.
"These are areas of interest to MITRE, so it was fascinating to hear how other organizations are approaching some of the UAS challenges," Maroney said. "Other researchers think about things from angles we might not have considered before, so that helps expand our own thinking."
Looking to the Future
Aviation 2017 also included a two-day program, titled "Demand for Unmanned." Andy Lacher—who participated in the conference in his role as MITRE's unmanned and autonomous systems research strategist—served as a panelist in the "Human-Machine Interaction" session, which explored the balance that must be maintained between taking advantage of the benefits of increased automation while not sacrificing safety. During that session, Lacher stressed the need for the human operator to remain alert and aware even when certain functions have been automated.
Later, systems engineer Avinash Pinto participated on a panel—"Incremental/Agile Methods—Fit for Demands of Complex Aerospace Systems?" In an open dialogue, panelists and session attendees explored ways in which agile software acquisition strategies might be translated into an agile approach to the engineering of aerospace systems.
Displaying Our Diverse Expertise
CAASD staff also presented five papers at the conference. These included:
When not fulfilling their formal roles at the conference, MITRE staff took every opportunity to attend the forum's many other sessions on such topics as on-demand mobility—or an Uber-like approach to the aviation arena—and the Internet of Things.
"As more and more elements of the aviation industry are equipped with computational power and sensing, the whole notion of doing systems engineering in this increasingly complex aviation environment is changing, so this is an important area for us to keep an eye on," Maroney noted.
Marlis McCollum is a writer specializing in corporate storytelling. By translating complex technical concepts, she helps the world understand what MITRE does to make the world a better place.
 See also:
© 2017 The MITRE Corporation. All rights reserved. Approved for Public Release; Distribution Unlimited. Case Number 17-2880
The MITRE Corporation is a not-for-profit organization that operates research and development centers sponsored by the federal government. Learn more about MITRE.