Air Traffic Control Association Technical Symposium Looks to the Future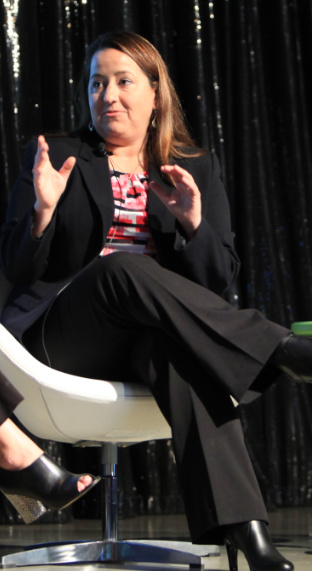 Elly Smith shared the MITRE perspective on time-based management in air traffic control at the 2017 ATCA Technical Symposium. Smith is the Trajectory Based Operations Portfolio Manager in MITRE's Center for Advanced Aviation System Development (CAASD, our Federally Funded Research and Development Center for the Federal Aviation Administration.—Editor
Photo courtesy of ATCA. Used with permission.
 Author: Marlis McCollum
When the Air Traffic Control Association held its 2017 Technical Symposium, in Atlantic City, New Jersey, in May, ACTA invited Elly Smith—MITRE's Trajectory Based Operations Portfolio Manager—to speak on a panel exploring the Federal Aviation Administration's (FAA) goal to more widely adopt the use of time-based management.
TBM improves the flow of aircraft within congested airspace. It does so by enabling controllers to manage air traffic based on time rather than distance to achieve more efficient aircraft spacing and sequencing.
Applying TBM—in combination with performance-based navigation (PBN) and improved strategic planning—is part of the FAA's Next Generation Air Transportation System (NextGen) plan for trajectory-based operations (TBO).
"TBO is a concept for strategically managing and optimizing trajectories throughout the operation based on an aircraft's ability to fly precise paths in time and space," Smith explained. The FAA is working to implement TBO to deliver greater efficiencies in the National Airspace System (NAS). Greater efficiency means lower fuel costs, reduced environmental impact, and time savings for passengers.
Achieving TBO, Smith noted, relies on a combination of improved NAS infrastructure, new capabilities onboard aircraft and on the ground for flight operators, and new decision-support tools for air traffic controllers and traffic managers.
"The objectives of TBO are to provide greater operations predictability and increased operational flexibility, and to enable more efficient use of NAS capacity," Smith told the crowd. "For 2025 this will be achieved with greater emphasis on strategic planning. That will require improved data sharing and operator collaboration, as well as the use of TBM with available PBN routes and procedures."
In other words, TBO will enable more efficient spacing, sequencing, and merging of flights—from takeoff to landing—based on a combination of their current and future positions. While TBO can improve flight trajectories, it also requires something of them—that they arrive at certain points in space at very precise times so that the predictability of traffic flows is maintained.
The panelists discussed a spectrum of TBO topics, such as the gate-to-gate operation envisioned at many places across the NAS, the balancing of predictability and flexibility objectives, the status of TBM use today, and the some of the implementation challenges that will be addressed as the FAA transitions to TBO.
Smith's fellow panelists included representatives from NASA's Langley Research Center, the FAA's NextGen Office, and the FAA's William J. Hughes Technical Center.
"The perspectives reflected by the participants really enabled a rich and insightful TBO discussion," Smith said. "It was a pleasure to be involved."
Marlis McCollum is a writer and editor specializing in corporate storytelling. By translating complex technical concepts, she helps the world understand what MITRE does to make the world a better place.
See also:
© 2017 The MITRE Corporation. All rights reserved. Approved for public release; Distribution unlimited
The MITRE Corporation is a not-for-profit organization that operates research and development centers sponsored by the federal government. Learn more about MITRE.