MITRE Shares Remote Tower Work at CANSO Asia Pacific Conference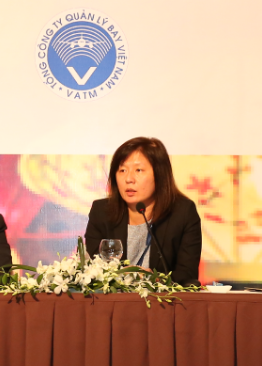 At the 2017 Civil Air Navigation Services Organisation Conference this past spring, MITRE's Mimi Dobbs and Juliana Goh participated in a panel discussion on the remote tower concept and its impact on air traffic management. Dobbs and Goh are staff in MITRE's Center for Advanced Aviation System Development (CAASD, our Federally Funded Research and Development Center for the Federal Aviation Administration.—Editor
Photo of Juliana Goh: Mimi Dobbs, MITRE.
 Author: Marlis McCollum
In May, MITRE's Global Harmonization and Asia Pacific Region Portfolio Manager Mimi Dobbs and MITRE Asia Pacific Singapore (MAPS) Head of Research Juliana Goh represented MITRE at the Civil Air Navigation Services Organisation (CANSO) Asia Pacific Conference. Held in Vietnam, the conference enabled Dobbs and Goh to share MITRE's work and build connections with key aviation decision makers in the Asia Pacific region.
"CANSO has five regions, each led by a region director focused on promoting the organization's vision of harmonized airspace globally," explains Dobbs. "This conference focused on the unique needs of the Asia Pacific region, which CANSO estimates account for more than 30 percent of the world's air traffic."
The theme of this year's conference was "Gearing for Growth in the Asia Pacific—Embracing Change, Building Capabilities." Conference speakers examined the changes that will need to occur to enable Asia Pacific air navigation service providers to meet the challenge of rapid air traffic growth in the region, including how they might strengthen their capabilities and harness new technologies that are coming on the scene.
In keeping with that theme, Goh participated on a panel that addressed the changing landscape and its impact on air traffic management. During that session, she presented the concept of remote tower operations, in which real-time camera feeds are used to replicate or enhance the panoramic view air traffic controllers have from an airport tower. Goh discussed the work MITRE has been doing for the Civil Aviation Authority of Singapore to explore remote tower operations as a complement to operations in the actual tower at Singapore's busy Changi Airport. She also spoke about technologies that can be implemented within remote tower systems in the future.
"During the past two-and-a-half years, MITRE has developed a preliminary concept of operations to define how Changi Airport could operate in a remote tower scenario, and we've conducted human-in-the-loop experiments to test the concept," Dobbs says. "Juliana talked about what we learned from that work about the benefits of the remote tower concept and how it could be used—such as when weather prevents controllers from being able to see clearly out the tower windows—and advances in computer vision that can help 'clear' the video image in a remote tower, something not available in a traditional physical tower. In those situations, remote tower operations would help maintain both safety and capacity."
Marlis McCollum is a writer and editor specializing in corporate storytelling. By translating complex technical concepts, she helps the world understand what MITRE does to make the world a better place.
© 2017 The MITRE Corporation. All rights reserved. Approved for public release; distribution unlimited