At Xponential 2017, MITRE Staff Share Information on Unmanned Aircraft Systems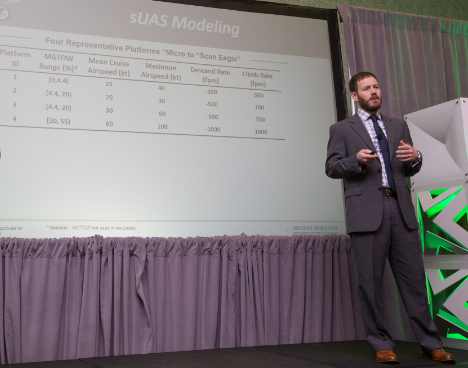 As co-chair of the Unmanned Aircraft Systems Science and Research Panel, MITRE's Ted Lester recently presented an update on the past two years of the panel's work, at the Association for Unmanned Vehicle Systems International's (AUVSI) Xponential 2017 conference, in Dallas, Texas. As did his colleagues Andy Lacher and Jeff Breunig, Lester had ample time to talk shop with sponsors, industry partners, and others. The conference hosted 600 exhibitors and 8,000 influential players in the UAS arena. Lester, Lacher, and Breunig are staff in MITRE's Center for Advanced Aviation System Development (CAASD), our Federally Funded Research and Development Center for the Federal Aviation Administration.—Editor
 Photo: Jim Moore, Aircraft Owners and Pilots Association. Used with permission.
 Author: Marlis McCollum
At the Association for Unmanned Vehicle Systems International's (AUVSI) Xponential 2017 conference, MITRE's expertise in the unmanned aircraft system (UAS) arena was on display, though not always overtly.
"We were mostly behind the curtain at this event, rather than in front of it," notes Research Strategist Andy Lacher, "but we had a huge impact because a lot of the topics that were discussed are things MITRE is working on and has an influential role in."
For instance, the conference's keynote speaker alluded to work MITRE has been doing to support expanded use of small UAS—safely and securely—even in densely populated areas.
As part of that effort, the Federal Aviation Administration (FAA) is working toward standing up an Aviation Rulemaking Committee (ARC) focused on identifying technologies and approaches that can be used to identify and track small UAS while they're in the air.
MITRE is supporting that effort, with AUVSI's help. "AUVSI solicited white papers on this topic, which it then handed over to us for analysis," Lacher explains. "Our analysis is now informing the creation of the ARC. Our assessment of which ideas were the best is helping determine which organizations will be selected for ARC membership."
MITRE looked at more than 40 different concepts and approaches submitted by dozens of organizations. "We've done a detailed analysis of their capabilities, their practicalities, and their technology readiness levels—and all of this in preparation for the stand-up of the ARC," adds Jeff Breunig, who is heading up MITRE's work for the FAA on small UAS.
Although MITRE didn't advertise this role at the conference, the word was out. "Everyone knew about the role we were playing, and they sought us out because they want insights into what the future holds," Lacher says.
Connecting with Key Influencers
The conference, which brought together 600 exhibitors and 8,000 influential players in the UAS arena, was also an ideal venue for participating MITRE staff to have meaningful dialogue with sponsors, industry partners, and others.
"The conference attracts a very broad and high-level group of participants," Breunig says. "Companies send their CEOs, COOs, chief engineers, and researchers to this event. So you can have meetings with literally dozens of different organizations at a very high level, at a deep technical level, or both. That makes for a very productive week."
"Many of the people we had discussions with are key influencers in the UAS arena," adds Lacher.
Progress on Many Fronts
MITRE's Ted Lester presented at the conference. As co-chair of the UAS Science and Research Panel (SARP)—an interagency group that includes representation from the FAA, the Department of Defense, NASA, and the Department of Homeland Security, among others—he presented an update on the work the panel has done over the past two years. One of the SARP's primary accomplishments, he says, were its recommendations on separation standards for keeping small UAS operated beyond the operator's line of site "well clear" of other aircraft.
Lester's participation in other sessions—and his exploration of the exhibition hall—left him with three big take-aways. "One was that there's been a shift from companies just wanting to make drones to sell to wanting to provide services based on drone-collected data," he says. Another area of increased focus he noticed was in counter-UAS technologies. His third observation was that there is a move in the industry toward greater automation of UAS, with fewer actions controlled by human remote pilots.
Clearly, the MITRE team covered a lot of ground, and in more ways than one. "I looked at my step counter on one of the days of the conference, and I had logged 16,000 steps," Lacher remembers. "It's a big place, with lots of places to go and lots of rich opportunities. Now our job will be to disseminate all the learnings and share all the contacts we made there with our colleagues."
Marlis McCollum is a writer and editor specializing in corporate storytelling. By translating complex technical concepts, she helps the world understand what MITRE does to make the world a better place.
 See also:
© 2017 The MITRE Corporation. All rights reserved. Approved for public release; Distribution unlimited.