From Surface to Space in Just Two Conferences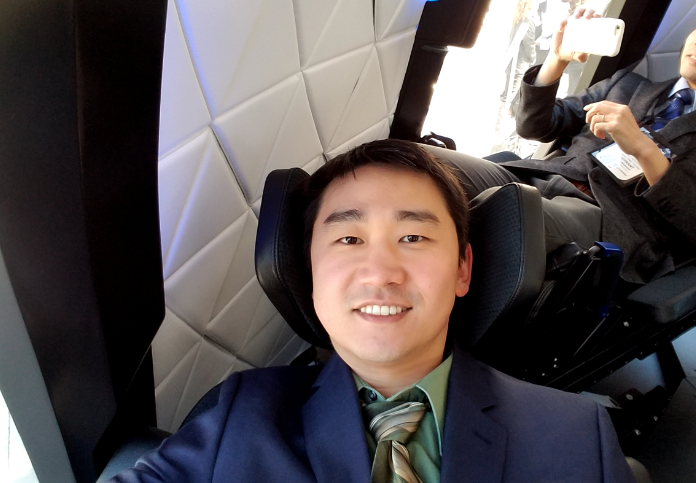 MITRE works with the Federal Aviation Administration to enable the safest, most efficient aerospace system in the world and to meet the evolving needs of the nation's airspace. 
We have supported the FAA's mission for more than 50 years and have operated the Center for Advanced Aviation System Development (CAASD), its Federally Funded Research and Development Center since 1990. CAASD provides the FAA with advanced technical capabilities in systems engineering, mathematics, and computer science. Staff present their work at conferences as a matter of course. This spring found them in Colorado and Virginia, sharing information and connections on space and unmanned aircraft systems.—Editor
Photo: MITRE's Zheng Tao checks out the comfort of a Blue Origin capsule. Credit: Dean Fulmer, MITRE.
Author: Marlis McCollum
In April 2017, MITRE staff supporting our Center for Advanced Aviation System Development (CAASD) participated in conferences that spanned air and space domains. The result was information and connections that will support our work in these evolving territories for years to come.
The Space Foundation's 33rd  annual Space Symposium in Colorado Springs, Colorado, was the first to take off.
"This is probably the premier space symposium on the planet," says Dean Fulmer, Commercial Space Transportation Lead at MITRE. "It's a very target-rich environment for learning what different agencies and private commercial space companies are doing to improve access to space."
Key themes emerged during the three-day event, providing a valuable framework for MITRE's future efforts in the space domain: defense of a shared asset, cybersecurity, commercial space operators, and international cooperation.
The keynote address by Gen. John Hyten, Commander of U.S. Strategic Command, addressed the need for U.S. leadership to ensure that space remains hospitable for and available to all to ensure its peaceful use.
Cybersecurity was another recurring theme at the symposium, Fulmer notes. "The Federal Aviation Administration (FAA) has already done a lot of work on protecting the command and control links for aircraft and unmanned aircraft systems (UAS). Now that work needs to be done for commercial and other space vehicles."
It was also evident from the content of the conference presentations that the U.S. government is relying more and more on commercial space operators to support its space needs. "The pace of development and improvement on booster rockets is a key factor in that shift," Fulmer says. "Commercial space entities have shown that they can re-use booster rockets. That sort of re-use will drive down the cost of putting payloads into orbit—both for the government and taxpayers."
Meanwhile, international cooperation on space-related issues appears to be increasing. "Space agencies from a variety of nations discussed how they are addressing their own challenges, and there was a lot of evidence of emerging dialogue among space agencies as well as with the United Nations Office of Space Affairs and the United Nations Committee for Peaceful Use of Outer Space," Fulmer explains. "There was also talk about greater collaboration with the International Civil Aviation Organization (ICAO) as more and more space vehicles transit through airspace on their way to outer space and must be managed."
In the second half of April, MITRE's strengths in the UAS arena were on display at the 2017 Integrated Communication, Navigation, and Surveillance (ICNS) Conference, in Herndon, Virginia, where the theme was "CNS Challenges for UAS Integration."
MITRE staff presented in several sessions. Software Systems Engineer Vince Massimini was on the panel of one of the conference's three plenary sessions, "Satellites for CNS," which explored the latest developments in using satellites to support CNS functions in general as well as more specific applications to UAS operations.
Following that plenary session, Jeff Breunig—who is leading MITRE's work for the FAA on small UAS—spoke at an interactive workshop exploring how leading entrepreneurs and experts are facilitating the use of drones in the United States. Breunig shared the work MITRE is doing to help the FAA establish policies and UAS certification standards to enable UAS integration into the National Airspace System safely and efficiently.
One MITRE paper, "AeroMACS Analyses and Simulations for Spectrum Planning"—co-authored by Izabela Gheorghisor, Leo Globus, Vinay Lakshminarayan, and Frank Box—received a Best of Track award. It was also first runner-up in the Best of Conference category.
The conference was also an ideal place to get a broad view of UAS research and industry developments.
"There is wide participation in the conference, including organizations from the retail industry—who are selling drones. They provided their perspective on where the market is going," says Modeling and Simulation Engineer Amal Srivastava. "There were also people there from the Department of Transportation who talked about how they are using drones. Then there were participants from the FAA and NASA as well, so the representation was across the board."
High engagement from international participants was another plus. "Every country has its own set of issues and perspectives that they bring that to the conference" Srivastava notes. "That is helpful when we're planning our own research. It helps us know where to go for more information or possible collaboration opportunities."
Marlis McCollum is a writer and editor specializing in corporate storytelling. By translating complex technical concepts, she helps the world understand what MITRE does to make the world a better place.
© 2017 The MITRE Corporation. All rights reserved. Approved for public release; distribution unlimited