Casting a Shadow to Shine a Light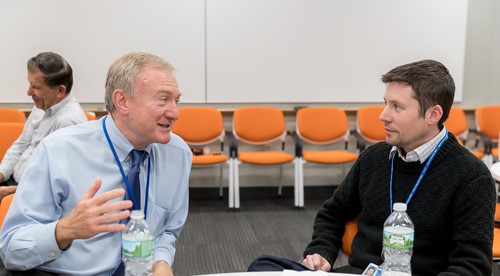 The MITRE Job Shadowing Program allowed Software Systems Engineer Dan Mauer to shadow Chief Engineer Richard Games to better understand how the MITRE Innovation Program addresses the needs of our sponsors. 
(Photo by Michael Baker)
There are many ways to network and meet interesting people to help us understand how to do our jobs with nuance, skill, and energy. Most networking, though, takes place on the outskirts, so to speak—we talk to folks about what they do elsewhere. MITRE has been experimenting with a program that works from the inside out—staff shadow a senior leader on the job. How does an experienced person handle a tough question coming out of the blue, for example? Collaboration in real time for a long-term outcome—staff development.—Editor
Authors: Peter Cao, Jessica Faust, Jennifer Forsyth, Claire Gryphon, Rushi Purohit, Jianming She, and Alex Taylor
Engineers are curious people, and we like to know how things work. If someone offered us the chance to experience a new role or gain insight into a senior leader's day, would we take it? You bet. No matter how long you've worked somewhere, it's always eye-opening to peek behind the scenes and see what knowledge sharing and decision making look like from someone else's perspective.
To satisfy that professional itch, employee-organized mentoring programs across MITRE came together to create the MITRE Job Shadowing Program (MJSP), which gives full-time engineers and professional staff (junior to mid-level) the chance to spend 10 hours with a leader whose work is relevant to their goals. The funded time includes an hour for participants to meet with their host to discuss desired outcomes and expectations. The shadowing portion can then take place over a day or spread out over several weeks. At the end of the period, shadowers again spend another hour to debrief and discuss their experiences and lessons learned. A job shadowing program has existed in some form at MITRE since 2005, and has grown from a grassroots effort to one that may become a formal corporate program next year.
Program alumni report that the program helped them connect across the corporation, see how their work fits into a larger picture, and move into new roles and technical areas. Past participants have called the program "A good eye opener" and "a great experience". Several called it a way to "[learn] about a job field [they] didn't know existed".
Job shadowing isn't just good for morale. Job shadowing participants can explore career opportunities such as leading a group, project, or team, learning about different or related technical disciplines, or even aiming at the C-suite.
By allowing participants to explore different career paths and expand their professional networks, the company hopes to help staff develop new skills and increase the company's value to sponsors.
Just in case you're interested in trying this where you work, here are some nuts and bolts for how it works at MITRE. After filling out a detailed application that asks for goals, preferences on which leader, role, or organization to shadow, and which topic areas to learn about (e.g., MITRE culture, leadership decisions, specific technical or professional topics), employees are vetted by the program's steering committee, which consists of employee representatives from mentoring programs across MITRE. The committee assesses each applicant's vision and goals to ensure they align with the program's vision. Once this is done, the committee also balances selections across job levels, job types, organizations, and locations.
The program is highly competitive, given that MITRE funds each participant's time. For those candidates who are not selected for funded time, MITRE also offers the use of another great program: MITRE's future-make-up time, which allows us to participate in activities on our own time and then make up work hours at a future date.
The MJSP is one of many approaches to encourage staff growth into new disciplines and roles. This growth positions MITRE with a pipeline of talented employees who are ready to discover, and solve, tough sponsor challenges.
Peter Cao, Jessica Faust, Jennifer Forsyth, Claire Gryphon, Rushi Purohit, Jianming She, and Alex Taylor are members of the MITRE Shadowing Committee.