Mapping World-Class Capabilities to the Healthcare Domain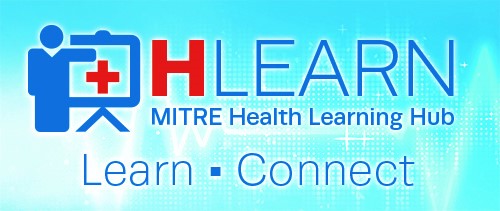 Linda Fischetti, John Shottes, Lisa Tutterow, Cynthia Taylor Small, Steve Scott, Marianne Smith, Phil Trudeau, Lara Van Nostrand, and Stacey Zlotnick—who together bring expertise in learning, technology, and healthcare to the endeavor—created an interactive learning environment to help the company deploy cross-domain experts to the dynamically changing healthcare landscape. That landscape represents an opportunity for MITRE to help solve some of the most pressing problems in healthcare today. The HLearn Hub was recognized recently at the 2016 MITRE Knowledge Advantage Project Showcase. —Editor
Author: Karen Fleer
How does a "best place to work" company like MITRE continually refresh its learning paths as the company prepares to take on a surge of new work? How about when the new work is in the fast-growing healthcare space—less familiar terrain for current staff, brilliant and engaged though they may be?
MITRE met this challenge by creating a stakeholder team from staff in the MITRE Center for Transforming Health, multiple MITRE Technology Centers, and MITRE Institute (the company's in-house learning center). This team was charged with designing a health curriculum for MITRE employees whose skills could be applied to support healthcare projects. The result of their innovative thinking is an adaptable, scalable model for mapping the existing capabilities and skill sets of talented staff to a specific subject area—in this case, healthcare.
To create MITRE's new HLearn Hub, the team first determined the type of employees required to staff incoming healthcare projects and those employees' probable knowledge gaps in the healthcare domain. Then they identified MITRE subject matter experts who could help create curricula and courses to fill those gaps. The result is a suite of learning opportunities that promote broad-based communication and collaboration among employees who have been deeply engaged with healthcare projects and those relatively new to the subject.
The HLearn Hub self-service portal allows employees to pursue unique learning programs by taking more than 40 instructor-led, on-demand courses that are organized into multi-course tracks, with concentrations in food and drug safety, veterans' health information systems and technology architecture, IT systems transformation, IT and patient safety, and healthcare cost/quality initiatives. The IT and patient safety track, for example, teaches the concepts of meaningful use, interoperability across electronic health record systems, healthcare quality, and other related topics. Staff also gain access to external healthcare resources such as Advisory Board Daily Briefs.
HLearn Hub complements class time with a collaboration space called Handshake, where employees can reach out to colleagues to get answers to questions and suggestions about additional learning and resources. Handshake is a MITRE-developed tool that allows easy knowledge-sharing among MITRE staff, partners, sponsors, academia, and contractors while keeping information protected and secure.
Since June 2015, nearly 2000 MITRE employees have completed one or more courses or health tracks. Post-learning surveys show that HLearn Hub has helped staff better understand healthcare dynamics and interview successfully for healthcare projects within MITRE.
In addition to developing employees who are better qualified in emerging subject areas, the MITRE model has the added benefit of encouraging the application of cross-disciplinary thinking to all project work and thus strengthening MITRE's high-performance culture.
HLearn Hub is available to any MITRE employee interested in learning more about healthcare, and it may be used to onboard new employees who will be assigned to healthcare projects. HLearn Hub is fast becoming the principal means by which MITRE employees get the healthcare knowledge advantage and position themselves for the work of the future.