Cost FACTS: Using a Social Media Platform to Create a Dynamic Tool for MITRE's Cost Community and Beyond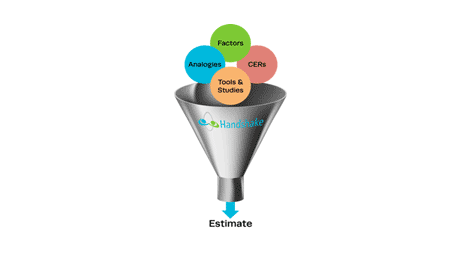 If you've ever remodeled your kitchen, you know (perhaps to your horror) the potential difference between an estimate and the final bill. It's why experienced homeowners often warn, "Take that estimate and double it!" Fortunately for taxpayers, there are a number of best practices for estimating large, complex projects such as those undertaken by federal government agencies. MITRE cost-estimating experts, Ruth Dorr and Dan Harper, successfully employed a social media model to create a community of stakeholders who are sharing their cost-estimating knowledge, resources, and insights. The project was recognized recently at the 2016 MITRE Knowledge Advantage Project Showcase. A significant honor, although we admit it may not take the sting out of your kitchen invoice. —Editor
Author: Karen Fleer
It's a common belief, even among cost-estimating professionals, that every estimate requires custom development. Some aspects of a cost estimate are, of course, unique to each request. But there are cost-estimating methodologies in the public domain that can be customized, shared and applied to many different projects. The challenge is being able to cross-pollinate the many different ideas and resources among the cost-estimating community. MITRE's solution: develop an award-winning knowledge-management community called the Cost FACTS Group.
Cost FACTS is an acronym for "factors, analogies, cost-estimating relationships, and tools/studies." It's an easily accessible online repository of reusable cost-estimating artifacts and a social media-based forum for sharing cost-estimating ideas and best practices. Cost FACTS membership is free, and anyone in the federal cost-estimating community can subscribe to it. Cost FACTS is backed by MITRE's strategic partnership with the International Cost Estimating and Analysis Association (ICEAA) and endorsed by the Government Accountability Office (GAO).
Cost FACTS relies on Handshake—a tool MITRE developed (using the Elgg platform) that's designed to allow easy knowledge-sharing among MITRE staff, partners, sponsors, academia, and contractors while keeping information protected and secure. Handshake enables Cost FACTS members to stay with the community if they change jobs or assignments simply by providing a new email address.
After only a couple of years, the Cost FACTS community is robust and growing—with over 300 members and nearly 1,000 shared artifacts. As the community matured, it adopted more formal governance guidelines and is today an authoritative source for the best ideas in cost-estimating. Community members are deeply committed—practicing good community stewardship, presenting at technical conferences, and advocating for Cost FACTS wherever there are people building cost estimates.