MITRE's Knowledge Advantage Program: Sharing and Appreciating Innovative Knowledge Work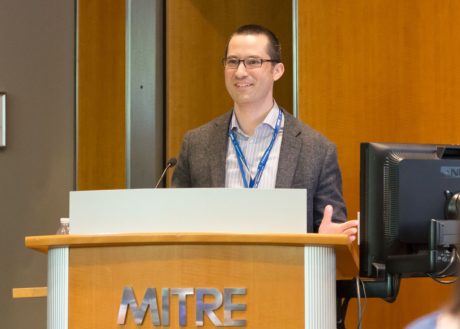 MITRE award winner Dr. Alex Tsow discusses a first-of-its-kind framework for active cyber defense at MITRE's Knowledge Advantage Event May 19. (Photo by Jae Robinson)
Authors: Donna Cuomo and Jean Colbert
Since 2001, MITRE has run an internal, formal Knowledge Management (KM) Awards program as a means of cultivating and awarding innovative knowledge management activities, either within the enterprise or for our government sponsors. MITRE's continued growth in external engagements, systems engineering and integration, brokering public-private partnerships, and community building places even more emphasis on the need for innovations in our knowledge creation, collaboration and sharing strategies. Through the yearly awards nomination process, the program captured examples of good knowledge work that would have been difficult to identify otherwise in a 7000+ person company, operating seven federally funded research and development centers.
Via this process, we were able to learn about a project team who published a book, Sociocultural Behavior Sensemaking, using Amazon's CreateSpace, to raise awareness about emerging technical capabilities for operational communities. We learned about a team who accelerated workforce development for NextGen air traffic controllers by moving training concepts directly from the lab to universities. We learned, too, of an effort that created super-networks of experts to advise the government on investment planning, decision-making, and real-world problem solving in terms of national intelligence policy. And of a content steward who tirelessly stewarded a highly-accessed collection for over 10 years, of his own initiative. Indeed, we learned about the innovative work of between 35 and 50 projects per year. These were the benefits of the former KM Awards program that we wanted to keep.
The area we wanted to expand upon was the sharing of the great work that these teams had done. After collecting the nominated projects, a committee evaluated and scored each nomination against a rubric. The top 8-9 teams and a special project selected by the CEO of the company were then recognized at an awards luncheon that was primarily attended by the team members, their managers, and the corporate officers. The project information, however, was not broadly shared with MITRE staff and the external community. The program was redesigned this year to enhance that aspect.
The new Knowledge Advantage (KA) Program focuses on encouraging MITRE employees to remain engaged and informed about the most innovative techniques for bringing MITRE's knowledge advantage to our work and to our sponsors' work programs. The emphasis of this program shifts from an awards-based approach to an idea-sharing-and-showcase approach. Designed to encourage participation by the entire company, our major centers now select one to two projects that they feel brought the knowledge advantage to MITRE or our sponsors, and that should be showcased.
In May 2016, we held the first of our new events, with the entire company invited to attend in person or virtually. Each team gave a 2-minute talk, and Dr. Kirk Borne, a renowned speaker in the field spoke about cognitive assistance and how it enables true knowledge advantage. Each team's work will also be published here throughout the summer.
Read the summary of KA projects that we selected for the 2016 Knowledge Advantage Showcase! Ranging in topics from "neighborhood design studios" to enhance knowledge creation, to a book published on a new approach to active cyber defense, to enhancements in post-acute patient care, we enjoyed a wealth of innovative ideas.
As your KM program matures, we'd be interested in hearing how you refresh your processes and keep staff engaged.