From Telewho to Teleyou: Engaging as a Teleworker at MITRE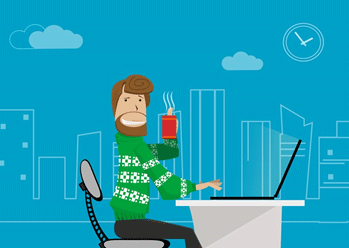 Brett Profitt's observation that "MITRE sets teleworkers up for success, but teleworkers must endeavor to be successful" resonated. No matter how many business process tools an organization makes available, staff have to use them to good end. And he does, mentioning collaboration and social media tools such as Slack, Taiga, and Skype, as well as MITRE's own Handshake as enablers of his success as a teleworker. —Editor
Author:  Brett Profitt 
I joined MITRE in July of 2014 as a Senior Multi-Discipline Systems Engineer with the less common status of full-time teleworker. I met most of my department and project teammates during interviews and orientation, but telecommuting from Columbus, Ohio presented challenges in terms of establishing working relationships and having meaningful social interactions. Luckily, MITRE was well prepared to support me. MITRE provides a slew of social and collaborative tools to keep everyone connected, but particular tools especially helped me as a new employee. Skype for Business; Microsoft SharePoint; our in-house wiki, MITREpedia; and the Secure File Transfer let me feel—and actually stay—connected and in the know about the goings-on of business. Project-specific tools like Stash and JIRA kept my teammates and me productive. In the rare case MITRE didn't have alternatives for tools I already knew, or if projects needed tools with additional features, we could petition Information Security to approve our own choice of third-party tools. One of my projects has a large, distributed team. To help us stay connected, we heavily use Open Source collaborative software (OSS). When we needed a robust and extensible Agile tool, we installed Taiga to manage user stories, track features and bugs, and visualize how immediate tasks relate to big picture drivers. Because Taiga is OSS, I could develop and contribute back additional features that we needed.
Other technologies increase our productivity: Drone for automating tasks; Docker for server deployment; ScreenHero for interactive screen sharing; and GitLab for code versioning and review. Another valuable tool is Slack, a collaborative chat client. Slack sits between email and Skype as a means of interacting with individuals or groups. Skype chat sessions mirror telephone calls: there is a concrete beginning, synchronous interactions, then an end. In contrast, Slack conversations are continuous and often asynchronous; while developing, the entire team stays logged into the group chat. If a team member isn't available, Slack retains and notifies the user about any missed messages.
Work life at MITRE encompasses much more than business interactions. Our large family celebrates as much diversity in our personalities, hobbies, and interests as in our professional skills and specialties. Our MITRE-built platform, Handshake, combines business and social networking to bring those personal diversities from disperse work environments into a shared virtual space. Handshake started as a prototype built on the open source platform, Elgg, and is now part of the everyday workflow for many users and projects. I often use Handshake professionally—many projects collaborate on Handshake—but Handshake metrics show that most teleworkers engage less in the social features available than do employees on campuses. I'm no exception to that trend; I contribute infrequently to the social aspect, but I lurk heavily. I enjoy glimpses into colleagues' accomplishments, talents, and lives outside of work, and Handshake is perfect to fill that gap.
Teleworking at MITRE offers benefits that far outweigh any inconvenience incurred by not being physically present; the flexibility in hours, work environments, and work-life balance lets me be the most productive contributor to the MITRE family that I can be. MITRE sets teleworkers up for success, but teleworkers must endeavor to be successful. We often lose the "water-cooler presence" that's taken for granted when working on site, so we need to explicitly and shamelessly assert our presence through constant communication and interaction. MITRE's impressive array of provided social and collaborative technology combined with its flexible policies and eagerness for new technologies makes this easy.
© 2015 The MITRE Corporation. All rights reserved.Approved for public release; distribution unlimited. Case number 15-3651