MITRE's Knowledge Driven Enterprise Strategy: Syncing People, Processes, and Tools for Enhanced Business Outcomes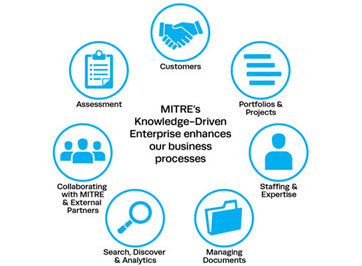 Knowledge-driven enterprise refers to capturing organizational knowledge in the normal flow of people's work, and then making it easy for staff to use what they find on behalf of the company or external partners and sponsors. Donna Cuomo, the architect of the KDE effort, talks about the business decisions behind it and where MITRE is heading. —Editor
Author: Donna L. Cuomo
As MITRE has redefined its business processes over the past few years, we chose to focus on two paths concurrently. First, we shifted to a customer portfolio-centric strategic work program planning and execution model. The shift required that we to redefine and embed many of our knowledge management practices and then embed the new ones into our new processes.  Our second focus was how to sync up our people with the new tools we wanted them to use and the new processes we wanted them to try out. Anyone who's ever attempted a significant organizational change knows just how complicated it is to convey the vision, create the strategy, and achieve consistent enterprise-wide adoption.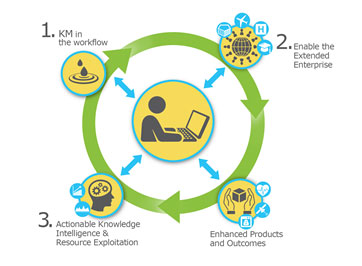 We are deep into the change management process at this point, working in partnership with our business units and it's going well. We have designed ways for staff to leverage the rich knowledge resources that we have. From documents to project plans to staff expertise—things are now easy to find, search, filter, and explore. In a nutshell, the knowledge-driven enterprise, or KDE—which is how we refer to our efforts—is about capturing critical knowledge in the normal flow of people's work, making it easy for our staff to use the internal knowledge resources available to them, and supporting collaborations with external partners to ensure that we produce the highest quality products for our sponsors efficiently.
All of us in this business know that knowledge management (KM) is so much more than finding and archiving and even sharing. We need to make sure that staff can take advantage of and use our high-value information assets when they're helping our sponsors solve problems. Solutions can change, often for the better, with the insertion of the right idea, person, or a novel process, if people are able to discover it at a timely moment. To that end, KDE centers on three goals:
KM in the workflow. I've touched on this already, it aims to enrich our suite of enterprise tools, capabilities, and processes so that as staff follow the flow, the company can capture and steward what we collectively know more consistently. The tools are in line with how employees are actually working.
Enabling the extended enterprise, our second goal, is about enabling trusted collaboration capabilities with our partners and sponsors.
Actionable knowledge intelligence and resource exploitation involves putting our high-value knowledge assets at our staff's fingertip, in a discoverable and filterable way. It also strives to make knowledge more dynamically actionable – providing visibility into previously invisible processes and supporting better decisions in key areas.
KM in the flow is essentially the capture piece of the equation. We deployed a suite of web-based apps to support the capture of sponsor strategic plans (Portfolio Pages), the yearly outcomes of the related projects (Project Pages), with detailed outcome-related information being collected and tracked, detailed staff expertise information (People/Tech Stature Pages), much of it auto-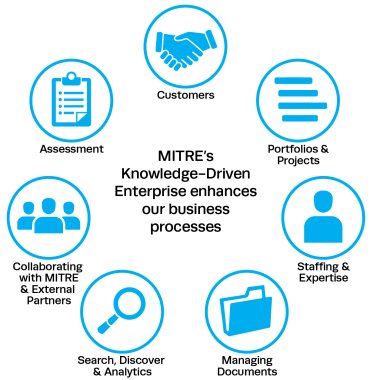 populated from other enterprise source systems, eReqs for tracking project staff openings, Community Share (Sharepoint) sites for collaborative team work, and MITRE Product Libraries for the capture of final deliverables. Internal collaboration isn't enough, however. Given that MITRE runs multiple FFRDCs, working seamlessly with external partners and stakeholders on project teams and in working groups is just as important as internal collaboration.
Our teams include our sponsors, academic partners, staff from other FFRDCs, and industry. We want to collaborate with the full stakeholder team as early in the process as possible. So we've enriched our tool suite to enable the connections, and we're simultaneously enriching outreach to staff and stakeholders so that everyone knows what's possible. We are building on the model of capabilities like Handshake, Community Share Partners, and Secure File Transfer. We are piloting more content sharing capabilities like WordPress (the platform of this KDE site), semantic wiki farms, CoDev for supporting code development teams, and a new partner-facing portal called the MITRE Partnership Network. By integrating all the capabilities into a common identity platform, we are streamlining the partner onboarding process. I like to talk about actionable knowledge intelligence and resource exploitation—our third goal, and our way of saying that we've created different techniques to leverage information we collect as a matter of course.
One of the key enablers for MITRE is the new Discover bar on our intranet homepage. It provides faceted search of most of the high-value knowledge assets we have—people, projects, portfolios, organizations, communities, center products, public release, digital libraries, AskIT, and so on. You can browse, for example, all the Project Pages in any fiscal year by topic, project leader, date, tags, portfolio, etc. Clicking through to the Project Page will gives you an overview of the work program, who is working on it, what the planned outcomes are and the status of them. People/Tech Stature Pages are another asset, one that we designed to help employees find staff with the right skills for projects and question asking, at a granular level. Much of the technical stature data is pre-populated based on activities the staff have done (e.g., training, publications, awards, ….)
Besides finding assets in a more granular way, we can also now give our technical centers metrics and analytics data via enterprise tools. Metrics that answer questions such as: Which sponsors are we are interacting with in Handshake groups? (Handshake being a social media tool that we use internally and externally.) Or which Tech Center organizations have which specific skills and competencies? What's the ratio of people with different competencies across the organization? Were the Tech Stature pages in Organization X recently updated? Which outcomes are on track to be delivered? How many job requisitions were posted in in our job jar over the past year so that we have an idea of which skills we needed for projects? How many products did Center X actually deliver, based on their plans? We're starting to make our knowledge and activities more visible, more actionable, by having consistent processes for data capture and collection. We couldn't do this before because everybody had a different process. There are many insights, visualizations, and analytics that we can now share with the company because we're building in structural consistency. We can also see trends over time, and identify where we don't have the adoption of a particular process.
This transparency is valuable for us. In the future, we will be making the knowledge more proactive. That is, at key trigger points—such as when a new employee starts, or a new project page is created—we can deliver relevant information to users without anyone having to ask for it. This past August, CIO Magazine recognized MITRE for our efforts to integrate knowledge infrastructure and tools to support our business processes. When he accepted the award, our CIO and Vice President Joel Jacobs said that we had "achieved greater consistency and integration in our engineering operations across all of our federally funded research and development centers." Our full KDE strategy briefing is available. I'd love to hear stories from our readers about your own KM innovations. Please share them with us!