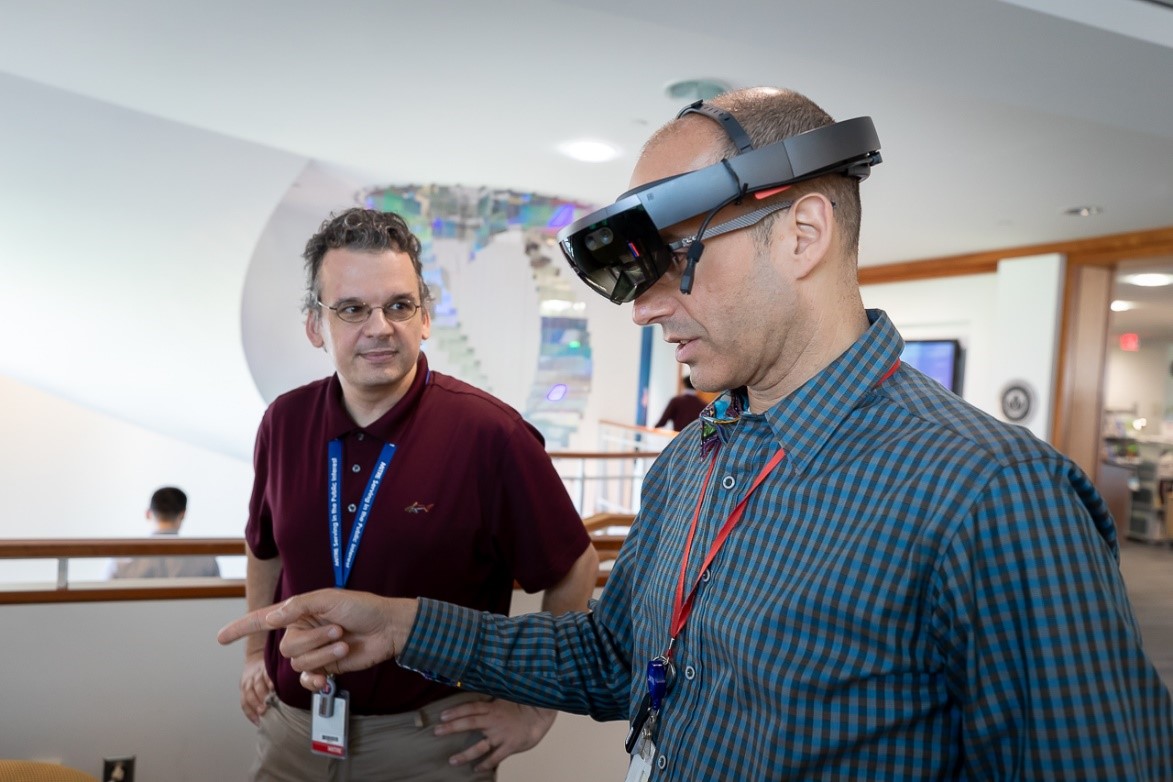 Sacha Panic teaches Matthew Patron how to use the HoloLens. Photo credit: Michael Baker
Author: Theresa Dillon
Makers are inventors, tinkerers, and hobbyists. They are people who share a passion for building and creation.
Why should companies encourage making? Because makers engage in iterative problem solving and risk taking. Because the process of making encourages you to think like an entrepreneur and to be a self-starter. And because the pace of change today is so great that a learning mindset is key to being a valuable employee.
On May 23, MITRE showcased close to 50 MITRE makers at the first MITREmakes Maker Fair on the Bedford, Massachusetts, and McLean, Virginia campuses.
Sponsored by the InfoDesk, MITRE's corporate information hub, the Maker Fair showcased technologies related to MITRE's work program (e.g., augmented and virtual reality (AR and VR), 3D printing, Internet of Things, robotics, and drones) as well as those that employees tackle in their spare time (e.g., DIY electronics, fiber arts, and woodworking). Some technologies crossed over both environments.

"Gravity" vs. "No gravity" sculptures 3D printed (left) and as an AR hologram (right).
Exhibitors included Lead Visualization/Graphics Software Engineer Sacha Panic. His "If there was no gravity" exhibits were grounded in his research of human perception and control of spatial orientation. He used 3D printing and Augmented Reality (AR) to visualize high dimensional, human-in-the-loop experiment datasets as abstract sculptures. Compared to conventional visualization approaches, these sculptures communicate complex interrelationships that exist within the dataset in a more intuitive way. Visitors toured his AR hologram using a Microsoft HoloLens.
Senior Data Scientist and woodworker Peter Horn showcased a high-tech Computer Numerical Control (CNC) router that uses AR via the device's touchscreen. People are largely familiar with AR from games like Pokémon Go but don't know that the technology can be used for everyday things like woodworking. Horn said, "I showed them that augmented reality is something you can really use. I had a lot of fun."
Electrical Engineer Ben Fox demonstrated how to convert a set of visual feeds from stereo cameras to help sight-impaired people "hear" what is in their path. The cameras convert an RGBD image (color image with depth information) into sound, potentially allowing for greater navigational autonomy in the home. Ben's project was prototyped with a Raspberry Pi, and the final product will make use of an ASIC board, a form-fitted headset, and bone conduction headphones.
Ideas sparked by maker activities can have a big impact on MITRE's work program. A model railroad enthusiast, Electrical Engineer Erich Whitney demoed his homemade locomotive speed calibration system at the maker fair. In talking with fair attendees, Whitney had an aha moment and figured out how to leverage the commercial prototyping tool he used for his maker project to solve a circuit design challenge at work. And, in doing so, he saved hundreds of dollars and several days on the project timeline.
Digital Content Management Staff Rebecca Plante reported, "I really enjoyed connecting with people over my craft and showing them that knitting and fiber arts require a lot of math and pointing out the similarities you find between knitting and programming."
Hands down, the maker exhibitors relished the opportunity to share their projects with each other and fellow MITRE staff. They built new relationships based on shared interests. Some even made plans to collaborate on future projects.
MITRE takes pride in its Maker community and the passion MITRE makers bring to building and creating. 
InfoDesk Group Lead and research librarian Theresa Dillon is committed to bringing cool technologies such as AR and VR into MITRE's corporate information centers. As a lifelong maker, she teaches e-textile workshops explaining the basics of circuit design to interested MITRE staff.
© 2018 The MITRE Corporation. All rights reserved. Approved for public release. Distribution unlimited. Case Number 18-2088.
Solving problems for a safer world. At MITRE, we work across the whole of government to tackle difficult problems that challenge the safety, stability and well-being of our nation through our operation of Federally Funded R&D Centers as well as public-private partnerships. Learn more about MITRE.