ATS Lab Engages MITRE Staff in Collaboration and Community Building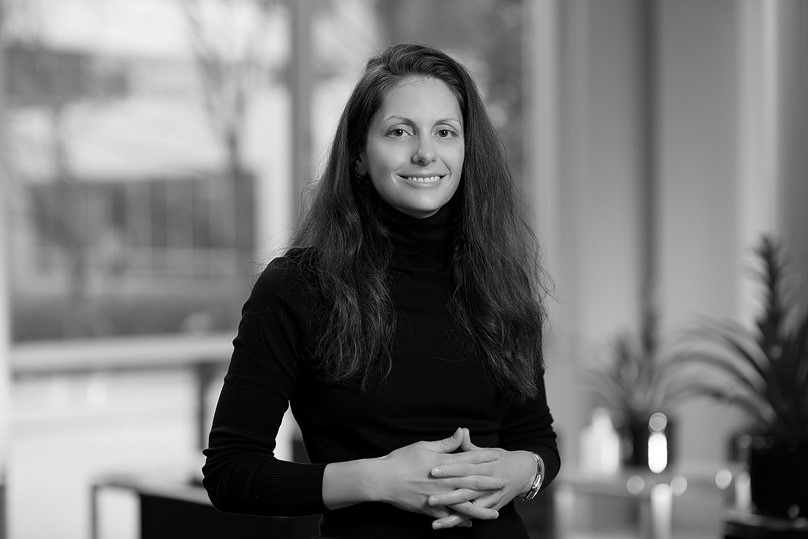 When we interviewed Angela O'Hanlon 18 months ago, she reported that the key to the success of the ATS Lab was listening—to sponsors and industry, to staff and leadership. What did they need and want? This capability has since traveled a long way and shows no signs of slowing down its development as an enduring community resource for knowledge sharing and collaboration.—Editor
Photo: Andy Cleavenger
Author: Blair Gately
MITRE's ATS program is one of MITRE's largest research and development (R&D) labs, providing a testing environment centered on analysis and big data. It enables staff to gain hands-on experience with the best, most relevant software products and tools for data analysis across a diverse set of applications in national security and the civilian sectors and explore our sponsors' analysis needs in a collaborative virtual lab setting that includes integration and development.
The ATS Lab hosts more than 100 tools from 50+ vendors for evaluation, testing and development. The virtual lab supports MITRE staff anywhere on the corporate network in a secure environment. Users can work with government-off-the shelf, commercial-off-the shelf, and MITRE research and development (R&D) tools, systems, data, and services in support of sponsor work and MITRE's own research.
ATS Lab Director Angela O'Hanlon, who is also director and chair of the Industry Roundtable, said the lab in its modern form has been in existence since 2010, but "gained traction" 3 years ago, once it garnered more industry participation. Increasingly, people wanted more access to information on specific tools, analytic technologies, evaluation and testing software.
The ATS initiative was originally established as a wiki by a community of MITRE analysts. It served as a repository for MITRE analysts, developers, and staff – where staff can document their experience with analytic tools. The ATS Lab is used by analysts, developers, and technologists—MITRE staff and sponsors alike. Vendors and government benefit greatly from a shared-resource model.
"ATS offers cross-pollination, where our sponsors can assist other sponsors with similar projects, mission needs, and requirements," O'Hanlon added. "Our biggest successes are helping sponsors with analytic solutions – and connecting and engaging sponsors with each other, to leverage solutions, lessons learned, products, methods, approaches, architectures, and best practices."
ATS had the full support of MITRE leadership to get off the ground, according to O'Hanlon. "We began seriously working with our industry partners. We listened to our user base and sponsors and industry." MITRE senior leaders offered guidance and lessons learned, and best practices that they wanted to see in MITRE labs. "Leadership continues to offer thoughts, notes, and feedback about how we can improve the lab's business model and processes for our internal use, and for our sponsors and participating vendors," added O'Hanlon.
The ATS model saves resources for sponsors, industry, and MITRE. Vendors have high visibility in a lab such as ATS, with generally low overhead or investment costs.
MITRE's real interest is in long-term relationships and engagement with our sponsors. In terms of customer base, the ATS Lab has a mix of defense and civilian activity. The customers are distributed across MITRE projects and sponsors and include: Veterans Affairs, Social Security, Army, Navy, and US Marine Corps.
O'Hanlon said, "We've had several hundred employees and well over 100 sponsors taking advantage of the lab. Projects are usually supporting a sponsor's R&D evaluation, prototype work, or light weight testing. Or staff may be working on internal MITRE research projects."
The lab is a great place for training staff to use tools to learn a new skill.
"ATS is good for the company in terms of collaboration, learning, and developing awareness of tools and how to use them. It is part of our responsibility to educate MITRE staff on the R&D software and resources available for them to use in our lab," O'Hanlon said. "Vendors provide us with their capabilities and resources so we have an awareness and deeper knowledge of what is available on the market; and so we can then apply and leverage these capabilities and technologies in government missions."
MITRE acknowledged ATS at the April 2017 Knowledge Advantage (KA) Showcase, an organization-wide sharing event that encourages employees across geographies and time zones to remain engaged and informed about the most innovative techniques for bringing MITRE's knowledge advantage to work and sponsor missions.
Blair Gately is a former print and broadcast journalist. She spent 20+ years in federal government communications at the Federal Emergency Management Agency (Department of Homeland Security), the Voice of America, and the National Institutes of Health. She is currently a communications consultant and writer for MITRE.
© 2017 The MITRE Corporation. All rights reserved. Distribution unlimited. Case number 17-3403.
The MITRE Corporation is a not-for-profit organization that operates research and development centers sponsored by the federal government. Learn more about MITRE.