MITRE Product Libraries Help Staff Capture, Search for, and Manage Products for Sponsors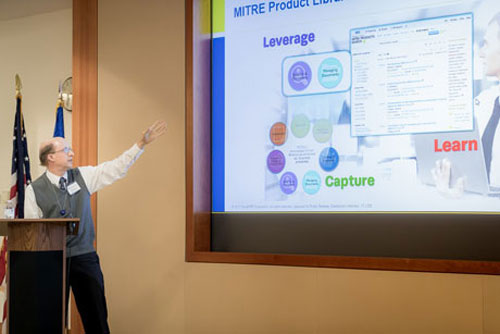 If staff do fabulous work, but no one can ever reference it again—well, that's not a good outcome. MITRE always tries to bring our whole company to bear, and our products, when staff know where to find them, bear fruit over and over. MITRE Product Libraries make search and discovery easier for us as staff, and file management lots easier for our stewards. An excellent outcome.—Editor
Eliot Wilczek presents the MITRE Product Libraries at the 2017 Knowledge Advantage event, in Bedford. Photo: Michael Baker
Author:  Blair Gately
MITRE does not manufacture products the way that most companies do. Rather, our products are the reports that detail our R&D or systems analysis for various agencies of the federal government. These products come in many forms and are the primary evidence of our contribution to our sponsors' missions. The company is contractually obligated to retain these "deliverables" for future reference — and knowledge sharing is critical to our success.
Starting in 2013, a small MITRE team set out to provide new methods and tools for collecting, sharing, and managing MITRE products. Despite resource, cultural, and technical constraints, they built five MITRE Product Libraries (MPL) that meet a wide range of complex requirements for internal use. The MPL team worked closely with chief engineers, operations staff, and user working groups to identify key requirements and create a model that works for all. The resulting MPL system is set of distributed collection points for electronic products that are "in the flow" of each of our business units, plus a centralized search capability for easy retrieval. It incorporates knowledge management into our daily work, simplifies product submission, and provides easy, enterprise-wide access to MITRE products.
"The MPL system helps employees collaborate and share knowledge by providing a repository framework that allows people to upload and research work produced across the company," said Eliot Wilczek, Corporate Records and Archives Manager. "In addition, by documenting our work, the libraries help MITRE use its accumulated knowledge and experience more systematically to inform our future engagements with sponsors."
Today, there are Product Libraries for four of MITRE's operating centers: National Security, Public Sector, Homeland Security, Center for Advanced Aviation System Development (CAASD), along with one for the MITRE Innovation Program (MIP). These repositories contain more than 17,000 products — the majority being final deliverables for sponsors. Staff can perform a comprehensive query across all product libraries using MITRE's Discover Search capability. The libraries take advantage of existing SharePoint capabilities, leveraging metadata and workflows to enable the capture of information.
Wilczek said that during April 2017, staff retrieved 1,799 distinct products from the MPL and that number continues to grow as the number of products captured increases.
Now, instead of reaching out to individual project leaders to obtain key deliverables for reuse, MITRE staff can search and browse the libraries for products of interest by facets. The libraries offer fast and easy access, eliminating the need to comb through working documents, drafts, and incomplete content in team sites, transfer folders, or other repositories. It's available as part of the Discover search bar, which lets MITRE employees access high value knowledge assets from their intranet homepage.
"MPL is a tool supporting the Search and Discovery and Managing Documents functions within the Knowledge Driven Enterprise," Wilczek said.  KDE helps enhance MITRE's business processes.
Also, MPL support MITRE's effort to be a learning organization, according to Mary Parmelee, Repository and Metadata Service Manager, architect of the MPL concept. "The MPL enables MITRE to reach back not just across the breadth of the organization, but also over the depth of its accumulated knowledge."
Each library satisfies unique customer requirements while conforming to the common protocols that support centralized capabilities. Customizations include a product library for sensitive material, a workflow-driven library for homeland security-related products, an automated CAASD library, and a cross-cutting MIP research library.
Centralized capabilities include Discover's MITRE Products Search, MPL Analytics service, MPL data service, and product lifecycle management. Planned capabilities include a MITRE product recommender and MII Anticipatory Search Knowledge Output.
MITRE acknowledged MPL as a Program Recognition Award winner at its April 2017 Knowledge Advantage Showcase — an organization-wide sharing event that encourages employees across geographies and time zones to remain engaged and informed about the most innovative techniques for bringing MITRE's knowledge advantage to work and sponsor missions.
Wilczek said MPL was recognized because it leverages workflows in the centers, while also developing a centralized metadata model that supports corporate-wide search and discovery of products.
Blair Gately is a former print and broadcast journalist. She spent 20+ years in federal government communications at the Federal Emergency Management Agency (Department of Homeland Security), the Voice of America, and the National Institutes of Health. She is currently a communications consultant and writer for MITRE.
© 2017 The MITRE Corporation. All rights reserved. Distribution unlimited. Case number 17-2992
The MITRE Corporation is a not-for-profit organization that operates research and development centers sponsored by the federal government. Learn more about MITRE.