Safer Solo Skies: Flights Less Risky with Digital Copilot Technology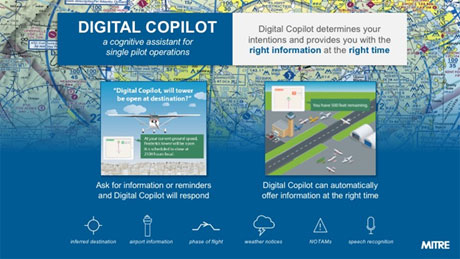 One CAN be the loneliest number if you're a pilot flying solo. Each year in the United States, about 450,000 private aviators take to the sky sans crew, which can be three times riskier than accompanied operations. Enter Digital Copilot, an intuitive technology that listens, talks—and to some extent—thinks like a human, offering enhanced air safety. —Editor
Author: Staci Lindblad
Singlehandedly you conduct airplane pre-flight and instrument checks, noting weather conditions, runway status, and more. Finally, you're cleared for take-off: unaccompanied—but not alone in the cockpit.
Tap the screen on your tablet, and you're joined by a friendly voice ready to help make your flight safer and easier. All thanks to a diverse, cross-domain MITRE team of human factors and software engineers (several also pilots), the Federal Aviation Administration (FAA), and industry experts. Their goal? Increase in-flight situational awareness and reduce pilot workload. How? By designing and implementing Digital Copilot Cognitive Assistance technology and algorithms ready for licensing to the aviation industry.
Don't confuse Digital Copilot with autopilot. Aviators can't close their eyes and give stick control to this complex mix of pilot intent inference algorithms, cognitive assistant logic, and unique set of human-computer interactions that include voice recognition and speech synthesis. And yet it proves its value in reducing the need to raise that spine-chilling signal: MAYDAY.
"In many ways, it's like having a virtual copilot in the second seat," says MITRE project lead and pilot Matthew Pollack. "An aviation-experienced entity that determines pilot intent. It issues notifications, alerts, and updates. It responds to spoken commands, looks up information, and then speaks the answer." That's groundbreaking Digital Copilot technology. Pollack is quick to reaffirm that the technology doesn't replace a human copilot.
Quit Texting and Flying
In recent years, many general aviation pilots stopped the old-school in-flight use of paper charts and checklists, instead tapping into (sometimes many) mobile devices. And even though streamlined via electronics, pilots must still handle those devices. Then hurry a glance at the screen's words or images. All while aloft. Alone.
Anytime pilots look at a device or remove their hands from the controls, safety is at stake. If driving a car and texting leads to deadly auto crashes–imagine what that might mean in a plane. Not to mention the fact that even experienced pilots become overwhelmed in challenging air traffic and weather situations.
The Digital Copilot team, comprising MITRE's Jeffrey Mittelman, Jeff Stein, Matthew Pollack, Kevin Long, Steven Estes, John Helleberg, Marco Quezada, and Joey Menzenski, considered these aviation challenges, then got to work taking the technical concept from whiteboard to prototype in calendar year 2016.
From the start, the team focused on a clear but ambitious goal to improve general aviation safety. "But we also wanted to work within the constraints of current hardware technology so that the Digital Copilot could quickly integrate with today's mobile aviation applications," says Helleberg, a group leader, and pilot. "Our varied skill set and diverse perspectives definitely helped us identify challenges and generate the initial ideas." 
This unique collaboration brought to life novel capabilities that didn't yet exist. They agree that the project's success hinged on their deep understanding of general aviation domain needs and constraints, combined with skill in creating algorithms and code for mobile devices. Half the team are active aviators. Also integral are the team's human factors experts who developed the intuitive interface and interaction concept. "It's also MITRE's innovative culture and pride in our work that combined to yield a fantastic example of success using knowledge sharing and collaboration," he says. 
Wheels Up: Exploring Commercial Aviation Use 
There's a buzz in the air about the potential for Digital Copilot. MITRE's Technology Transfer Office (TTO) is working with several aviation industry firms to license the technology. This includes start-ups, established Electronic Flight Bag (EFB) software companies, as well as major hardware manufacturers that equip airliners. 
"Pilots may see Digital Copilot in many forms," says Pollack, who adds that MITRE's role is not to produce the product, but to generate the ideas and technology, then prove them effective. "The team envisions it in tablet form. Hopefully licensees will develop it at low or no cost to the pilot." 
MITRE lauded Digital Copilot as a Program Recognition Award winner at its April 2017 Knowledge Advantage (KA) Showcase, an organization-wide sharing event that encourages employees across geographies and time zones to remain engaged and informed about the most innovative techniques for bringing MITRE's knowledge advantage to work and sponsor missions.
Staci Lindblad writes about complex innovative technologies, advances in interoperability, and making art for both corporate and not-for-profit worlds from her floating southwest DC office on the Washington Channel of the Potomac River. She likes words and isn't afraid to use them.
© 2017 The MITRE Corporation. All rights reserved. Approved for public release. Distribution unlimited.