Tackling the Technical Challenge of Getting Lost and Found Indoors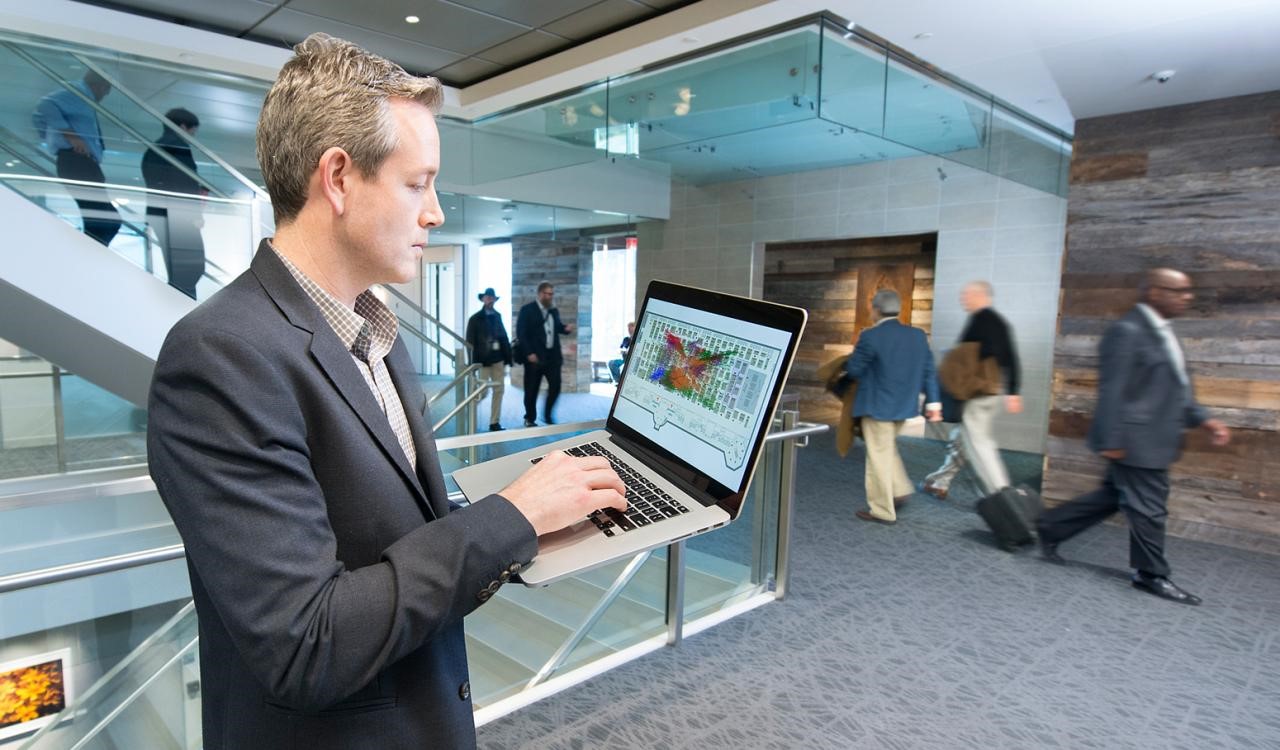 Knowledge sharing and collaboration is a big tent, and any number of ways to practice the craft are available to our staff. One of MITRE's geospatial teams chose to take their interest in sharing positioning data for reasons of public safety to a convention center in Florida. Signal exceeded noise in a big way. An earlier version of this post appears here.—Editor
Author: B. Denise Hawkins
Whether walking down the street or driving, we can usually count on GPS to help get us where we need to go. GPS is a convenience that's become a part of our everyday lives—for outdoor use. But what if you needed this technology to locate a young child who wondered off in the mall?
The opportunity to use it may be closer than you think. That's because MITRE is working to accelerate the science of indoor positioning for the public good.
Before taking their research to a big stage, Walter Barrett, the company's National Geospatial Intelligence Agency portfolio manager for Sensing and Analytics, led a team that started small. MITRE's McLean, Virginia campus was the venue for testing. Using Wi-Fi and a handful of low-energy beacons not much bigger than a quarter, Barrett and his colleagues tracked each other along office corridors and in a parking lot. Those campus exercises were a success, but could they be replicated on a large scale and indoors with a room full of people?
To find out, a MITRE team ventured into the geospatial promised land: indoor positioning. This time, their laboratory was a massive, 100,000-square foot, Orlando, Florida, convention center filled with nearly 300 exhibits and 35,000 visitors. For three days in spring 2016, the space was also the hub for one of the nation's largest gatherings of geospatial experts.
Location-based devices that rely on GPS to help people find their way are transforming our world. But they've been limited to outdoor use. Using the vast exhibit floor of the United States Geospatial Intelligence Foundation, these MITRE researchers proved that they could use the emerging new capability to "position people indoors," says Barrett.
This is what it took: conference participants with Android smartphones, a MITRE-created app, about 80 Bluetooth beacons (made by Radius Networks) mounted high up on columns around the exhibit hall, and Wi-Fi. From several thousands in the room, the yield was only a handful of volunteers who were willing to be tracked. Still Barrett and his team pressed on. Volunteers were challenged to find and swipe QR codes with embedded barcodes placed around the room to reveal their location. MITRE's Tyler Laws developed the Android app that allowed participants to chart and see their movement along the convention floor by using their phones.
Watching the volunteers move about was amazing, says Tyler, who uploaded and collected the information that first appeared as dots on the map within the smartphone app. This indoor positioning experiment was an unprecedented opportunity—and it worked.
Barrett and the MITRE team were able to harness unique signal data that no one else has ever seen. But they're not keeping it under wraps. At MITRE, the teams indoor positioning and activity analysis continues to be internal research, but the data set they produced has been shared across the company and with some in the geospatial community.
If you're wondering what these findings and indoor positioning have to do with you, the answer is everything. Think about it, indoor positioning is already a part of our lives. If you've shopped at your favorite big box store, caught a sale at a clothing shop, or visited any other brick-and-mortar retailer, you know that indoor positioning technology is being used commercially. From the moment you step inside their doors, you're being trailed virtually. Retailers want to know where you go, what you purchase, and how to keep you coming back. There are lessons here for MITRE, too, says Barrett, who's following the trends in commercial applications of the technology.
But because they work in support of the public good, he and his team focus on what the new technology can mean for public safety and emergency response. Barrett imagines the day when healthcare providers, first responders, and even families can use indoor positioning technology to safeguard parents and patients with Alzheimer's or find and rescue someone trapped in a burning building.
B. Denise Hawkins, a senior writer and editor in MITRE's Corporate Communications and Public Affairs Department, specializes in narrative and feature writing on topics as diverse as GPS, African American culture, healthcare, and nanotechnology.