How to Pass the Information Quiz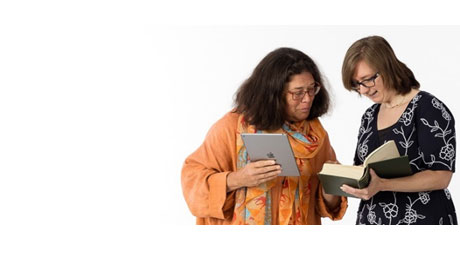 Google and other search engines make it easy for us to look things up, but not necessarily to find what we're looking for – because that takes additional skills. MITRE's Information Services staff not only understand how to use high-value resources, they provide the meaning, context, and connections necessary to turn random luck into precision encounters with the right stuff.  – Editor
Author: Stephanie Godley
My son recently started middle school and went through a library orientation. At the end of the orientation, the students had to take a quiz to prove that they could find their way around the library. My son failed the quiz.
          Me: What do I do for a living?
                Him: You work at MITRE.
                Me: True, but what's my job?
                Him: To help people find things.
                Me: Right, and what's that called?
                Him: A librarian.
                Me: Correct. And how did you do on that LIBRARY quiz?
What I realized by reviewing the quiz with him is that he was so familiar with our town library, he had learned how to use a library by muscle memory. At age 4 he could walk straight to the shelf with the garbage truck books on it and then make his way to the fiction section and pick out his all-time favorite "Rabbit Ears." Given the library's classification system, they were always in the same place. Now, at age 11, he knows where the WWII books are in the non-fiction section, how to find a biography, and how to locate the baseball fiction books by the sports author he loves. But what happens when confronted with a new set of resources in an unfamiliar space? Unfortunately, it all falls apart without a solid understanding of how the space is organized.
So if you, too, are used to finding materials by muscle memory, what are you to do? Today, the information seeker usually goes straight to Google. Throw in a few search terms and see what sticks. As my son did with his "search" for garbage truck books, he'd approach the shelf and scan. Sometimes this led to some great finds. The old standbys in the 620s, (trains, cars and trucks), and sometimes crossing into the 630s (farming) to find the tractor books. But what was he missing? The firetrucks in the 360s? True, scanning the shelf can sometimes lead to new discoveries, as can scanning an index or table of contents. But this method does not necessarily reveal all that is available nor does it help you analyze or draw out connections among different resources.
Search engines such as Google are literal. Enter your search terms, and your results will contain those terms. The search engine itself does little to help you determine which results are the best match for you, or how to pick up on threads that run between your search results. C. David Seuss, in his article about meaning extraction (Seuss, 2011), writes that "Current generation search engines have the flaw of giving the user what was asked for, not what the user should have asked for had the user already understood the topic." The search engine can't draw out the meaning, provide the analysis, or write the summary for you. Welcome your information professional/research analyst/librarian. We can do all of the above!
Here at MITRE, we have shied away from using the terms librarian/library. In fact, MITRE completely let go of its physical book collection in 1999. Our research services consist of a frontline of Information Analysts who respond to a wide variety of questions, providing research assistance and help to all researchers within MITRE. In general, our work consists of research that takes less than 90 minutes to complete. Our next tier of service consists of our Custom Research Analysts, who similarly work on a variety of requests throughout MITRE, but at a more involved level. And herein lies the value, because not only can these analysts use a search engine, they can be the search engine. Understanding the purpose of the search through conversations with the requestor, they begin to draw conclusions, see patterns, and recognize those points that can be connected.
A first step to re-orienting MITRE library users is to make sure their muscle memory is taking them to the Discover Digital Libraries (DDL) tool. Our DDL offers a single search box that taps into the wide range of Digital Library research materials – journal and newspaper articles, databases, and much more. DDL can even provide access to sources outside the MITRE Digital Library. The DDL can be accessed through a gadget on the MITRE internal homepage, and detailed information can also be found on our Information Services homepage. By starting here, users are beginning with a vetted set of sources that can help them develop a better understanding of their topic. They can narrow results using filters, find related topics and disciplines, and conduct advanced searches. The DDL is just one of a robust set of resources. Using our Full Text Books and Journals Finder, for example, users can search or browse the Digital Libraries holdings by Title of the e-journal or e-book or browse the e-titles by Subject area. These tools, just two examples out of many, illustrate how we are providing both search and browse/scan capabilities online allowing our staff to navigate the "shelf."
Whether you call us librarians or information analysts, the most important resources in our library are the people. Able to help re-train our customer's muscle memory to use high-value resources, the staff are also the ones who can provide the meaning, context, and dot connection. Contacted in-person through our two physical locations or via email or phone, our information analysts help to get to that information layer underneath the search results. Not a mere hit-list, but a meaningful summary and analysis.
So if you head to the shelf and don't find what you are looking for, or conduct that Google search and don't find what you need, remember that resources are available to you to both scan the shelves and connect the dots. At MITRE, our Information Services Department helps our staff pass the quiz right here. If you work elsewhere, take advantage of the reference librarians and researchers at your companies or local libraries. People like us will help you wherever you work!