Read This – Then Stand Up and Take a Walk!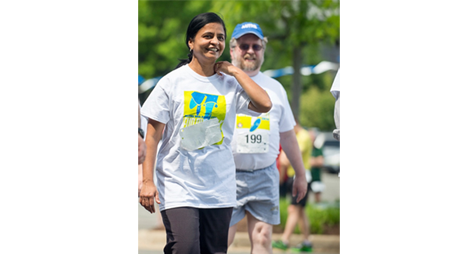 As MITRE's Health and Wellness Program Manager, Susan Skelly knows what makes MITRE staff tick—literally. Susan's account highlights her team's approach to sharing health-related knowledge with staff immersed in their work. How does your company keep your staff healthy and wise? —Editor
Author: Susan Skelly
With thousands of engineers on staff, MITRE is pretty good at solving problems. But it's not always a computer program or mathematical model that brings the solution to bear. Sometimes it's good food, not good code, that helps us innovate. Sometimes it's an actual run around the block—not another run of a simulation model—that gives a brilliant engineer the breakthrough she needs to deliver a world-changing solution to her sponsors.
The facts are simple. The framework for your exceptional ability to get the job done right, the first time, is your health. Research shows that healthy lifestyle choices affect how we feel today, tomorrow, and much further down the road.
That's why MITRE staff see health services everywhere. EVERYWHERE. We use all means available to remind folks about the importance of practicing a healthy lifestyle. Health Services announcements are in weekly MITRE newsletters. We're down the hall, on a poster, hosting a training—maybe even walking to someone's desk right now to remind them to stand up and stretch.
Why all of this focus on health in the workplace? Why not leave it to people to manage their health on their own time?
On average, adults spend more than one-third of their day, five days per week, at the workplace. Without the discipline required to maintain our physical, intellectual, emotional, social, and spiritual health, we quickly spiral into a pattern of adopting costly, unhealthy behaviors. That's why workplace health protection, health promotion, and disease prevention programs are an integral part of the MITRE culture.
Earning and maintaining good health is an active process. MITRE Health Services is here to help our staff stay in that game: from daily fitness center classes to lunch-and-learn programs like mindful meditation, nutritional counseling, and relationship building. All of this connective tissue also helps reduce MITRE's healthcare costs (and thus our sponsors' costs); our efforts help our staff find out what they're really capable of.
We like to say: If you're at MITRE, you're already doing something right. But imagine what you might accomplish in your own personal and professional lives with the advantage of proper nutrition, regular exercise, regular healthcare, and nurturing relationships with friends, family, and coworkers. The framework for your exceptional ability to get the job done right, the first time, is your health.
Now stand up and take that walk!