Chasing down medical data is so 20th century. When medical data follows us, our care improves and so does the system that delivers it.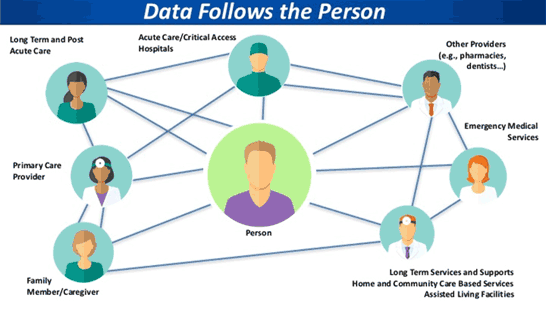 Have you ever filled out medical forms for yourself or a family member by hand and more than once? I can hear you sighing yes.
So you already understand the potential goodness of having your data follow you in the form of a safe, accurate electronic record. Still, although it's easy to think about why this type of knowledge sharing would be a good idea, making it a reality requires a good bit of engineering. 
To this end, a team of MITRE healthcare, program, and technology specialists delivered the necessary infrastructure and governance support data for a particularly vulnerable subset of patients: Medicare and Medicaid beneficiaries of long term and post-acute care (LTPAC), including homecare patients. The goal? Coordinating patient care, smarter spending, and better patient outcomes via enduring systems to support standardized information capture, use, and exchange.—Editor
Author: Marilyn Kupetz
More than 5.6 million Medicare and Medicaid beneficiaries receive care from 32,000+ healthcare providers specializing in LTPAC. For everyone involved, it's imperative that care across these settings be assessed, measured, and reimbursed in a uniform way. Answering the right questions helps: Is the patient in the appropriate setting? Is follow up on their care happening? Is the patient recovering appropriately? Are there complications that a provider needs to address? Financial reimbursement differs between settings, too, and is a particular concern for this community of patients.
In 2014, Congress passed and President Obama signed into law the IMPACT Act—Improving Medicare Post-Acute Care Transformation. IMPACT requires that organizations serving LTPAC patients coordinate patient care more effectively, apply smarter spending, and improve patient outcomes. All three requirements rely on persistent systems, and that is what brings MITRE into the picture.
As part of MITRE's knowledge management work for the Centers for Medicare and Medicaid Services (CMS), the team of Waymond Culbreth, Beth Halley, Chris Shamloo, and Cindy Wear stepped in to help. They encouraged the people who could make standardization a reality collaborate through a governance framework and repeatable processes. They helped the agency develop rules of the road, which are key to standardization. They also offered thoughtful technical counsel—the kind that makes everyone involved realize that there really are tools for the job if only people will agree to use them.
Culbreth, Halley, Shamloo, and Wear's work earned them a spot on the 2016 Knowledge Advantage Project Showcase. Their accomplishments will help make high-quality patient care easier to track and replicate—good for all of us.