With Patient Toolkit, Sharing Improves Caring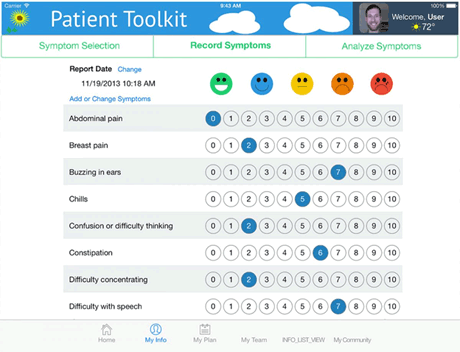 MITRE's Patient Toolkit mobile app enables chronically ill patients to better manage knowledge about their conditions, track their symptoms and medications, and communicate what they know to their healthcare providers. MITRE has a simple process to enable companies to license this technology and take it to market. For information about licensing the Patient Toolkit technology, please contact MITRE's Technology Transfer Office. For more information about the technology, read the full version of this story and watch the video.
Author: Jim Chido
Four years ago, our health leadership team determined that a key way MITRE could transform health in the country was by empowering patients and caregivers to manage their care and the care of their loved ones. A key resulting research project was Kristina Sheridan's Patient Toolkit initiative, inspired in part by Sheridan's own experience managing her daughter's chronic Lyme disease.
Fortunately, Sheridan's daughter is now a thriving college student, but Sheridan and her team continue to push the envelope on empowerment through proof-of-concept application development and trials with real patients and care providers. The research is just one element of our support to the CMS Alliance to Modernize Healthcare (CAMH), an FFRDC operated by MITRE for the Centers for Medicare & Medicaid Services.
To assist them in developing Patient Toolkit, the MITRE team collaborated with academia. A survey of healthcare providers conducted by researchers from Carnegie Mellon's Heinz College "helped validate that the specific types of data we were tracking would be valued and wanted within the clinical sector," Sheridan says. The survey also revealed that patients weren't encouraged to collect this information, and tools were not available for them to do so. "That feedback provided us further validation that we were focusing on a gap."
A clinical study by the University of Virginia's engineering and medical center helped the team verify the usefulness of the data being collected. The study found patients are receptive to tracking their symptom severity data between appointments, want to use mobile devices to collect the information, and can reliably collect valid data outside the clinical setting between appointments.
"We've had tremendous support for and feedback on our work," Sheridan observes. "Over the past two years, our team has spoken at more than two-dozen national conferences to get this information, vision, and concept out. We've had an immense uptick in terms of people's understanding and involvement.
"Patient Toolkit provides the 'patient voice': it's now time to get it into the hands of the American public."