Recent MITRE publication, Sociocultural Behavior Sensemaking: State of the Art in Understanding the Operational Environment, Demonstrates Value of Collaborative Knowledge Management Practices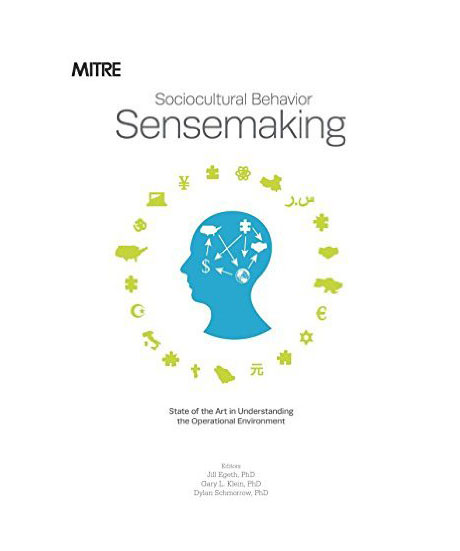 Dr. David Foster, a social behavioral scientist at MITRE, faced a challenge when he signed up to field edit Sociocultural Behavior Sensemaking: State of the Art in Understanding the Operational Environment. An anthology of the ideas of 40 people across government, academia, and MITRE—all donating their time, the project required diplomacy, a firm hand, and asynchronous collaboration tools that the distributed team of writers could use with ease. Here's the story of how that book got writ! —Editor
Author: David R Foster, PhD
The research presented in Sociocultural Behavior Sensemaking: State of the Art in Understanding the Operational Environment advances the knowledge gained from the five-year Department of Defense Human Social Culture Behavior (HSCB) Modeling research and engineering program, providing a roadmap for moving forward in the sensemaking field. Sensemaking refers to the process of creating understanding from complex or uncertain environments, and this edited volume provides information on a diverse range of sensemaking topics, from the interpretation of local customs to handling the big data challenges of social media. For a detailed review of the context behind the book and its purpose, please see the MITRE news story here.
The volume's 16 chapters, covering some 450 pages in total, are divided into four sections: Understand, Detect, Forecast, and Mitigate. The sections explore technological approaches to understanding attitudes, behaviors, and events taking place in a particular sociocultural environment; identifying and locating indicators and causes of these phenomena; forecasting shifts and events that might occur in the future; and identifying smart options for mitigating potential issues. Chapters within each section focus on approaches linked to four different themes – data processing, computational modeling, visualization, and training.
As the technical editor for the volume, I want to discuss the knowledge management strategies we employed during the development and publication of this volume. This book exemplifies a number of effective knowledge management approaches, and, as recognition of these approaches, this volume received MITRE's 2014 President's Award for Knowledge Management.
MITRE's collaboration tools facilitate effective communication
With more than 40 contributing authors, our editorial team faced a challenge in ensuring consistency across chapters, sections, and themes. Some of the authors were MITRE staff, but the majority were non-MITRE subject matter experts from across industry and academia. To ensure consistency and to formalize lines of communication, the editors selected four MITRE section leads, each responsible for one of the four book sections, to oversee the development of the four chapters in their sections and to serve as the primary interface between the MITRE editorial team and the individual authors.
In order to bring the diverse sets of authors together, share our vision for the volume, and normalize the 16 substantive chapters, we relied on MITRE's Handshake tool for collaboration. Handshake is MITRE's external partner engagement network, and it supports collaboration through bulletin board-like services that allow external partners to take part in the discussion, exchange files, and post updates. Handshake enabled the editors and section leads to set up a main "homepage" for the book, as well as section-specific collaboration sites. Collaboration was rich and fruitful – all the authors writing about computational modeling, for example, could share their ideas with each other. The result was a set of high-quality chapters that can both stand alone as individual articles, and still work together to capture the cutting edge advances in sensemaking.
Ensuring high quality technical content
We needed to ensure that our book content was technically accurate, but with 16 chapters on a very diverse set of highly technical topics, we needed additional experts beyond the members of our editorial team. We decided to employ an anonymous, structured peer review process, with each chapter reviewed by at least one recognized expert in the field. Peer reviewers had to complete an evaluation rubric for each chapter and they submitted comments, questions, and suggested edits to the MITRE editorial team. We worked one-on-one with authors to ensure that potential issues raised by peer reviewers were effectively addressed. Our 19 peer reviewers are recognized by name in the Acknowledgments section of the book.
Publishing to maximize accessibility across different media
Our next major decision was how best to distribute the volume to reach the broadest audience possible. We wanted to offer a printed form of the book as well as a free, online version that could be accessed either as a single volume or as separate chapters. Adding to our publication constraints, we needed the printed version to be in full color, as the chapters are graphics-intensive, featuring dozens of images, pictures, and charts.
We based our eventual decision to publish the printed version through Amazon's Createspace on cost, convenience, and accessibility. Amazon's costs were competitive compared to those of using a traditional publisher. In addition, Amazon's Createspace uses a print-on-demand model, in which a book is ordered, printed, and shipped for each customer within a matter of hours, as opposed to a warehousing a large run of the book. This met our goal of keeping overhead costs low (i.e., not having to pay up front for printing a large number of copies) and being able to flexibly respond to customer demand. Additionally, while most printing, as well as book authorship, is a for profit business, in keeping with our FFRDC status, we set the cost structure of the book on Createspace so that MITRE receives no royalties from the sale of the book.
In addition to enabling readers to order a physical copy of the book through Amazon, we also took advantage of MITRE's public-facing website to host a free PDF version of the book, both in its full version as well as broken down into individual sections and chapters. These individual chapters enable readers to more efficiently access the chapters that interest them, and to use these chapters as stand-alone products.
The whole is greater than the sum of its parts
This volume serves to capture the state of the art in the field at the conclusion of the official DoD-funded Human Social Culture Behavior Modeling program. While many of the insights we cataloged can be found in the individual publications of the authors, our edited volume brings all of that knowledge together into one place and weaves it into a coherent whole. We couldn't have been as successful in the development of this volume without MITRE's collaboration tools, and the communication that those tools enabled.
Approved for Public Release; Distribution Unlimited. 15-2692
©2015 The MITRE Corporation. ALL RIGHTS RESERVED.