10 Years of SharePoint: Growth and Evolution of a Collaborative Platform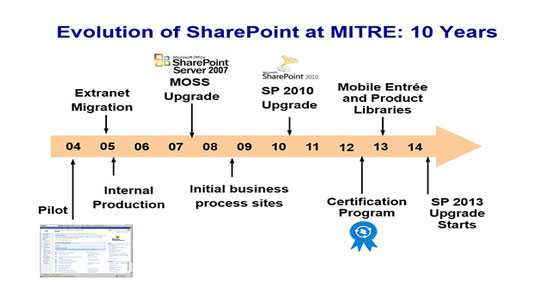 Author: Beth Pabich
MITRE started using SharePoint with a small pilot in 2003 and now has a robust set of several thousand intranet and extranet sites based on SharePoint 2010. It is used as a content management platform, a collaborative team platform (for projects, organizations and CoPs), for work process capture and scheduling, employee engagement, and blogging. It has become critical to MITRE's business processes, resulting in an evolution of its capabilities over the years. Some numbers: Sites (as of December 2014)
2865 internal top level sites
1048 extranet top level sites
1337 retired sites
Average 30-40 new sites per month
Users (as of December 2014)
Approximately 7,500 internal users
3148 extranet accounts
In our initial deployment, as with most rollouts of new technologies, we had some successes and some lessons learned.
Successes
Integration – Integrating SharePoint into the rest of our intranet was a key priority. We had a robust employee directory, and we developed web services on top of SharePoint that display the SharePoint sites for which each employee is a member, and the recent documents they have published into SharePoint. Retire inactive sites – We also retired several legacy platforms and migrated relevant content into the new SharePoint environment. This prevented 'site sprawl' across multiple legacy repositories. We established a policy of flexibility in terms of what 'level' a site should be (e.g., project, task, program, organization) and this helped drive adoption. Finally, we put in place a retirement process for sites that were no longer active, ensuring that we did not have continuous growth in the platform and making current, active information easier to find.
Lessons learned
Not all sites are created equal — Over time, SharePoint's capabilities changed and our use of it evolved. While SharePoint's sweet spot is lightweight document management and business process automation using lists and workflows, some sites had specific requirements that needed special attention. These included: curated sites, which had significant structured metadata associated with the documents and branded sites, which required look and feel customization. Training – From the beginning of our pilot, we realized that support and training were going to be important to our staff. Over time, however, we realized that we needed more than a handful of classes: we needed a structured program for power users. So we put in place an internal certification program. Staff can achieve bronze, silver or gold certification in SharePoint. They take classes such as:
Site Administration Fundamentals
Building Blocks of SharePoint Design
Getting Started with Managed Metadata
SharePoint Fast Track
Getting Started with Electronic Forms Solutions
Advanced Electronic Forms Solutions
The training has resulted in a small group of ~70 power users who can be the front line of SharePoint support in their organizations, and who can help us with new rollouts, upgrades, etc. as early adopters. This distributed group is critical to our successful use of SharePoint. Accessing content from archived sites – Our retirement process has evolved over time. Initially, we built a complex process that retired sites as a whole, with disabled dynamic web parts and permissions set to read only. Over time, this became challenging to maintain and we also heard from users that their primary need was for access to documents and lists of retired sites. So we are now working on a simplified retirement process that focuses on the critical content without requiring that we keep the entire site intact.
For more information on our SharePoint experiences, check out my presentation from KM World in November 2014 here.