The InfoServices Evolution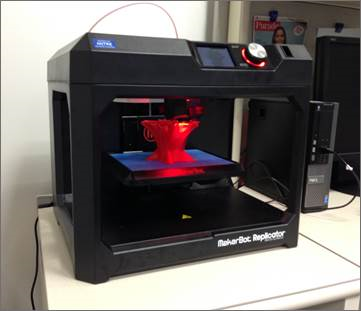 Author: Deanna West Martin
MITRE's InfoCenter does not have books, we have 3D printers. Puzzled? I will tell you our story.
MITRE began heavily investing in digital resources in the 1990's. As many of us remember, Internet growth during that time period was explosive! Digital resources rapidly became available and books could be purchased inexpensively through online sites. These industry changes coincided with the shortening of MITRE's internal research cycles and a growing need for the Custom Research team's services. Looking back, this makes sense, a need was developing for librarians to sort through the vast amount of information the Internet made available. MITRE completely let go of its physical book collection in 1999. Today, the InfoServices department continues the tradition serving MITRE's information needs. Our department is comprised of four teams of information professionals who provide access to a robust library of digital resources, perform research services, and knowledge stewardship in the support of MITRE's work program.
The Information Resources Suite deploys the paid external information resources to all of MITRE. The team negotiates with the information suppliers and ensures that the information resources – an extensive listing of electronic journals, electronic books and databases – are easy to locate and use.
Custom Research and Knowledge Management Services includes subject matter experts in all areas related to the MITRE work programs. Many of our information analysts are embedded with project teams and provide focused research and analysis. Their role is to work with MITRE staff to understand domain areas, pinpoint resources and anticipate information needs. This team also creates current awareness products around domain areas; these products often provide a foundation from which further research and analysis begins. Our embedded customer relationships and partnerships are important to understanding MITRE's information needs.
Our Knowledge Stewardship Services provides a planned approach to maintaining content across multiple platforms so that it is findable, actionable and maintains a high value throughout the information lifecycle.
InfoDesk Services is the first point of contact for answers to research questions, document delivery, and other project related work. Physical InfoCenter spaces and staff are located in Bedford, Massachusetts and McLean, Virginia to serve MITRE's multiple communities.
Our InfoCenter physical space is evolving…we now have 3D printers and plans for further evolution. Why 3D printers you might ask? Libraries have always had a tradition of fostering learning, innovation, and collaboration. 3D printer technology is advancing at a rapid pace. Desktop manufacturing is transforming the manufacturing sector in the same way that electronic publishing was a disrupter in the 1990's. With the introduction of consumer-oriented desktop models, 3D printers have become smaller, cheaper, and easier to use. Through hands-on experience, staff may uncover surprising ways that 3D printing is relevant to the MITRE work program.
For a presentation on MITRE's information services department visit slideshare.
That is our story… It's the spirit of evolution and foresight that allows InfoServices to adapt to the changing needs of MITRE staff and fulfill our mission to serve our customers. What is your evolution? Please share your story!